Volvo Construction Equipment
OEM Industry News Briefs provides a weekly round up of the latest news and company announcements you may have missed in the heavy equipment engineering and manufacturing industries.
This past week saw several announcements related to engine systems and alternative energy developments. A new report from Fact.MR forecasts the off-highway engine market will grow in the next 10 years as demand for off-highway equipment increases. Meanwhile, Westport Fuel Systems announced it began testing a hydrogen-fueled combustion engine using its HPDI fuel system which it believes will provide a feasible alternative for heavy-duty vehicles including trucks.
Cummins announced the release of a new fully integrated natural gas powertrain aimed at regional haul fleets looking to reduce their emissions. Read about more announcements made by Cummins and other companies this week during the virtual Work Truck Show.
FPT named engine supplier for new TATA DAEWOO truck
FPT Industrial recently announced it was selected as the preferred engine supplier by TATA DAEWOO Commercial Vehicles for the launch of its new "the CEN." Meaning "the strong" in Korean and "complete, efficient, needs" to the rest of the world, the CEN is a new semi-medium truck design TATA DAEWOO plans to launch in the South Korean market.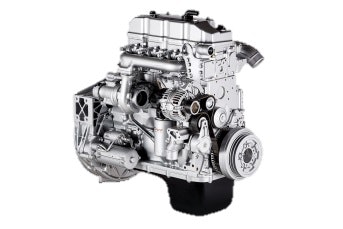 The truck will be powered by an FPT Industrial Euro Dynamics 45 engine, which FPT says was chosen for its unique characteristics in terms of superior power, torque, torque reserve and overall efficiency. Use of FPT's HI-eSCR aftertreatment system enables compliance with emissions regulations without the need for exhaust gas recirculation (EGR). This optimizes packaging and installation, as well as cooler operating temperatures and passive regeneration.
Available in two versions with 186 or 206 hp, the FPT Industrial Euro Dynamics 45 engine is part of FPT's NEF engine family which is utilized in a variety of on- and off-road vehicle applications. FPT says the ED 45 delivers up to 21% more power and up to 23% more torque than competitive models in South Korea.
DEUTZ opens new Power Center in Dallas
DEUTZ has opened a new service site in the U.S., the DEUTZ Power Center Mid-America. It is located in the Dallas metropolitan region.
The new Power Center provides access to spare parts, maintenance work and emergency repairs. It also offers application engineering services and technical sales resources for OEMs using DEUTZ products. The company notes that manufacturers can receive custom production and assembly services.
The new facility also sells DEUTZ engines and Xchange remanufactured engines.
Daimler Trucks appoints new Chief Engineer
Daimler Trucks North America (DTNA) has announced Randy Debortoli as Chief Engineer of Product Validation Engineering. In this role he'll be responsible for steering strategic development of Freightliner and Western Star trucks.
DeBortoli has been with the company for close to 30 years; most recently he served as the Chief Engineer of Chassis and Vocational Engineering where he play an instrumental role in the introduction of the all-new Western Star 49X.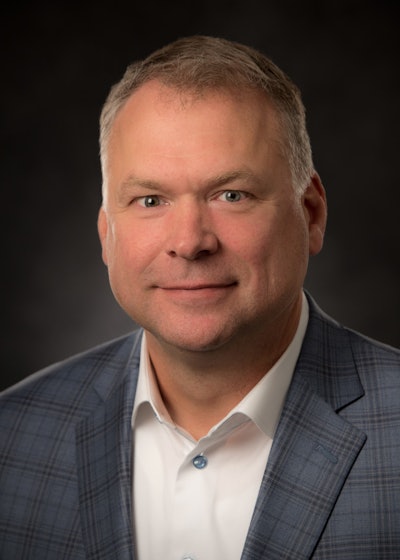 DTNA says DeBortoli is succeeding Al Pearson, who is retiring from DTNA after almost 40 years at the company. Pearson's achievements at DTNA have included the development of the new Freightliner Cascadia; developing innovations to deliver customers a fuel economy improvement of 5% every 2 years; and overseeing the construction of DTNA's state-of-the-art validation facilities like the High Desert Proving Grounds in Madras, OR, and the industry's first full-scale heavy-duty wind tunnel in Portland.
Eberspaecher opens new production plant
Eberspaecher has opened a new production facility for exhaust technology in Mexico. The company says the new facility expands its presence in the North American market, and will help sustain growth in the coming years.
Covering an area of 21,000 sq. m, the new plant is located near important vehicle manufacturers and is close to the Pan-American Highway which provides good transport connections for the company.
About 90% of the total area of the plant is devoted to production and logistics, helping Eberspaecher more easily meet customer needs.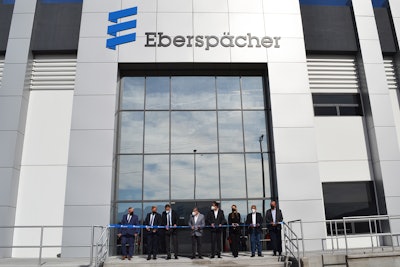 Electric vehicle advancements continue
Uptake of electric powered vehicles is increasing rapidly in a variety of heavy-duty applications. Most recently, Proterra announced The Montgomery County Public Schools (MCPS) Board of Education approved a contract with Highland Electric Transportation to convert its school bus fleet to all-electric, starting with 326 school buses over the next 4 years. According to Proterra, this is the largest single procurement of electric school buses in North America.
Proterra is one of several project partners working with Highland to electrify all five of MCPS' bus depots. Highland is purchasing all-electric Saf-T-Liner C2 Jouley school buses from Thomas Built Buses which are powered by Proterra's electric vehicle technology platform. The buses will have a range of up to 135 mi. on a single charge.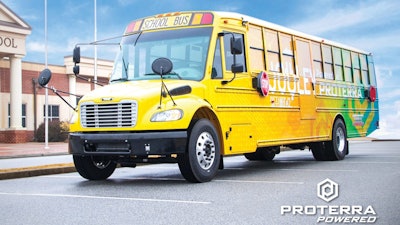 To aid those in Europe using electric vehicles find the right charging option, the European Automobile Manufacturers' Association (ACEA) has announced a new harmonized set of labels will start being used on electric vehicles and charging stations in March. The labels will be placed on charging stations as well as all newly produced electric cars, vans, trucks, buses, coaches, mopeds, motorcycles, tricycles and quadricycles in a clear and visible manner.
ACEA says the labels are in line with the requirements of the EU Directive on the deployment of alternative fuels infrastructure (2014/94/EU).
Terex Utilities has added a new PTO option to its HyPower hybrid solutions which aims to reduce idling, and thus emissions and fuel use. The Viatec SmartPTO for Hi-Ranger Aerial Devices and Commander and General Digger Derricks uses stored plug- in electric power to operate the equipment.
According to Terex, the system is maintenance free because of the use of a brushless permanent magnet motor, lithium NMC batteries and the absence of internal service parts.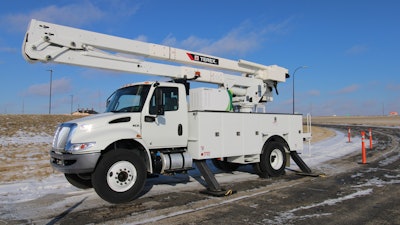 And it's not just the on-road sector in which electric vehicle uptake is expanding. Volvo Construction Equipment (Volvo CE) has begun delivering its electric compact equipment to customers. Recently, its L25 Electric wheel loader was used to aid snow and ice cleanup in Cologne, Germany.
Volvo CE says customer AWB Abfallwirtschaftsbetriebe Cologne GmbH selected the L25 Electric because it needed a machine that would meet its various job needs while minimizing its environmental impact. the zero exhaust fumes, low noise and reduced vibrations were key features which lead to the company choosing Volvo's electric wheel loader.
"The wheel loader is an important milestone in our journey to introduce more electric mobility at AWB Cologne and is certainly fulfilling our expectations," said Dr. Bert Schröer, Head of Mobility and Sustainability at AWB Cologne, in Volvo CE's press release about AWB Cologne's use of the L25 Electric. "We are managing well with the electric power – even in the cold. Capacity, handling and shovel size – everything fits. So far, there have been no aspects that would make us question our decision. It was definitely the right choice."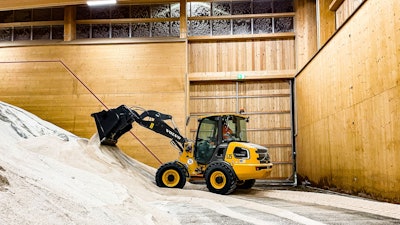 Companies in this article