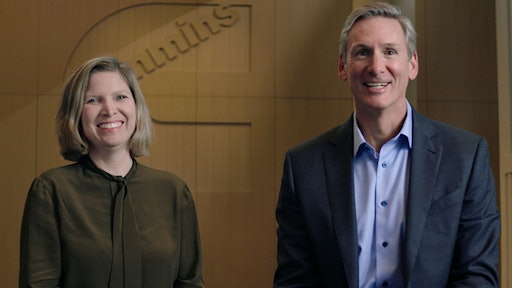 Cummins
Cummins Inc. announced today its board of directors has unanimously elected Cummins President and Chief Executive Officer (CEO) Jennifer Rumsey to chair of the company's board of directors, effective Aug. 1, 2023. Rumsey succeeds Tom Linebarger, who is retiring from both of his Cummins positions as executive chairman and chairman of the board, effective July 31, 2023.
Rumsey was first appointed to the Cummins Board of Directors in February 2022 and has served as president and CEO of the company since August 2022. She has held numerous pivotal roles within the company during her more than two decades with Cummins, including chief technical officer, president of the components business and chief operating officer. The combined roles of chair and CEO will position Rumsey to continue leading the company into the future, leveraging her technical expertise, deep understanding of Cummins' business and powering customers' success throughout the energy transition.
Linebarger served as Cummins' chairman and CEO from 2012 to 2022 and as executive chairman of the company for the past year. During his 10-year tenure, the company grew its revenue from $17.3 billion to a record $28.1 billion last year. Linebarger spearheaded the evolution of the company to ensure its continued industry leadership, including the formation of Accelera by Cummins, the company's zero-emissions solutions business segment, and the broadening of its product portfolio through notable mergers and acquisitions including the largest-ever in the Cummins' history with the acquisition of Meritor. Across the cycles, he continued to invest significantly in employee development and wellbeing, leaving behind a highly capable group of diverse leaders. The transition announced today is consistent with the board's succession planning and commitment to effective leadership at all levels.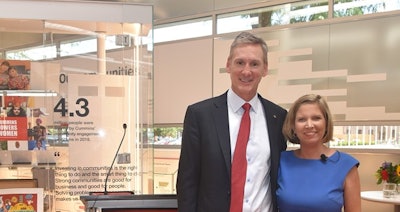 A co-architect of Destination Zero, Rumsey has significantly advanced the company's decarbonization strategy in her first year as CEO while garnering three consecutive quarterly revenue records in late 2022 and early 2023. During this time, Cummins has continued to grow its core business with the acquisition of Meritor, accelerating the development of economically viable decarbonized powertrain solutions including the industry's first fuel agnostic powertrain platform, enhancing the sales and service network and expanding customer relationships.
Simultaneously, Cummins has progressed the development of innovative, zero-emissions solutions, rebranding that business unit and sending a clear signal to customers, employees, prospective talent and policy makers that the company is committed to leading in zero-emission technologies. In 2022, Cummins invested $1.2 billion in research and development to drive innovation and growth across the business, while delivering strong returns to shareholders. Fulfilling her commitment to keeping people at the center, Rumsey has forged new partnerships with key customers and led an effort to reconnect employees with Cummins leaders and the Destination Zero strategy following the COVID-19 pandemic.
Rumsey is a Columbus, Indiana (USA), native and member of the Society of Women Engineers, Society of Automotive Engineers and Women in Trucking Association. She holds a Bachelor of Science in Mechanical Engineering from Purdue University and a Master of Science in Mechanical Engineering from Massachusetts Institute of Technology. Throughout her career, she has been an advocate for diversity, equity and inclusion and women in STEM fields. She resides in Columbus with her husband and has two college-age daughters.