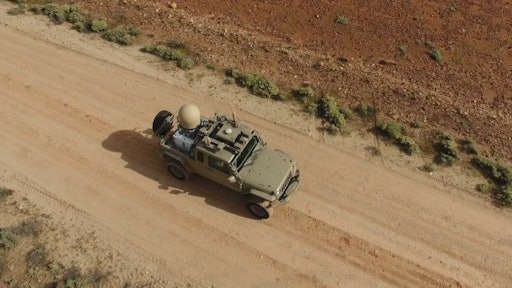 The U.S. Army Tank Automotive Research, Development and Engineering Center (TARDEC) is currently testing the ability to autonomously operate a vehicle from across the world. TARDEC is working together with the Australian Defence Science and Technology Group on the project, known as TORVICE—Trusted Operation of a Robotic Vehicle in a Contested Environment. The goal of TORVICE is to show not only the distance at which a vehicle can be operated in order to keep people safe, but also the reliability of remote vehicle control systems. Ensuring secure systems is becoming more paramount as electronic warfare has become a bigger threat to the military, and of even greater importance as the use of autonomous vehicles grows.
A modified Jeep Wrangler Rubicon using TARDEC's Robotic Technology Kernal autonomous mobility system is being used as the test subject. The system is coupled with an Australian-developed satellite-on-the-move system which transfers data from the vehicle's control station to the Jeep.
Testing is being conducted at the Woomera Test Range in South Australia, a remote area with minimal signal interferences and few paved roads. While the vehicles themselves are located in Woomera, they are being controlled by TARDEC engineers in Michigan, demonstrating the range capabilities of remote vehicle operation.
Read the full article from the U.S. Army to learn more about the project.