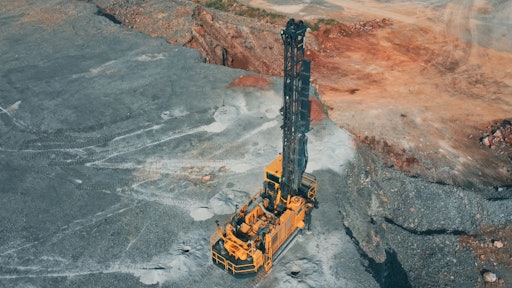 Epiroc, a partner for the mining and infrastructure industries, introduces the DM30 XC blasthole drill that is suitable for multi-pass rotary and down-the-hole (DTH) drilling applications. Built off the same platform as the Epiroc DM30 II, the new DM30 XC offers 33% more power and other benefits.
The DM30 XC has increased rotary torque, increased pulldown, and a larger hole range capability. The DM30 XC is built to handle a 4- to 6¼-inch (101- to 159-millimeter) drill pipe and has a weight on bit up to 44,000 pounds (20,000 kilograms). The crawler-mounted, hydraulic top head drive drilling rig features a 30-foot (9.1-meter) drill pipe change and a standard carousel.
With a starter rod under the rotary head, the DM30 XC can achieve a total clean depth capacity of 148 feet (45.1 meters) for multi-pass applications and 28 feet (8.5 meters) for single-pass applications. A 300-gallon fuel tank allows the rig to run for up to 16 hours before refill. In addition, the smaller footprint of the DM30 XC allows for maneuvering on tight benches and simplified transport over between pits.
Customers can choose a low- or high-pressure compressor to create the right configuration for their drilling operations. A one-piece, falling object protective structure (FOPS) rated cab with electric over hydraulic controls enhances safety, visibility, and operator comfort. The DM30 XC has an ergonomic control layout that allows for immediate switchover from drilling to tramming mode. It is equipped with an electronic air regulation system that provides for low-load startup and the adjustment of bailing air to save horsepower and decrease fuel consumption, which helps extend power component life and decrease the total cost of ownership.
Request More Information
Fill out the form below to request more information about
Blasthole Drill