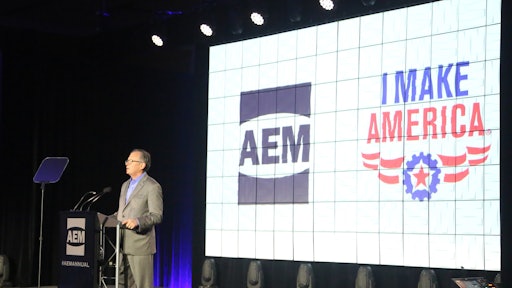 The Association of Equipment Manufacturers (AEM) has announced the 2018 recipients of its annual Advocates Program awards, which recognize an outstanding commitment by AEM members to industry advocacy efforts through AEM's national grassroots campaign I Make America.
I Make America is AEM's signature program building grassroots support and advocating for pro-manufacturing policies that create and sustain jobs across America.
This year, 28 member companies received AEM Advocates Program Gold awards for achieving the highest level of participation in grassroots mobilization and outreach. In addition, five companies received the Advocates Program's highest honor, the Pillar of the Industry award, for reaching Gold status for five consecutive years.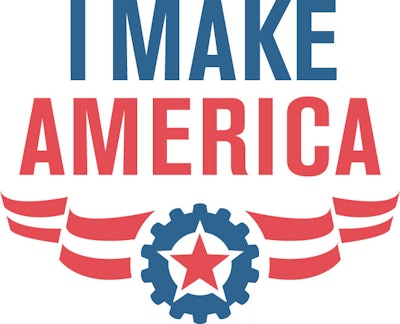 "It's more important than ever for our elected officials to understand the critical importance of our industry's role in sustaining economic prosperity and quality of life across America," says AEM President Dennis Slater. "These companies have really stepped up in their communities, and we greatly appreciate their dedication and hard work throughout the year."
This year's I Make America facility tour, themed "Behind Every Product," brought elected officials to member manufacturing facilities across the country to meet and discuss the most-pressing issues with many of the 1.3 million men and women working in the equipment manufacturing industry.
AEM also hosted its first-ever I Make America Town Hall Tour at three members' facilities, with live attendance by 500 workers and thousands more watching online through livestreams, to educate and engage workers on key policies affecting the industry's future.
"The success of our advocacy efforts is in large part due to the outstanding support of our members," says AEM Vice President Kip Eideberg. "They help ensure elected officials understand the importance of passing policies that support our industry's needs when it comes to infrastructure investment, tax reform, free trade and ensuring a strong agricultural economy."
AEM presented the Advocates Program awards at its recent annual conference of member companies. 
2018 Pillar of the Industry Award Winners
Calder Brothers Corporation
Doosan Bobcat
KOBELCO Construction Machinery USA, Inc.
Manitou Americas Inc.
Sioux Corporation
2018 Gold Award Winners
AGCO
Asphalt Drum Mixers
Blount International
Carlson Paving Products
Caterpillar Inc.
CLAAS of America
CNH Industrial
Cummins
Custom Products of Litchfield, Inc.
Deere & Company
General Kinematics
HCC, Inc.
Husco
JCB, Inc.
Johnson Crushers International
JLG
Ken Cook Co.
Kinze
Komatsu
Kondex Corporation
LeeBoy
VSS Macropaver
Stellar Industries
Terex Corporation
Topcon Positioning Systems
Vermeer Corporation
Volvo Construction Equipment
Weiler
Companies in this article