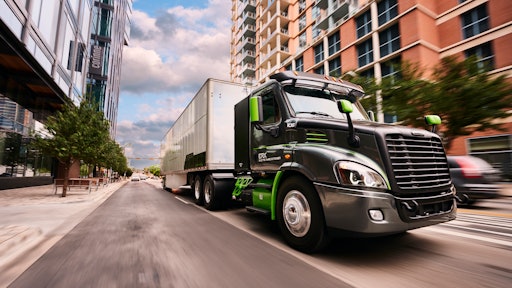 Hyliion
OEM Industry News Briefs provides a weekly round up of the latest news and company announcements you may have missed in the heavy equipment engineering and manufacturing industries.
Carraro Group partners with local university
Carraro Group recently formed a partnership with the Faculty of Engineering at the University of Ferrara in Italy. The company already collaborates with the acoustics and vibrations teams there, and is looking to further enhance the relationship.
Like many companies do, Carraro has formed the partnership to aid with technology development as well as potential future employees. The company says this further expansion of its partnership will focus on development of testing methods and models for mechanical components used in power transmission.
"Constant, structured collaboration with the Engineering Faculty of Ferrara is an excellent opportunity for us to strengthen our know-how thanks to research projects that focus highly on specific areas. We're also sure that the consolidation of this collaboration can bring advantages to the university too, in terms of technological transfer from a group like ours that's part of highly complex international business scenarios," explained Andrea Conchetto, CEO of Carraro Group, during the company's recent visit to the university.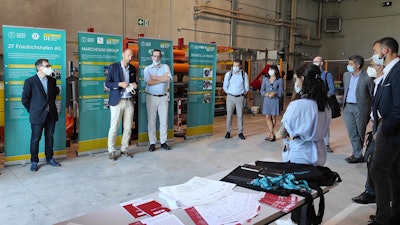 Liebherr USA names new managing director
Liebherr has named Kai Friedrich as Managing Director of Liebherr USA Co. and Division Director of Construction Equipment. He officially took over the position from Peter Mayr on August 1. In this role he will oversee and implement strategy for the company's nine product segments which include:
mobile and crawler cranes,
tower cranes,
components,
concrete technology,
refrigeration and freezing,
mining,
deep foundation machines,
maritime cranes and
construction equipment
Friedrich will also manage the sales, service, training and product management staff for construction equipment products as part of his role as Divisional Director for Construction Equipment.
"Kai Friedrich has a proven track record of leadership and many accomplishments with Liebherr over the years. He brings a wealth of knowledge and experience from several Liebherr companies in various international markets and will no doubt be a tremendous asset to the growth of our product segments here in the U.S.," says Dr. Torben Reher, Managing Director, Liebherr USA, Co., in the company's press release announcing Friedrich's appointment.
Friedrich brings 18 years of experience in the heavy equipment industry to the position, 17 of which were spent in various roles within the Liebherr Group.
Pettibone launches new telematics program
Pettibone has announced the launch of its X-Command telematics program which will be available for its X-Series telehandlers, Cary-Lift pipe and pole handlers, and Speed Swing rail maintenance machines.
X-Command is designed for remote tracking of a machine's location and performance metrics such as engine hours, fuel rate and usage, diesel exhaust fluid level, battery voltage, and other parameters. Doing so enables machine owners to address any issues early and potentially eliminate unplanned downtime.
Information can be accessed via an online dashboard, helping customers with remote diagnostics in some cases.
The telematics system comes standard on new Pettibone X-Series Extendo and Traverse telehandlers, and as a retrofit options on X-Series machines already in the field. It is an option on new Cary-Lift material handlers and Speed Swing machines.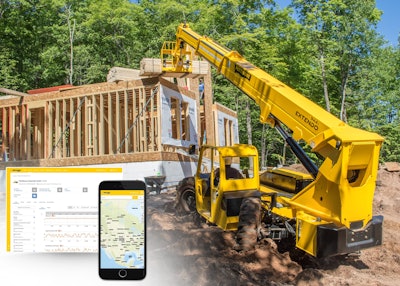 Regal Beloit updates online product tool
Regal Beloit has introduced an enhanced version of its Power Transmission Solutions (PTS) Edge tools to make it easier to use for selection of power transmission products. Regal Edge tools feature selection modules for belt drive, bearing and gearing products and mechanical power components, the company says in its press release announcing the release of the new version.
This new version of the tool is mobile-friendly for easy access on a phone or tablet, and is also integrated into the company's product catalog on its website.
Regal Edge is designed to help users more easily choose the right products to fit their specific application needs. There is also a belt drive efficiency calculator to help determine potential energy consumption cost savings when using Regal's Browning belt drives.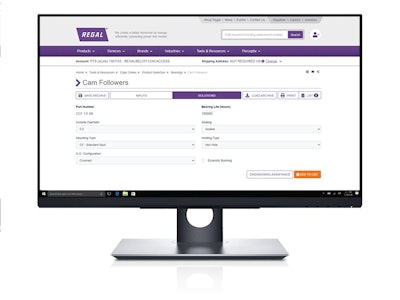 USPS fleet adds more propane fueled trucks
McAbee Trucking Inc.—which runs several mail routes for the United States Postal Service (USPS) between Greenville, SC, and Charlotte, NC—is adding additional propane fueled trucks to its fleet. It will purchase 20 clean propane autogas trucks; this will bring its fleet of propane vehicles up to 27.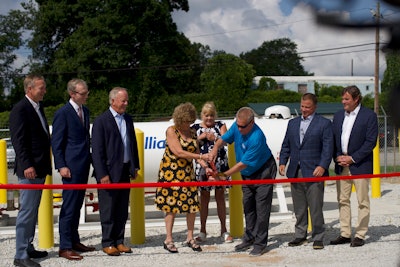 Lisa McAbee, owner of the company, first adopted propane autogas vehicles about 2 years ago. Since then, several other USPS-contracted fleets across the U.S. have also added propane-fueled trucks to their operations. "I want my legacy to be lowering my carbon footprint for my grandchildren so we can save our environment as quickly as possible," said McAbee, in a press release from the Propane Education & Research Council (PERC) about her fleet's propane truck expansion plans. "Propane autogas is the way to accomplish that goal. And because it's affordable, I've actually saved money by investing in propane autogas instead of other energy sources."
"McAbee Trucking is demonstrating that propane autogas is clean energy for everyone, including the USPS," said Tucker Perkins, President and CEO of PERC. "Considering the number of miles these trucks drive every day, this is a big step toward cleaner air to breathe and a healthier community for all Carolinians. Lisa is showing the world that propane autogas is a vital part of the low emissions solution we need for a cleaner future."
Listen to our podcast interview with Stephen Whaley, Director Autogas Business Development at PERC about a recent study which compares the carbon intensity of propane and electric powered vehicles.
Hyliion introduces long-range version of Hypertruck ERX
Hyliion has announced the launch of a long-range version of its Hypertruck ERX, which the company says is the first version that will be brought to market. This version adds 75 mi. (xx km) of all-electric range. According to the company, this will enable trucks equipped with the technology to qualify for zero-emission vehicle (ZEV) credits by meeting California's Advanced Clean Truck (ACT) Rule.
The Hypertruck ERX is an electric powertrain system comprised of an onboard generator which continually recharges the vehicle's batteries during driving operations. Doing so helps to reduce range anxiety associated with some electric vehicle technologies. The powertrain is designed to provide over 1,000 miles of total range.
Hyliion plans to produce multiple versions of the Hypertruck ERX to meet various truck OEMs' needs. It will do so by using a modular design for the powertrain system. In addition to the long-range version, Hyliion says it also intends to introduce a reduced electric range model.
"At Hyliion, we agree that climate protection and air quality improvement can't wait. But, for long-haul fleet operators whose success centers around reliable freight delivery, there is no room for error as they look for viable alternatives to diesel," said Thomas Healy, Founder and CEO of Hyliion, in the company's press release announcing the new powertrain option. "That is why Hyliion is collaborating with major truck manufacturers to offer the long-range iteration of the Hypertruck ERX™ and assist freight transportation fleets to achieve the critical emission reduction mandates California and other states require without compromising range, operating costs or performance."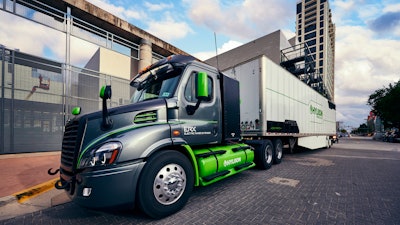 Companies in this article