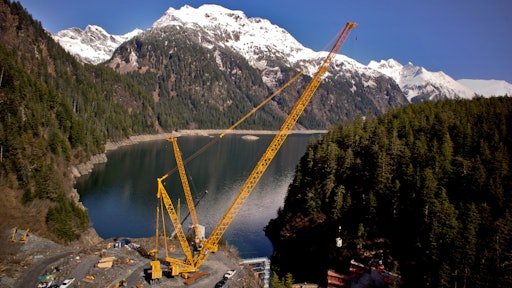 Liebherr
OEM Industry News Briefs provides a weekly round up of the latest news and company announcements you may have missed in the heavy equipment engineering and manufacturing industries.
Hyundai Construction Names New President
Hyundai Construction Equipment Americas, Inc. (HCEA) has announced Stan Park as the company's new president. Park is a 27-year veteran of the company; most recently he served as Vice President of Marketing and Dealer Development.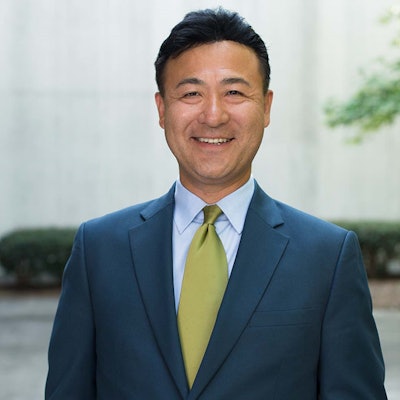 "Stan is a pillar of HCEA in North America and is well known throughout the organization domestically and abroad," said Mike Ross, Vice President of Sales, in the company's press release announcing Park's appointment. Ross said Park's experience and leadership abilities will be essential in driving the success of Hyundai's brand in North America going forward.
"For more than 20 years, I've been fortunate enough to grow with Hyundai. Today, I'm excited to have the opportunity to lead the company to the next level," said Park.
Thomson Industries Celebrates 50 Years of Ball Screws and Actuators Business
Thomson Industries Inc. is this year celebrating 50 years of its legacy Ball Screws & Actuators Co. (BSA) business. The company recently hosted a celebration of the anniversary at its Fremont, CA, facility during which it highlighted various business achievements as well as future goals.
The BSA business was started in 1971 by Scott Davis who initially sourced components from Thomson and other manufacturers to serve customers on the west coast of the U.S. Eventually, he began developing his own components and patented some of his developments.
BSA is one of several businesses Thomson has acquired over the years as part of its continued growth efforts.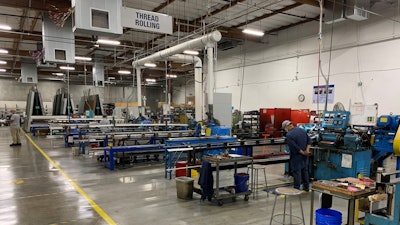 Goodyear Providing Intelligent Tire Technology for Diesel and Hydrogen Buses
Goodyear has announced it will partner with fellow Ohio-based Stark Area Regional Transit Authority (SARTA) to test the use of intelligent tire sensors as well as prototype tires on a fleet of diesel and hydrogen fuel cell powered buses.
The tires utilize Goodyear's TPMS Plus on-vehicle sensors which send real-time data on tire conditions. This allows operators to continuously monitor the tires and and potential issues to make maintenance more proactive. The companies will evaluate use of the technology in daily operations and how it can help to reduce fleet downtime and operational costs.
In addition, the prototype tire will be evaluated for its ability to measure tread wear, rolling resistance and tire life. Goodyear says it plans to use the information from this testing to drive future tire designs for electric vehicles.
"This work with SARTA will give us valuable data on ways tires can impact the safety, sustainability and efficiency of public transportation," said Johnny McIntosh, Goodyear's director, Integrated Solutions and Tire Management, in the company's press release announcing the collaboration.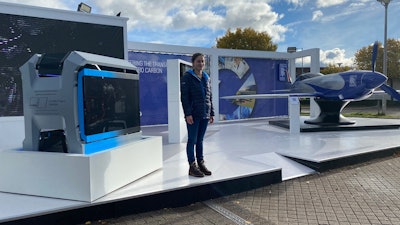 Rolls-Royce Showcases mtu Fuel Cell System at COP26
During the UN Climate Change Conference (COP26), Rolls-Royce is one of several companies exhibiting technologies aimed at reducing emissions. The company is showcasing its new mtu fuel cell system that is expected to be in series production starting in 2025.
This is just one of several technologies the company says it is developing to help reduce emissions output from various types of transport as well as power supply solutions.
Fuel cell solutions, sustainable fuels, hydrogen and methanol engines and all-electric and hybrid-electric aircraft are just some of the key elements in Rolls-Royce's ambition to achieve net zero by 2050 at the latest, the company says in its press release about its time at COP26. "We firmly believe that technology can be used to tackle the challenge of climate change. That is the reason why we are presenting our new technologies at the World Climate Summit. We are focusing our technological capabilities to play a leading role in enabling significant elements of the global economy to get to net zero carbon by 2050, including aviation, shipping, and power generation," said Andreas Schell, CEO of Rolls-Royce Power Systems.
Leaders from Rolls-Royce are also participating in the conference, providing their industry perspective during various programs and discussions being held as part of the event.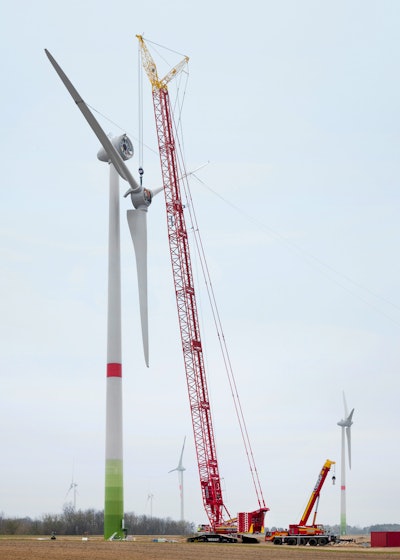 Liebherr Delivers Last LR 1600/2 Crawler Crane
Over the last 13 years, Liebherr has delivered 223 of its 600 tonne LR 1600/2 crawler cranes. However, as of the end of October, the company is removing the machine from its portfolio and replacing it with the LR 1700-1.0. As such, the last LR 1600/2 has left the company's factory in Ehingen for customer delivery.
The 1600/2 was originally designed for use in the wind power industry, and first entered the market in 2008. It was designed for use with wind turbines featuring a hub height of 130-135 m; the main boom of the crane was 138 m and included a fixed jib of 12 m. As the size of wind turbines increased over the years, Liebherr adjusted the design of its crane to meet the industry's needs.
Liebherr introduced its replacement, the LR 1700-1.0 in June 2021. It is a 700 tonne crane capable of meeting many of the increased industry requirements the LR 1600/2 is no longer capable of doing. New wind turbines are reaching hub heights of 165 m, bringing about the need for a larger machine with higher load capabilities.
Liebherr says in its press release announcing the final delivery of its 600 tonne machine that the final LR 1600/2 will be delivered to its customer van Adrighem based in the Netherlands.
Companies in this article