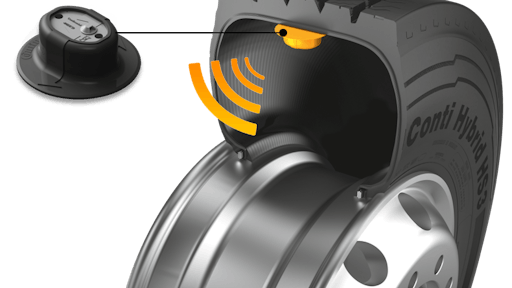 Continental
"Digitalization is finding its way into a number of different segments in the off-road industry," says Martin Lunkenbein, Service and Aftermarket Sales Executive Director - Agriculture at Camso. It is also finding its way into the various systems and components within heavy-duty equipment, including tracks and tires.
According to a recent press release from Continental, the global market for off-the-road (OTR) tires is growing at a compound annual growth rate of 4%, and digitization, automation and connectivity are among its biggest growth drivers.
As this trend has grown, so has the number of companies introducing so-called smart track and tire technologies with embedded sensors and connectivity to other vehicle systems such as telematics platforms.
Camso, for instance, introduced its patent-pending Smart Track technology in late 2017 featuring a temperature sensor embedded into the track. If the track reaches a high temperature level, the sensor sends a signal to the tractor which then automatically adjusts its speed to reduce the track temperature in order to maximize durability and avoid unnecessary damage.
"Tractors are now faster, travel greater distances and pull larger implements than ever before," says Lunkenbein. "New technology, such as smart tracks, demonstrate our commitment to developing solutions that advance a farmer's operation in terms of efficiency, productivity and ease of use."
Embedded sensors aid tire monitoring and connectivity
The first implementation of Camso's Smart Track technology will be for high-speed roading agricultural applications. "With higher roading speeds and fields far away from each other, farmers are looking to operate at maximum transport efficiency," explains Lunkenbein. "Our roading smart track solution will allow for optimal machine speed while preventing track failure due to excessive heat, [thus] minimizing downtime and maximizing track life.
"Ultimately, our goal is to protect the farmer's tracks while ensuring the lowest operating cost solution," he adds.
For this application, the sensor is embedded into the track's tread bar where it can monitor the temperature of the track as it travels over roadways. Camso is currently investigating two options for sending signals to the tractor if it determines the track is getting too warm. One is an integrated solution in which the sensor sends a signal to the engine control unit (ECU) and the tractor then reacts by adjusting its speed accordingly or a warning signal is given to operators who then adjust their travel speed. The other is to communicate to an app in order to let the operator know the tractor speed needs to be adjusted.
Lunkenbein says that once Camso has fully developed the sensor and tread bar improvement technologies for the roading application it will work on other possible applications. "At Camso, we want to get things right the first time out of the gate," he says. Only once the best solution has been provided in the initial application will others be looked into.
He does note the company is looking into the use of RFID (radio-frequency identification) technology in solid tires for material handling equipment. Similar to the Smart Track technology, the RFID will be integrated directly into Camso's solid-rubber forklift tires. Through this solution it can help "improve fleet management and ensure customers are running their tires at an optimal manner while also enabling better, more timely service before fleet managers switch out their forklift tires," says Lunkenbein.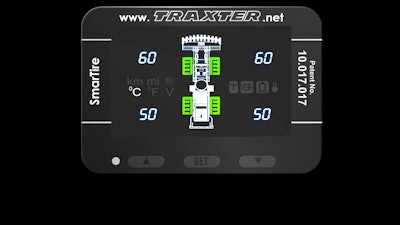 Like tracks, heat buildup is a common issue with solid tires and a main cause of failure. To help monitor this, Trident Industrial Tires & Tracks LLP recently introduced its system for monitoring these types of tires, the Solid Tire Performance Monitoring System (STPMS).
The STPMS features sensors encased in a specially designed enclosure which can be embedded in a sidewall aperture of a solid tire. The sensors continuously send temperature data to a handheld display monitor so operators and fleets can monitor tire temperature and take corrective action if necessary.
Continental has been developing embedded sensor technologies for both on- and off-road applications. During Agritechnica 2017, it unveiled its track sensor concept featuring a microchip molded into the tread of a track. It communicates directly with an in-cab monitor to provide equipment operators with real-time data on the condition of the track.
Most recently the company introduced its remote digital tire monitoring platform ContiConnect. The system uses an automotive-grade sensor developed by Continental specifically for its commercial tire monitoring systems. While the company produces TPMS sensors for passenger car applications, it found those were not adequate to withstand the rigors of commercial applications due to their valve-mounted positioning. The commercial sensor works with all of Continental's digital tire monitoring systems.
Capable of reading tire air pressure and temperature, the sensor is mounted in the inner liner of the tire which protects it from damage—in both on- and off-road applications—and enables it to deliver the most accurate readings, says Michelle Reinhart, Continental's Head of Digital Solutions for Commercial Vehicle Tires in the Americas Region. "Unlike valve-mounted sensors which can be damaged during curbing, and which use an algorithm to calculate temperature values, the Continental sensor is securely adhered to the inner liner of the tire and physically reads the air pressure and temperature."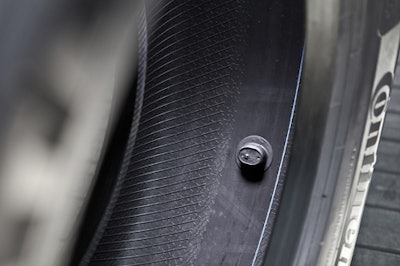 While embedding the sensor keeps it safe, Reinhart notes this does require dismounting of the tire in order to retrofit the system into a fleet's existing tires. To overcome this, Continental offers tires with pre-mounted sensors directly from the factory. "Almost any tire in our portfolio can be ordered as an intelligent tire," she says. "Some tires are being sold only as intelligent tires due to a natural fit with the TPMS capabilities, which is the case with the [new] Conti Coach HA3."
Embedding a sensor at the factory level helps reduce costs, as well as downtime and complexity for fleets. In addition, Reinhart says it ensures proper installation and prevents installation errors from occurring.
The new ContiConnect system is capable of monitoring an entire fleet; when vehicles arrive at the fleet terminal, the system alerts back office personnel to tire issues via a mobile-friendly web portal, as well as through text and email notifications for severe alerts.
Reinhart says its systems like ContiConnect are true Tire Pressure Management Systems (TPMS) because their sensors actually read the tire pressure and temperature instead of calculating temperature with an algorithm as some systems on the market do. "Continental calls it a 'digital tire monitoring system' because in addition to reading TPMS data, it also feeds that data into a display (in the case of ContiPressureCheck) or into a web portal (as with ContiConnect)," she explains. "Therefore, the data is accessible beyond what is normally possible with a TPMS."
According to Reinhart, one of the characteristics that helps Continental's digital tire monitoring solutions stand out from other systems on the market is the fact that components of all systems can be combined to take advantage of different functionalities, enabling a custom product to be developed for each fleet customer.
For instance, some customers utilize ContiConnect Yard in conjunction with the company's ContiPressureCheck to keep drivers informed while on the road, as well as enabling the fleet manager to see collected data once the vehicle returns to the fleet terminal.
Similar to ContiConnect, ContiPressureCheck features a sensor embedded in the tire to monitor tire performance. However, it monitors a single vehicle in real time and alerts drivers to tire pressure and temperature issues via an in-cab display. The system can also be connected to one of Continental's telematics partners for remote data viewing in the telematics platform. "With Continental's ContiPressureCheck system, the driver can monitor the tire pressure situation in real time, and determine whether they need to immediately pull off the road or they can safely make it to the next service station," explains Reinhart. "By adding telematics integration, a fleet manager or dispatcher could help with this analysis in real time as well."
She notes that operations where vehicles return to the terminal daily (or least every few days) would benefit most from the ContiConnect system, while operations where vehicles travel for long periods of time before returning to the terminal would benefit most from ContiPressureCheck. The tire sensor is the same for all tires and all applications.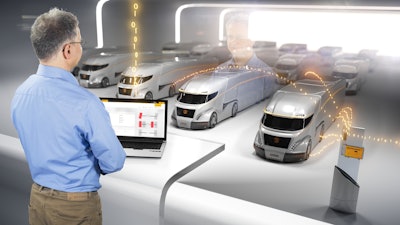 As companies continue to develop their track and tire products, digitalization and connectivity will continue to play an important role.
Reinhart says one area that is especially interesting in regards to tire sensors is one that could calculate mileage or tread depth. "Last year, Continental debuted two concepts for passenger tires, ContiSense and ContiAdapt, which include technologies that may be transferred to our commercial tires in the future as well."
She explains that ContiSense is based on the development of electrically conductive rubber compounds which enable electric signals to be sent from a sensor in the tire to a receiver in the vehicle. Rubber-based sensors continuously monitor both tread depth and temperature; if the measured values are above or below predefined limits the system immediately alerts the driver. If the tread is penetrated, a circuit in the tire is closed and causes an immediate warning to be sent to the driver faster than systems used to date which only warn the driver once tire pressure has started to fall, says Reinhart. "In the future, the ContiSense system will feature additional sensors that can also be utilized individually. Thus, information about the road surface, such as its temperature or the presence of snow, can be 'felt' by the tire and passed on to the driver. The data can be transmitted to the vehicle electronics or via bluetooth to a smartphone."
ContiAdapt, on the other hand, combines micro-compressors integrated into the wheel to adjust the tire pressure with a variable-width rim. This allows the system to modify the size of the contact patch of the tire, which in various road conditions is an important factor for both safety and comfort, says Reinhart. "Four different combinations allow perfect adaptation to wet, uneven, slippery and normal conditions.
"For example, a smaller contact patch combined with high tire pressure makes for low rolling resistance and energy-efficient driving on smooth, dry roads," she explains. "By contrast, the combination of a larger contact patch with lower tire pressure delivers ideal grip on slippery roads."
The system also allows users to set low tire pressures, below 1 bar (14.5 psi), to help ease the vehicle out of a parking space in deep snow or to traverse a dangerous stretch of black ice.
While sensors and other technologies will continue to play an important role in future developments, Reinhart says tire sensors cannot compensate for poorly engineered tires, which is why Continental continues to invest in cutting-edge groove geometry, advanced tread compounding and other technologies to ensure a high level of performance. "In addition, we know that driver behavior in many cases can influence tire wear patterns. Educating drivers and providing tools to help fleets correct damaging behaviors can help improve tire runout," she concludes. "Continental is committed to partnering with fleets on every aspect of the tire lifecycle to deliver the lowest overall driving cost."
Companies in this article