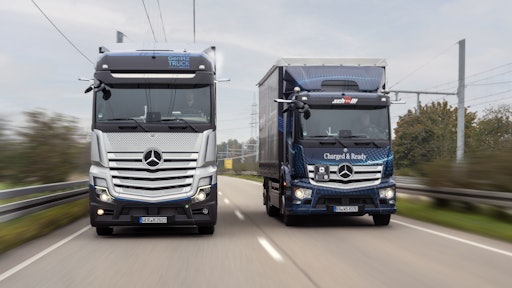 Daimler Trucks
OEM Industry News Briefs provides a weekly round up of the latest news and company announcements you may have missed in the heavy equipment engineering and manufacturing industries.
Link Names New Director of Engineering, Suspension Controls
Link Mfg., Ltd. has announced the appointment of Marco Morales to the position of Director of Engineering, Suspension Controls. Morales is a 20-year industry veteran who has helped bring increased profits to the companies he has worked at through his business initiatives.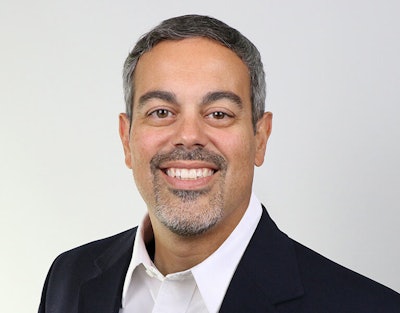 In this position, Link says in its press release announcing his appointment that Morales will be leading product engineering teams engaged in developing and sustaining Link's growing valve and suspension control technologies, including integration of the company's SmartValve and Smart Air Management System (SAMS), with Link's Road Optimized Innovations (ROI) Technology. He will be stationed out of the company's new technology center in Grand Rapids, MI.
"Marco's diverse management experience within Fortune 500 companies and privately held manufacturing organizations will be an asset to Link as we continue to expand and grow our operations in Iowa, Michigan, Canada and Europe," said Jim Huls, President of Link Manufacturing. "He also brings an extensive background in managing people and initiatives associated with advanced electronic controls and related systems that is complementary to Link's existing capabilities, and in alignment with our strategic objectives."
Hitachi Construction Machinery Loaders America Renamed
Hitachi Construction Machinery Co., Ltd. has announced the renaming of Hitachi Construction Machinery Loaders America, Inc., its U.S. consolidated subsidiary in charge of the manufacturing and sales of Hitachi branded wheel loaders in North America. The company will now be called Hitachi Construction Machinery Americas Inc.
The decision to change the name is intended to reflect growth efforts in North, Central and South America, and comes shortly after announcing the longstanding joint venture with John Deere will end in 2022.
The company plans to review its current organizational structure and make any necessary changes or additional appointments to aid its growth efforts in the Americas. More staff will be added to aid with this, the company says in its press release announcing the name change. Per the press release, organization changes made in America thus far include appointment of Sonosuke Ishii, Senior Vice President and Executive Officer to Chairman of the company, and Masaaki Hirose, former Chairman, serving as Vice Chairman, working together with Alan Quinn, Managing Director, to strengthen cooperation between Japan and the America.
Maxam Tire Acquiring Latin America Joint Venture
MAXAM Tire Latin America (LATAM) announces it has made the decision to acquire and control the full equity interest in the LATAM Joint Venture (JV) previously in place with Gustavo Lima and Marco Zigni effective October 31, 2021. The joint venture was created in 2015 with the goal of expanding the company's brand in Latin America.
"We truly appreciate all of the work done by our MAXAM LATAM partners in the region. The business has done extremely well under their leadership, but we feel the time is right to transition the management of this business in-house to realize our long-term strategic objectives," said Troy Kline, President, MAXAM Tire North America, in the company's press release announcing the acquisition.
MTA Displays used on New Manitou MRT and MT Telehandlers
MTA Giotto and Leonardo displays are now being used in the cabs of several telescopic handlers developed by Manitou. These displays are among the company's most popular, and are developed on an Android platform.
Features of the displays include a TFT multi-touch, anti-fingerprint and anti-glare screen which allows use with gloved hands. The Giotto and Leonardo displays can be used in portrait and landscapt mode, and are highly resistant to vibrations as well as hot temperatures.
Two video inputs are included on both displays to connect a rear-view camera so operators can be provided with a 360-degree view around the machine. Additional features include:
a multipage menu for viewing on several operating parameters on multiple screens
highly detailed 3D graphics
capable of displaying real-time machine parameters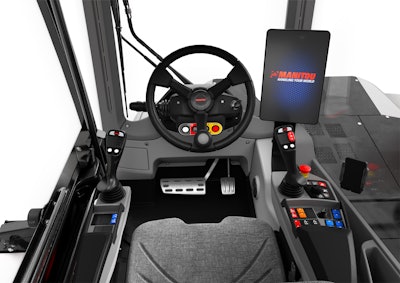 Cummins Named to Climate Action Groups
Ahead of the COP26 summit which begins October 31, Cummins Inc. has been named to two climate action groups, the Business Ambition for 1.5°C campaign and the United Nations' Race to Zero.
Per Cummins' press release announcing its acceptance into these groups, the Business Ambition for 1.5°C encourages companies to set robust emission reduction goals for greenhouse gases (GHGs) using science-based targets aligned to the 2015 Paris Climate Accords. The Race to Zero is­ a global campaign to rally leadership and support from businesses, investors, cities and regions for climate action. Both groups maintain acting now can prevent future environmental threats, create jobs and unlock sustainable growth.
"Climate change is the existential crisis of our time and the biggest threat to our Mission as an organization," said Cummins' Chairman and CEO, Tom Linebarger, in its press release. "So, we want to dedicate our innovation, our talent, our resources, and our investments reducing our impact on the climate. Of course, we have a lot of other challenges to address at the same time to fulfill the needs of our stakeholders, but if we don't address climate change, there will be nothing else to do."
The groups are just two of the many in which Cummins is involved to as part of its efforts to advocate for the planet.
Daimler Trucks' Fuel Cell Truck Receives License for Road Use
Daimler Trucks recently announced its prototype hydrogen fuel cell powered truck, the Mercedes-Benz GenH2 Truck, received approval from German authorities for use on public roads. In April 2021, the company announced it had begun rigorous testing of the truck on its test track.
The series version of the truck will now be tested on the B462 road near Rastatt as part of the eWayBW project which is testing various electric truck types, including those powered by catenary wires. Daimler Trucks says in its press release announcing the road use license that comparative tests of the purely battery-electric Mercedes-Benz eActros with the catenary trucks and fuel-cell trucks from other manufacturers will be conducted as part of the project.
Daimler Trucks says receiving the license for road use of the Mercedes-Benz GenH2 Truck is an important step in reaching series production of the vehicle. The company plans to deliver the first trucks to customers starting in 2027.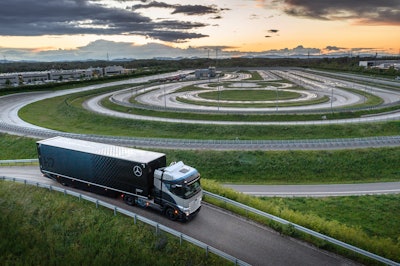 Companies in this article