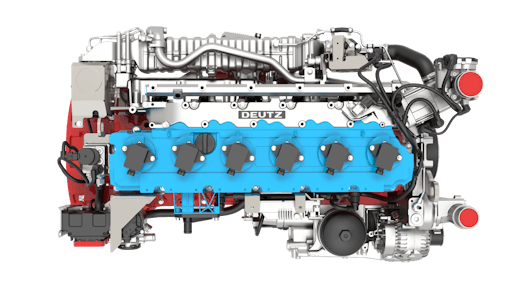 DEUTZ AG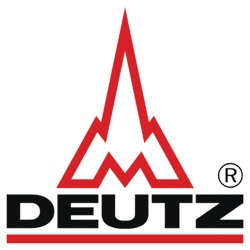 DEUTZ has launched the TCG 7.8 H2, the company's first hydrogen engine. The drive, which meets all of the eligibility criteria set by the EU for zero CO2 emission engines, is a further addition to the company's portfolio of low-emission and zero-emission drive systems.
"DEUTZ are pioneers of carbon-neutral drive systems for off-highway applications. We already manufacture clean and highly efficient engines. Now we are taking the next step: Our hydrogen engine is ready for the market. This represents an important milestone that will help us to make our contribution toward the Paris climate goals," says Dr. Frank Hiller, CEO of DEUTZ AG.
The hydrogen-powered engine has passed initial tests on the test bench with flying colors and is scheduled to go into full production in 2024. Dr. Markus Müller, Chief Technology Officer of DEUTZ AG, explains: "The six-cylinder TCG 7.8 H2 is based on an existing engine design. Generating a power output of 200 kW it runs carbon-neutral and very quietly. In principle, the engine is suitable for all current DEUTZ applications, but due to the available infrastructure it is likely to be used first in stationary equipment, generators, and rail transport."
Read more about the TCG 7.8 H2 and other hydrogen technology advancements in the article "Hydrogen is Here for the Long Haul."
First pilot project with customers in the pipeline
The hydrogen engine's first pilot application will be in stationary equipment for power generation in partnership with a regional utility company. The pilot is scheduled to commence at the beginning of 2022 with the aim of demonstrating the engine's suitability for everyday use.
On August 23, DEUTZ announced the partner for this project would be Cologne-based utility provider RheinEnergie AG. A DEUTZ hydrogen engine will be used to power a generator that will produce 170 kilovolt-ampere of electricity. The pilot project will be run at RheinEnergie's cogeneration plant in Cologne-Niehl. RheinEnergie is procuring the hydrogen and has already secured its supply.
The project is part of RheinEnergie's efforts to use methods for carbon-neutral energy generation. It believes hydrogen will play a key role in this as a long-term replacement for fossil fuels.
The first test cycle, lasting around 6 months, will be focused solely on generating power using the DEUTZ engine. This will be followed by a second phase, also lasting several months, in which the waste heat from the system will also be utilized (cogeneration).
Due to the available infrastructure, particularly in terms of the supply situation for hydrogen, DEUTZ envisages its newly launched hydrogen engine will initially being used in stationary equipment like the project with RheinEnergie. "But essentially the hydrogen engine with a power output of 200 kW is suitable for all current DEUTZ applications in the off-highway segment," explains Michael Wellenzohn, member of the DEUTZ Board of Management responsible for sales, marketing, and service. "We are planning to go into volume production from 2024. This first real-world trial is an important milestone on that journey – one that we are delighted to be embarking on with RheinEnergie by our side."
The two partners will initially be investing a combined total of around €1.3 million in the operating trial at the Niehl plant. And though this pilot project is relatively small in scale, it has the potential to be the beginning of decentralized, sustainable, and greenhouse-gas-free energy supply in urban centers – particularly when the price of hydrogen falls to a level that makes it a viable option for the market.
Development agreement to bring hydrogen to off-highway applications
On August 26, DEUTZ announced it signed a collaboration agreement with the German Aerospace Center (Deutsches Zentrum für Luft- und Raumfahrt [DLR]) to develop ideas and solutions for the operation of construction equipment and agricultural machinery using hydrogen.
The alliance between DEUTZ and the German Aerospace Center is a product of the DLR.InnovationHub, which brings together actors from the worlds of research and commerce. It fast-tracks the trialing of innovative new ideas and in doing so helps new technologies make the leap from research to application. The current focus is on the 'green construction site', which involves converting existing technologies used in building applications to make them low-carbon or even carbon-free. The DLR's technology marketing team and the DEUTZ Innovation Center are coordinating the joint activities.
"As part of an intensive collaboration process, research and development expertise is being brought to bear to come up with new solutions to specific real-world challenges," says Professor Karsten Lemmer, the member of the DLR Executive Board responsible for innovation, knowledge transfer, and research infrastructure. "Formats such as the DLR.InnovationHub, and the partnerships that result from it, are how the DLR fulfils its mission of turning research into commercially viable innovations."
"The cooperation agreement with the DLR is an important milestone in our development activities," says Dr. Ing. Markus Müller, DEUTZ's Chief Technology Officer . "The aim is to speed up progress in making hydrogen drives viable for the off-highway segment, and we will be combining our expertise and R&D capabilities to achieve this."
The researchers from the DLR Institute of Vehicle Concepts will initially be working with their partners at DEUTZ to scope out the necessary parameters – both technological and commercial – for making off-highway vehicles carbon-neutral. The people who operate the machinery will also be asked about their requirements, particularly with regard to vehicle data, machine variants, and load and usage profiles. DEUTZ will be able to draw on its broad product portfolio to offer invaluable insights in these areas. The next phase of the project will see the partners compare and evaluate the different technological solutions, focusing in particular on energy logistics for selected application scenarios in agriculture and construction. The aim is to come up with solutions that will allow the vehicles used in these scenarios to be powered by hydrogen drives.
Vehicles powered by hydrogen need to be refueled more frequently than their diesel equivalents. This is because diesel has a higher energy density than hydrogen. Ideally, refueling should be integrated into the existing workflows. The DEUTZ-DLR collaboration will mainly be looking at solutions focused on this particular aspect. Mobile, intelligent, and connected fueling systems are one potential approach. This could drastically reduce the distance traveled for refueling and go some way to compensating for the additional effort in involved in planning and carrying out the refueling process. Mobile, self-driving refueling robots are another idea, and could be used when the operators take a break, for example.
*Editor's Note: Information from press releases provided by DEUTZ, compiled and edited by Sara Jensen.