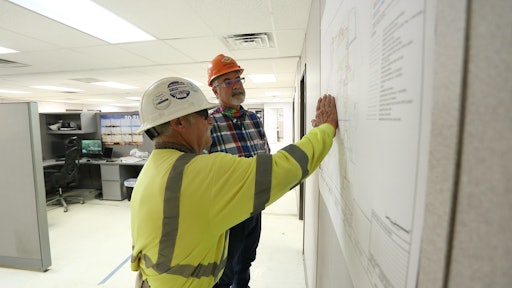 ©James Kim Photography + PC Construction – agc.org
The ACEC Research Institute released a comprehensive study that found federal and state policies that select engineering services based on the design team's qualifications and experience had lower project costs and better on-time delivery versus selecting firms based on the cheapest bid.
The study, conducted jointly by Paul S. Chinowsky of the University of Colorado Boulder and Gordon Kingsley of the Georgia Institute of Technology, builds upon previous research which found similar benefits in the use of Qualifications-Based Selection (QBS) by government agencies in terms of cost savings and project success.
Key Findings
QBS saves money: Projects where QBS was used to procure engineering services experienced less cost growth (3%) versus the national average (6%)
QBS saves time: QBS projects perform better in terms of project delivery time, experiencing less schedule growth versus the national average (7% with QBS versus 10% without)
QBS produces higher levels of client satisfaction: (89% of QBS projects receiving "high" or "very high" satisfaction ratings from project owners)
QBS promotes innovation: Projects incorporating QBS have a greater likelihood of producing innovative solutions
In-Depth Analysis
The new Updated Analysis of QBS in the Procurement of Engineering Services finds that QBS provides direct benefits in both the design and construction phases of a wide variety of public and private sector projects.
From direct cost and schedule benefits to indirect benefits of reduced management issues and increased innovation, QBS demonstrates a clear benefit when applied across a host of project types, sizes, and geographic regions.
"The clarity and simplicity of the process when QBS is used enhances project outcomes and owner satisfaction, while other methods such as low bid procurement can lead to unintended consequences including cost overruns and longer timelines," said Paul Chinowsky, University of Colorado Boulder. "Our research shows that using QBS helps address challenges faced by procurement professionals, including the reduction in trained staff in smaller jurisdictions, the lack of education on appropriate procurement policy, and misperceptions due to confusing marketing campaigns by alternative procurement groups."
The report comes at a time when federal and state agencies begin an effort to allocate billions of dollars in new investment in the nation's critical infrastructure.
The study provides key recommendations on the role of hiring the right engineering design team to deliver successful project outcomes. More experienced teams bring enhanced innovation and can help to simplify complexity.
Case study examples demonstrating each of these findings are included in the report.
"We are encouraged to see that QBS is continuing to be the primary method by which selections are being made across a range of projects, and that projects using QBS are outperforming the national average by staying on schedule and on budget," said Daphne Bryant, executive director, ACEC Research Institute. "QBS is the responsible approach for procurement and is demonstrating tangible value to governments, taxpayers and owners."