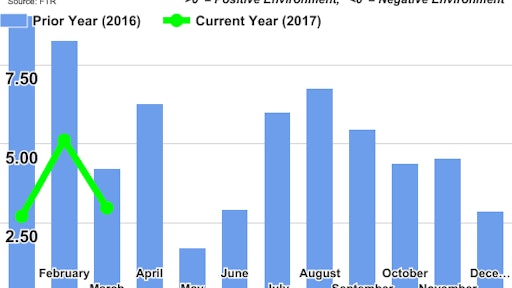 FTR's Trucking Conditions Index (TCI) for March fell back to a reading of 2.97 after an upturn in February. However, as detailed in the May issue of the Trucking Update, FTR sees the recent steady improvement in spot rates as an indication that a market-wide move to capacity tightness is on the way with a correlating upswing in the index throughout 2017 and into 2018. FTR remains confident in the freight market for 2017, as the year started off with strong growth in Q1. Its forecast has moderated somewhat for the regulatory headwinds affecting trucking, but still expect them to have significant effect toward the end of 2017 and for most of 2018.
Jonathan Starks, Chief Operating Officer at FTR, comments, "The TCI has settled into a positive, but not robust, level of market conditions over the last 12 months. The main reasons for the reduction in the March TCI stems from slightly weaker freight activity, reduced estimates of capacity tightness, and continued weaker-than-expected conditions for contract rates. Trucking conditions are likely to stay in this moderate range until late this year when the Electronic Logging Device (ELD) mandate comes into effect. Once you combine the productivity hit coming from full implementation of ELDs with continued freight growth and the capacity reductions that have already occurred, you get a market that is poised to see significant movement in rates.
"Recent spot market activity shows that some of these trends are already underway. Truckstop.com's Market Demand Index (MDI), a measure of tightness in the freight-matching sector, is up nearly 100% compared to this time last year, and prices are now showing 5% year-over-year gains - enough of a move to convince us that the market is continuing to turn in a carrier's direction."
The Trucking Conditions Index tracks the changes representing six major conditions in the U.S. truck market. These conditions are: freight volumes, freight rates, fleet capacity, fleet bankruptcies, fuel price, and financing. The individual metrics are combined into a single index that tracks the market conditions that influence fleet behavior. A positive score represents good, optimistic conditions. A negative score represents bad, pessimistic conditions. The index tells you the industry's health at a glance. Similarly, a reading well below zero on the FTR Trucking Conditions Index warns you of a problem….and readings high above zero spell opportunity. Readings near zero are consistent with a neutral operating environment. Double digit readings (both up or down) are warning signs for significant operating changes.