The Solaris Urbino 12 hydrogen is set to be tested in three additional cities. Already undergoing real-world operations in Graz and Klagenfurt, Austria, as well as in Bolzano, Spain, the bus will be delivered to public transport operators in Germany—in the cities of Frankfurt, Cologne and Wuppertal.
Demand for alternatively fueled vehicles continues to grow as cities look to reduce emissions and companies, such as transport agencies, look to be better global citizens. In addition to the emissions reduction benefits these vehicles offer, operating costs are reduced, as well as noise levels which is especially beneficial in large cities. As urban populations continue to grow, these types of vehicles will become ever more desirable.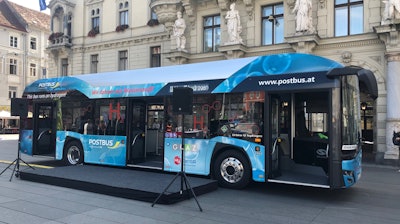 Hydrogen is seen as an especially beneficial alternative fuel option as its only byproduct is heat and steam. The Urbino 12 hydrogen features a fuel cell which acts as a miniature hydrogen power plant on board the vehicle. This enables the bus to travel up to 350 km on a single refill. The hydrogen fuel cell generates electric power through reverse electrolysis and then transfers that power directly to the driveline.
In addition to buses, several heavy-duty truck OEMs have begun research and development efforts for hydrogen fueled vehicles.
According to Solaris, it has received a great deal of interest in the Urbino 12 hydrogen. Representatives from several public transport operators approached the company upon the unveiling of the bus in June at the Global Public Transport Summit UITP in Stockholm. Paris' Régie Autonome des Transports Parisiens (RATP) was one such company which signed a contract to lease and test the hydrogen bus. It will test Urbino 12 in regular passenger traffic beginning in 2020.
Solaris says the bus has also received its first buyer. At the end of May the carrier SASA Bolzano in Italy ordered 12 units of the bus, with the delivery planned for the end of 2021.