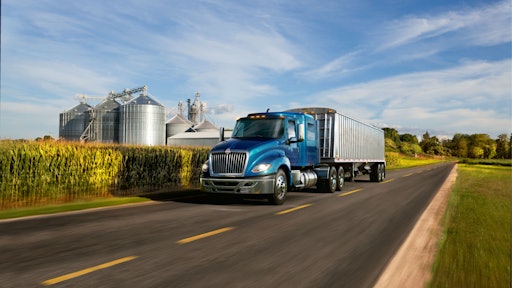 Navistar International
FTR reports preliminary North American Class 8 orders for November at a disappointing 17,300 units, down 21% from October. This is was the lowest November total since 2015 and was 39% lower than the same month a year ago.
Classes 5-7 did not fare as well, either. Preliminary data from ACT Research shows orders for Classes 5-7 declined 8% on a month-over-month bases to 15,300 unites. ACT says combined Classes 5-8 intake fell 15% month-over-month and 38% year-over-year in November on a nominal basis.
Fleets remain extremely cautious heading into 2020, placing small orders and not extending orders much beyond the first quarter. A couple OEMs reported decent order activity, but total orders fell below expectations. Class 8 orders for the past 12 months have now totaled 180,000 units.
Read more: Commercial Vehicle Market on Track for Slowdown
Don Ake, Vice President Commercial Vehicles, comments, "The fall order season has gotten off to a slow start. Freight growth has stalled from the high rates of last year. This is causing fleets to be much more measured in their ordering for 2020. There still will be plenty of freight to haul, so we expect fleets will continue to be profitable and to replace older equipment. However, there won't be a need for much additional equipment on the roads.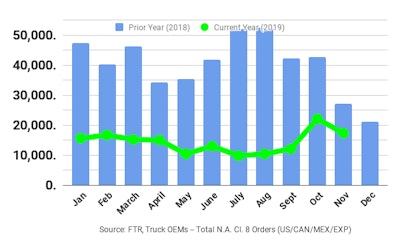 "There is still a great deal of uncertainty in the environment which is creating apprehension in the trucking industry. Manufacturing has receded for four straight months, slowing economic growth. The trade war and tariffs are destabilizing prices and supply chains. And the tumultuous political climate just adds to an uneasy mix. The industry thrives on stability, but we are now on a rocky road."
"Preliminary November data show that Class 8 net orders failed to sustain October's encouraging start to the order season," adds Tim Denoyer, ACT's Vice President and Senior Analyst. He continues, "The freight market downturn worsened in the past month and uncertainty surrounding trade and tariffs continue to weigh on truck buyers' psyches. With rising pressure on carrier profits from the combined impact of lower rates and the recent, rather sudden jump in insurance premia, recent events have not developed in the industry's favor."
Denoyer concludes, "While private fleets continue to add capacity on the retail end, the market is increasingly heeding for-hire price signals and the stage is being set to right-size the fleet, bringing it closer to equilibrium with the work to be done."
Regarding the medium-duty segment, Denoyer adds, "This marks an eighth consecutive month of below-trend net order activity, likely reflecting souring investment sentiment amid ongoing trade uncertainty and adding pressure to the 2020 production outlook."
Companies in this article