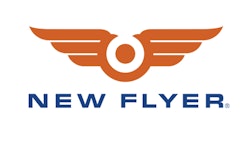 New Flyer Industries Inc., the leading manufacturer of heavy-duty transit buses, motor coaches and parts distribution in Canada and the United States, announced its order activity and backlog update for the fourth fiscal quarter ended January 1, 2017 (Q4 2016).
The order and delivery activity and backlog for Q4 2016 reported in this release includes activity for heavy-duty transit buses manufactured by the company's subsidiaries, New Flyer Industries Canada ULC and New Flyer of America Inc. (together, New Flyer), and motor coaches manufactured by its subsidiaries, Motor Coach Industries Limited and Motor Coach Industries Inc. (together, MCI).
The order and delivery activity and backlog as reported excludes pre-owned transit buses and motor coaches.
Deliveries, Order Activity, and Option Expiry
The company delivered 993 equivalent units (EUs) in Q4 2016, an increase of 304 EUs compared to 689 EUs in the fourth fiscal quarter ended December 27, 2015 (Q4 2015). The Q4 2016 deliveries increased 216 EUs compared to the third fiscal quarter of 2016 (Q3 2016), as a result of the timing of the New Jersey Transit coach deliveries combined with the seasonality of private market coach deliveries. Total bus and coach inventory at January 1, 2017 was 495 EUs, a decrease of 137 EUs from the previous quarter.
The company's new transit bus and coach orders (firm and options) in Q4 2016 totaled 1,522 EUs. Order activity in the period included:
New firm orders for 1,018 EUs (valued at $475.2 million)

New option orders for 504 EUs (valued at $236.6 million)

Options for 597 EUs converted to firm orders (valued at $349.2 million)
The last 12 months (LTM) Book-to-Bill ratio (defined as new firm and option orders divided by deliveries) was 131% and has been greater than 100% for 15 of the last 16 quarters, demonstrating overall growth in the company's total backlog.
In addition, 714 EUs of new firm and option orders were pending from customers at the end of the period, where approval of the award to the company had been made by the customer's board, council, or commission, as applicable, but purchase documentation had not yet been received by the company and therefore not yet included in the backlog.
In Q4 2016, 150 option EUs expired and remaining options in the current backlog will expire if not exercised.
In 2013, the Federal Transit Administration (FTA) issued a Dear Colleague or guidance letter to the transportation industry providing guidance on joint procurements and the assignment of options to purchase buses (referred to as "piggybacking"). The FTA encourages its grantees (such as transit agencies) to issue joint procurements, but limits the amount of goods and services an agency can specify under a procurement to that amount required to meet its expected needs. The FTA continue to remind grantees that they are prohibited from improperly expanding procurements to include excess goods simply for the purpose of assigning options to other agencies at a later date. As a result of this FTA guidance letter, the industry has seen a greater number of procurements issued by agencies, but with a lower average number of total options specified under each procurement.
Total Backlog
At the end of Q4 2016, the company's total backlog increased to 10,187 EUs (valued at $5.23 billion) compared to 9,808 EUs (valued at $5.08 billion) at the end Q3 2016, and 9,664 EUs (valued at $4.95 billion) at the end of Q4 2015.
The company's backlog consists of 30-, 35-, 40- and 60-ft. medium- and heavy-duty transit buses, and 45-ft. motor coaches primarily for public customers. Buses incorporating clean propulsion systems (such as natural gas, diesel-electric hybrid, electric-trolley, and battery-electric) represent approximately 42% of the total backlog. Zero-emission buses (battery-electric and electric-trolley) represent approximately 4.2% of total backlog.
Market Demand
The company's Bid Universe metric reports active public sector competitions in Canada and the United States, and provides an overall indicator of active bid activity and expected heavy-duty transit bus and motor coach market demand. It is a point-in-time snapshot of: (i) EUs in active competitions, defined as all requests for proposals received and in process of review plus bids submitted and awaiting customer action, and (ii) management's forecast based on public customer projection of all expected EUs to be placed out for competition over the next five years.
The total number of active EUs at the end of Q4 2016 was 6,600 EUs, which is consistent with the previous quarter. The number of EUs in the total Bid Universe at the end of Q4 2016 was 21,138 EUs, which is a decrease of 2,597 EUs over Q3 2016.
Procurement of transit buses and motor coaches by the public sector is typically accomplished through formal multi-year contracts, while procurement by the private sector is typically accomplished through transactional sales. As a result, the company does not publish a forecast metric for private sector buses and motor coaches.
Management continues to anticipate that transit bus and motor coach procurement activity by public transit agencies throughout the U.S. and Canada should remain robust based on an aging fleet, improved overall economic conditions, expected customer fleet replacement plans and active or anticipated procurements. Management also anticipates stable private sector demand for motor coaches through 2017 given healthy market dynamics including the general economy, travel trends and credit markets. The company's master production schedule combined with current backlog and orders anticipated to be awarded by customers under new procurements is expected to enable the company to deliver approximately 3,650 EUs in fiscal 2017 with production rates increasing over 2016 for both heavy-duty transit buses and motor coaches. Production rates will vary from quarter to quarter due to sales mix and award timing.
New Jersey Transit Commuter Coach Contract
On October 2015, NJ Transit awarded a 6-year contract to MCI for 772 commuter coaches and options for an additional 450 coaches. In April 2016, a purchase order was issued for the first fiscal year's production of 184 coaches, of which 142 were scheduled to be delivered in 2016.
On July 7, 2016, after the first five coaches were accepted, NJ Transit advised MCI that the replenishment of the New Jersey Transportation Trust Fund Account (the TTFA) had been delayed and that New Jersey Governor had issued Executive Order No. 210 directing the immediate and orderly shutdown of all ongoing work funded under the TTFA.
Following the enactment of legislation on October 14, 2016 to provide funding to the TTFA, the New Jersey Governor issued Executive Order No. 216 lifting the suspension of all work funded under the TTFA. MCI has completed 108 coaches for New Jersey Transit to date, with 96 coaches sold in 2016.
Aftermarket
Gross orders received by the company's aftermarket business increased by 30% in Q4 2016 compared to Q4 2015, and decreased slightly by 6.3% compared to Q3 2016. Total shipments for the quarter increased by 32% compared to Q4 2015 and decreased by 4.2% compared to Q3 2016. Year-over-year increases in the aftermarket business are primarily related to the acquisition of MCI.
NOTE: All dollar amounts are stated in U.S. currency based on an exchange rate of U.S. $1.00 = CAD $ 1.3427 to calculate the value of the Canadian contracts in this release.