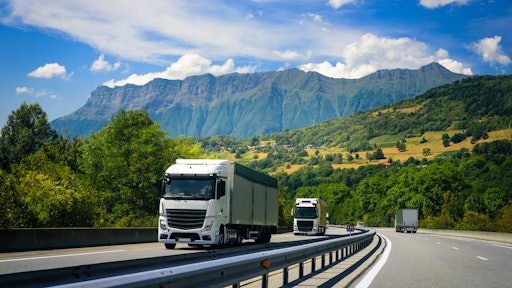 ©Rumir – stock.adobe.com
In September 2020, demand for commercial vehicles (CV) in the European Union improved markedly. Registrations across the EU increased by 13.3% to 163,512 units last month according to data from the European Automobile Manufacturers Association (ACEA). 
This growth was largely driven by the van segment, which accounted for over 84% of all CV registrations. The region's four largest markets all recorded positive results, with Italy (+17.8%), Germany (+17.6%) and France (+15.1%) posting double-digit gains in September. In Spain registrations grew by 6.6%. 
Nine months into the year, the EU market for new commercial vehicles contracted by 24.5%, totaling 1,206,259 units. Despite last month's gains, the economic fallout of the COVID-19 pandemic continues to weigh on overall demand so far this year. Indeed, from January to September 2020 each of the 27 EU markets posted double-digit declines, including the four major ones: Spain (-33.0%), Italy (-21.7%), France (-21.6%) and Germany (-21.4%).

ACEA

New light commercial vehicles (LCV) up to 3.5t
Last month, the EU van market posted growth for the first time in 2020. Compared to September 2019, 15.7% more light commercial vehicles were registered, counting 137,735 new vans in total. Among the major markets, Germany (+20.1%) and Italy (+18.7%) saw the highest percentage increases, followed by France (+16.7%) and Spain (+7.3%).
So far in 2020, registrations of new vans in the European Union declined by 22.8%. Looking at the four largest EU markets, Spain posted the strongest drop in demand (-33.5%) again, followed by Italy (-21.7%), France (-20.6%) and Germany (-18.6%).
New heavy commercial vehicles (HCV) of 16t and over
September registrations of new heavy trucks dropped slightly (-1.7%), with 18,788 units sold across the EU. With the exception of France (-5.4%) the major markets performed well, Italy (+33.6%) and Spain (+11.9%) in particular. By contrast, the Central European markets continued to struggle (-10.0%) last month.
From January to September 2020, 140,159 heavy trucks were registered in the European Union, a decline of 34.9% compared to the same period the year before. All 27 EU markets recorded double-digit percentage drops so far this year, including Germany (-33.5%), France (-32.3%), Spain (-26.5%) and Italy (-20.2%).
New medium and heavy commercial vehicles (MHCV) over 3.5t
In September 2020, demand for new trucks increased modestly (+2.7%), largely sustained by the medium-duty truck segment. The four largest EU markets contributed positively to this result. Italy saw the highest percentage growth (+34.4%), followed by Spain (+13.6%), Germany (+6.6%) and France (+0.7%).
Over the first nine months of the year, 175,857 new trucks were registered in total in the EU, down 32.6% compared to the same period in 2019. The big truck markets were hit by significant contractions in demand so far in 2020: Germany (-30.6%), France (-30.5%), Spain (-25.7%) and Italy (-19.8%).
New medium and heavy buses & coaches (MHBC) over 3.5t
Last month, registrations of buses and coaches fell by 4.5% across the European Union. Mixed results were seen among the major markets: Italy (-49.7%) and Spain (-41.3%) posted strong losses, while France (+14.9%) and Germany in particular (+77.7%) showed significant gains.
Nine months into 2020, EU demand for buses and coaches dropped by 26.5%, counting 20,426 new registrations in total. Spain (-45.7%) and Italy (-32.1%) continued to post significant declines, with the downturn easing in France (-14.0%) and Germany (-5.7%).