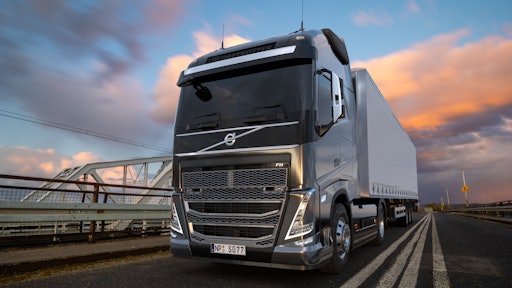 ©Mike Mareen – stock.adobe.com
In December 2020, new commercial vehicle registrations in the European Union slid back by 4.2% to 170,122 units. This reflects the slowdown in demand for vans, which accounted for over 85% of all registrations, as the heavy truck and bus segments actually performed better than the year before.
Mixed results were posted in the key EU markets. Registrations increased in Germany (+4.7%) and Spain (+2.3%), while the Italian (-9.4%) and French (-2.1%) markets contracted.
Overall in 2020, the EU commercial vehicle market shrank by 18.9% to reach 1.7 million units. Despite positive results in September and November, the impact of the COVID lockdowns during the first half of the year continued to weigh on the full-year performance. All EU markets posted double-digit declines in 2020, with the exception of Denmark. Of the four major markets, Spain was the hardest hit (-26.1%), followed by France (-16.9%), Italy (-15.1%) and Germany (-14.8%).
Light commercial vehicles (LCV) up to 3.5t
Last month, demand for light commercial vehicles in the EU weakened, down 6.0% compared to December 2019. Performances were mixed in the four big markets. In Italy and France registrations fell by 10.4% and 2.3% respectively, while Germany (+2.5%) and Spain (+1.6%) recorded modest gains.
Looking at full-year 2020 results, registrations of vans across the European Union contracted by 17.6%, totalling 1.4 million units. Spain suffered the sharpest overall drop (-26.5%) last year, while losses were more limited in France (-16.1%), Italy (-15.0%) and Germany (-12.2%).
Heavy commercial vehicles (HCV) of 16t and over
During the month of December, 16,839 heavy commercial vehicles were registered across the EU, a year-on-year rise of 11.8%. Central European markets provided a strong boost to this growth; Poland, one of the leading markets, saw a 48.4% increase in heavy truck registrations in December 2020. Among the largest Western European markets, Germany also made a sizeable contribution (+27.4%), followed by Spain (+8.3%) and France (+2.6%).
Despite positive results in the last two months of the year, 2020 ended negatively for the heavy truck segment, with registrations plummeting by 27.3% to 198,352 over the full year. Double-digit drops were recorded by all EU markets in 2020, with three of the four key markets posting losses of over 20%: Germany (-26.0%), France (-25.8%) and Spain (-22.1%).
Medium and heavy commercial vehicles (MHCV) over 3.5t
In December 2020, demand for medium and heavy trucks posted solid growth (+7.1%), largely driven by the positive performance of the heavy-duty segment. As for the biggest EU markets, Germany saw the highest percentage growth (+12.3%), followed by Spain (+3.8%) and France (+2.9%) with more modest increases. By contrast, MHCV registrations fell in Italy (-1.8%), although only slightly.
Last year, 247,499 trucks were registered in total across the EU, a drop of 25.7% compared to 2019. Among the key EU markets, France (-24.1%), Germany (-24.0%) and Spain (-21.7%) posted strong losses, while the contraction was less severe in Italy (-14.0%).
Medium and heavy buses & coaches (MHBC) over 3.5t
December registrations of buses and coaches in the EU increased by 13.4% compared to the same month in 2019. With the exception of France (-20.9%), all major EU markets gave a significant boost to the overall performance of the region: Italy (+13.4%), Germany (+22.1%) and Spain (+60.9%) in particular.
Overall in 2020, EU demand for buses and coaches contracted by 20.3%, counting 29,147 new registrations in total. Spain (-35.9%), Italy (-24.9%) and France (-10.8%) ended the year in negative territory. Germany was the only major market that managed to post slight growth (+0.4%) last year.