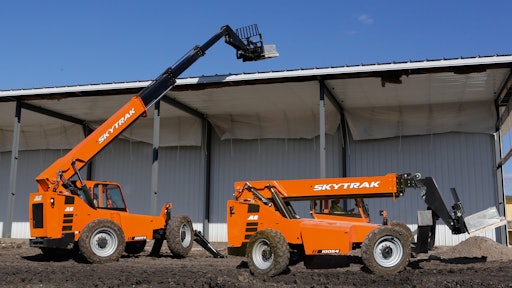 JLG Industries Inc., an Oshkosh Corporation company and a leading global manufacturer of aerial work platforms and telehandlers, was named a 2017 winner in EquipmentWatch's annual Highest Retained Value Awards program, the industry's only award based on residual values for heavy equipment. JLG engine-powered articulating boom lifts, engine-powered scissor lifts, and SkyTrak telehandlers received this honor as the model series projected to retain the highest percentage of its original value after 5 years among all competitors in the articulating boom lift, internal combustion scissor lift, and telehandler categories.
JLG engine-powered articulating boom lifts provide operators extra reach to work over and around obstacles on a jobsite, offering exceptional outreach, high capacity, versatile performance, and easy maintenance. Larger work envelopes provide workers access to hard-to-reach places. JLG's line of engine-powered articulating boom lifts include the following models:
340AJ

450AJ

600 Series (600A, 600AN Narrow, 600AJ, 600AJN Narrow)

740AJ

800 Series (800AJ, 800A)

1250AJP

1500AJP
JLG engine-powered scissor lifts are ideal for applications requiring more workspace and more lifting capacity, as they provide a larger work area and in many instances higher load capacities than boom lifts. JLG engine-powered scissor lifts deliver exceptional terrainability and gradeability, making it easier to maneuver the roughest jobsites. JLG's line of engine-powered scissor lifts include the following models:
260MRT

RT Series (530LRT, 3394RT, 4394RT)
For the second year in a row, JLG's SkyTrak brand telehandlers were recognized by EquipmentWatch. SkyTrak telehandlers feature improved boom function speeds, a single joystick for greater multifunction capability, an integrated arm rest, and optional air conditioning for increased comfort. Tier 4 Final engines are fuel-efficient with less environmental impact. Plus, engine parts and other serviceable components are easily accessible for quicker maintenance. The SkyTrak line includes the following models:
"Total cost of ownership is of increasing importance to equipment owners working to maximize their return on investment in a piece of equipment," says Paul Kreutzwiser, Global Category Director – Aerial Work Platforms, JLG Industries, Inc. "In addition to acquisition costs and resale value, many factors affect total cost of ownership, such as maintenance, service, parts, training, machine reliability, and machine versatility. JLG strives to manufacture equipment that provides excellent value over its life cycle, and the EquipmentWatch award recognitions reinforce that commitment to our customers."
"The Highest Retained Value Award is indicative of excellence across a manufacturing organization," says Garrett Schemmel, Vice President of EquipmentWatch. "Product quality has the most obvious impact on an asset's performance on the secondary market, but residual values are also highly impacted by brand affinity and fair original pricing. A manufacturer must excel on all three fronts in order to gain recognition as a Highest Retained Value Award winner."
For purchasers of equipment, one of the most influential factors in the buying decision process is residual value. An asset's residual value will have a significant impact on leasing terms and lifetime ownership costs. Informed buyers do well to weigh value retention heavily when considering equipment acquisition.
To create the 2017 Highest Retained Value Awards, EquipmentWatch analysts considered 12,536 models in their valuation database, which were then narrowed down to 156 series from 36 brands. Once the finalists were set, residual values were calculated at the series level by leveraging a database covering more than $412 billion in market activity in order to identify the winner in each category.