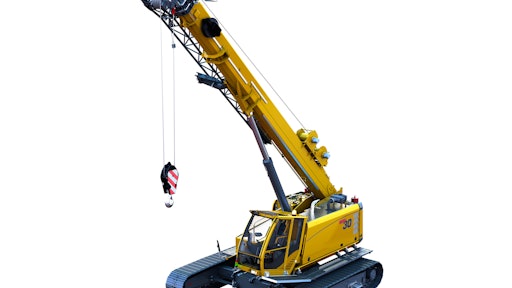 Manitowoc Cranes will showcase a trio of cranes that thrive in utilities applications at the International Construction and Utility Equipment Exposition 2017 (ICUEE). At outdoor booth N2021, the company will highlight the Grove GHC30 telescoping crawler crane and a pair of National Crane boom trucks: the NBT45-1 and 890D. All three machines will be outfitted with special attachments to better show their effectiveness in the utilities market, and two of them — the GHC30 and NBT45-1 — will be shown at ICUEE for the first time.
This year's ICUEE will be held in Louisville, KY, at the Kentucky Exposition Center from October 3–5, and more than 950 leading manufacturers will participate. The event will cover more than 25 acres of indoor and outdoor exhibits, and will host several product demonstrations and educational seminars throughout the grounds.
ICUEE gives manufacturers the opportunity to meet with utility contractors and learn about their needs firsthand. The three cranes on display at Manitowoc's booth show that the company has listened to its customers in the utility sector and put these needs into manufacturing practice. 
Grove GHC30 with pole claw and auger
The GHC30 is Manitowoc's newest addition to its line of Grove telescoping crawler cranes. The 30 USt crane is the smallest member of the GHC range and offers the same 100% pick-and-carry function as the rest of the line. With its full-power, three-section 83 ft. telescoping boom, operators can easily handle a variety of lifts at various radii without setting up on outriggers like traditional hydraulic boom cranes. This saves time on the job and provides a better return on investment for the customer.
John Bair, Manitowoc's Product Manager for GHC cranes, comments on some of the features that make the GHC30 ideal for the utilities market.
"The GHC30 boasts excellent gradeability, low ground-bearing pressure and multiple attachment options, such as the pole claw, auger and personnel basket," he says. "All of these features — paired with class-leading boom length and capacities — make this a powerful and versatile crane that will improve efficiency on utility jobs and provide our customers with a great return on investment." 
The GHC30 on display at ICUEE will be outfitted with pole claw and auger attachments, which are especially useful for the utility industry. These attachments are particularly effective when working at electrical substations and surrounding distribution lines, for example. When equipped with the auger and pole claw, the crane is adept at off-loading, lifting and installing the poles needed for these projects. 
National Crane NBT45-1 with aerial platform
The National Crane NBT45-1 will also be at Manitowoc's booth. The 45 USt boom truck sports a 142 ft. boom and is well-suited to the utility sector, where energy work on de-energized power lines and new transmission infrastructure construction often requires the use of both a crane and an aerial lift. The model on show at ICUEE will be equipped with a two-person, 1,200 lbs. maximum-capacity, quick-attach yoke platform with wireless radio remote control.
Justin Pilgrim, Global Product Director for Boom Trucks and Carrydeck Cranes at Manitowoc, says the NBT45-1 will immediately improve fleet utilization for companies and provide greater versatility. 
"With this crane, customers will gain the benefits of having both a boom truck and an aerial lift in just one package, potentially cutting their need for two or more machines down to one," he explains. "The NBT45-1 offers the best of both worlds with straightforward setup, clear steps to reconfigure it as an aerial lift, and simpler, smarter operation when in use. Utility-focused customers will find a host of useful functions, including a wireless wind-speed sensor and a hydraulic tool circuit with a pressure intensifier in the aerial work platform."
National Crane 890D with auger
Also representing the National Crane line at ICUEE is the 890D boom truck, which will be equipped with an optional auger attachment on its 90 ft. boom. With its two-speed auger, the 23 USt 890D boasts 14,000 lbs.-ft. of torque and a 39-ft.  maximum digging radius. The boom truck can also be supplied with various flighting options that range up to 48 in. The 890D's capability for both lifting and high-torque digging makes it suitable for a wide range of utility work. For example, the crane can drill holes for pilings, utility poles and light poles, and then install the components once drilling is complete.
"The National Crane 890D auger unit has been specifically engineered for the demanding utilities and construction sectors," says Robert Ritter, Manitowoc's Product Engineering Manager for Boom Trucks. "It's been built from the ground up to handle many different lifting and digging applications. We trust that visitors to our ICUEE booth will be impressed with the versatility this boom truck can add to their fleets."