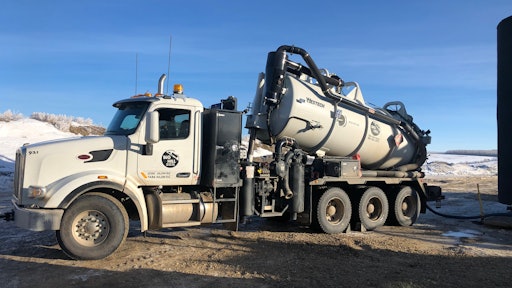 Westech Vac Systems

Westech Vac Systems, a leading provider of rugged, high-quality vacuum truck-mounted solutions, is showcasing the Westech Code Combo Vac unit at Federal Signal Environmental Solution Group's exhibit (Booth 5044) this week in Indianapolis at WWETT 2019 (Water & Wastewater Equipment, Treatment & Transport Show). 
One of Westech's most popular and versatile pieces of equipment, the Westech Code Combo Vac is the ultimate industrial cleaning machine. The unit features a powerful vacuum system, high-pressure water system, and a steam reel for tough greases, sludges and oils. The Westech Code Combo Vac is built to Transport Canada Transport Dangerous Goods code TC 407 for those hazardous material applications, which is also DOT 407 equivalent. The unit can also be built to non-code specifications.
The Westech Code Combo Vac unit features a 2019 Kenworth T800 tridem chassis built to endure the harshest applications, a Hibon 820 tri-lobe blower (28-in. maximum vacuum, 1,600 CFM free air flow), a CAT 660 water pump (10 gpm at 3,000 psi rating), a 700,000 BTU diesel-fired water heater, an electrically-powered tank vibrator, a steamer kit, and a glycol hose reel.