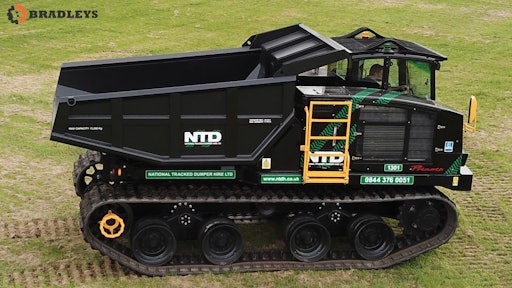 PRINOTH Ltd.
Since late last Spring, PRINOTH has been working with a new distribution partner in the United Kingdom, the Bradley Group, located in the Manchester-Wigan area. Through that relationship, PRINOTH is happy to announce that Bradley's has sold its first four tracked dumpers, all PANTHER T14R models, to National Tracked Dumper Hire Ltd a.k.a. NTD. NTD is the largest rental house of crawler dumpers in the U.K. with six depots in England and Wales and a nationwide hire reach.
All four units were highly customized by the Bradley Group and boast many great features to suit the needs of NTD. The customizations included a metallic black paint job featuring commercial bright yellow highlights on all important access points. Other feature customizations include cab beacon lights which are mandatory in the UK and often need to be removed for transportation between jobs. The team at Bradley's added a small FOPS steel cage around each beacon light, extra lighting, access ladders and a number of other interesting elements.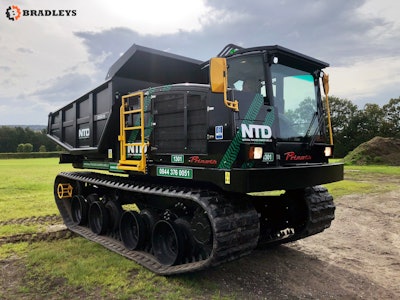 NTD purchased the PANTHER tracked dumpers on account of their comfortable driving environment and ergonomic cab, a unique undercarriage design providing both self-cleaning and high travel suspension, and an operating noise level much lower than the standard, enhancing both operator and construction site comfort. Martin Bradley also mentioned that the PRINOTH PANTHER vehicles are proving to be much more productive and provide a better fuel economy resulting in an overall lower cost of operation. 
All four units are already out on rental on major national projects and work sites around the country and are proving themselves invaluable. NTD and the Bradley Group are very satisfied with the units so far. All indications point to the fact that the PANTHER T14R is the right machine for this work. Many other projects are underway in the United Kingdom where PRINOTH PANTHER crawler carriers are being used and new applications are being explored. The partnership with Bradley's has a very promising future for PRINOTH in the U.K.