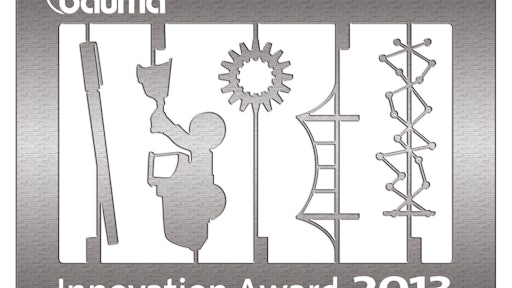 The nominations for the bauma Innovation Award 2013, which is being presented as part of bauma, the International Trade Fair for Construction Machinery, Building Material Machines, Mining Machines, Construction Vehicles and Construction Equipment, have been selected (www.bauma-innovationspreis.de). The 15 nominated innovations were announced at the press conference held at the bauma Media Dialog on January 29, 2013 in Munich, by Johann Sailer, President of the VDMA Construction Machinery and Building Materials Machinery Association.
The award is divided into five categories. Out of a total of 156 submissions from Germany and abroad, the jury selected three groundbreaking innovations per category to go through to the final round.
High-ranking international guests from business and politics are expected to attend the award ceremony, honoring the winners and the nominees, on April 14 in the Allerheiligen-Hofkirche (Court Church of All Saints) in the Residenz Palace in Munich. Most of the new developments will also be on show at bauma. The trade show takes place from April 15 to 21, 2013, in Munich.
Category: Machinery
Revolution in underground mining – the Mobile Tunnel Miner, Aker Wirth GmbH
Pipe Express - a new semi-trenchless method for installing pipelines, Herrenknecht AG
JFI Method - Fully automated production of multi-layer concrete elements, Sommer Anlagentechnik GmbH
Category: Machinery components
Tablet PC – transferring the digital workplace to the construction machine, Bauer Maschinen GmbH
Fume Extraction System - Volvo Construction Equipment *See more on Volvo's Fume Extraction System on page XX
AutoPilot Field Rover – 3D system for controlling offset slipform pavers, Wirtgen GmbH
Category: Construction Process
Monopile foundation for tidal engine turbine – offshore site in Scotland, Bauer Spezialtiefbau GmbH
Using revolving tower cranes to erect hybrid-energy wind towers – in a fast construction time, Max Bögl Bauunternehmung GmbH & Co KG
"PAST": reliable, automated road-building – improved function along the whole building process chain, Hermann Kirchner Bauunternehmung GmbH
Category: Research
Online grain size analyzer, Technical University of Clausthal
Parallel kinematics (HEXAPOD) for working equipment on mobile machinery, Technical University of Dresden
Computer tomography enables orientation analysis of steel fibers in reinforced concrete, Technical University of Kaiserslautern
Category: Design
Liebherr Compact Loader, Liebherr-Werk Bischofshofen
Kaiser Walking Mobile Excavator 2013, Kaiser AG Fahrzeugwerk
EH 100 demolition breaker, Wacker Neuson Vertrieb Europa GmbH & Co KG
The criteria used by the jury of experts in reaching their assessment of the submissions and innovations include the following: sustainability, practical use, contribution towards environmental protection and humanization of the workplace, economic benefit and performance capability combined with energy- and cost-efficiency, and the contribution towards enhancing the image of the construction, building-materials and mining industries or the sector as a whole.
In 2013 the Innovation Award is being presented for the tenth time. The competition is a joint project by the German Engineering Federation (VDMA – Verband Deutscher Maschinen-und Anlagenbau e.V.), the German Construction Industry Association (HDB – Hauptverband der Deutschen Bauindustrie e.V.), the Central Association of the German Construction Industry (ZDB – Zentralverband des deutschen Baugewerbes e.V.), the German Building Materials Association (BBS – Bundesverband Baustoffe – Steine und Erden e.V.) and bauma.