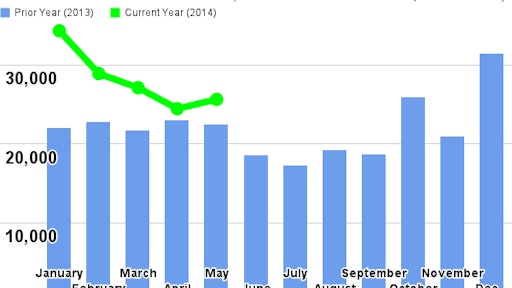 FTR has released preliminary data showing May 2014 North American Class 8 truck net orders at 25,605 units, a 14% year-over-year increase and the strongest May since 2006. Class 8 orders have now had 16 consecutive months with year-over-year increases. Backlogs remain at very high levels, and OEMs will continue to increase build rates in response to this growing demand. Class 8 orders for the latest six month period through May annualize to 343,000 units.

Don Ake, FTR Vice President of Commercial Vehicles, comments, "The positive performance of Class 8 orders in May met our expectations with the volume right in line with our forecast. The recent order activity confirms that the market has some real strength. We do expect Class 8 orders to slow down in the summer as generally is the case, but they will remain above last year's levels."

Final data for May will be available from FTR later in the month as part of its North American Commercial Truck & Trailer Outlook service.