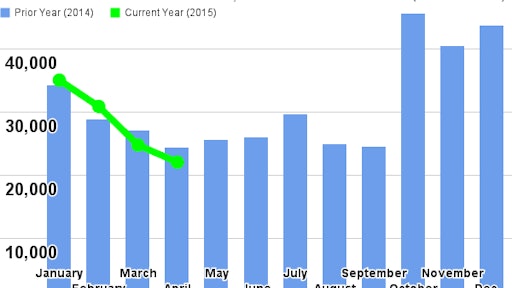 FTR has released preliminary data showing April 2015 North American Class 8 truck net orders at 22,076 units, an 11% month-over-month decline and 10% lower than a year ago. The additional order drop off in April reflects market stabilization returning to traditional seasonal trends, with Class 8 orders now totaling 373,000 units over the last 12 months. It is expected that order rates will continue to fall throughout the summer months.
Orders met expectations and were in line with the FTR order and production forecasts. The Class 8 market is now back to an equilibrium state, albeit at a strong level. This continues the trend from March with nothing expected in the short term to impact overall 2015 business activity.
Don Ake, FTR Vice President of Commercial Vehicles, comments, "We expect the order numbers and backlog level to continue to fall throughout the summer. However, backlogs are so high that production rates are supported all the way into Q3. May's orders could even dip below 20,000, but that is not a problem for 2015 as long as near-term production slots fill up. The April numbers were predictable, and it would appear that the market volatility has ended for this cycle."

Final data for April will be available from FTR later in the month as part of its North American Commercial Truck & Trailer Outlook service.