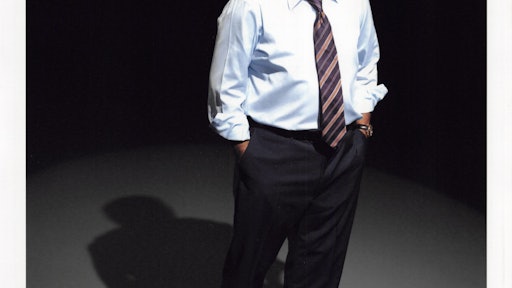 Jay Leno, comedian, author, car builder and longtime host of "The Tonight Show with Jay Leno," will serve as keynote speaker at The Work Truck Show 2016. His address will take place Thursday, March 3, as part of the President's Breakfast & NTEA Annual Meeting.
The Work Truck Show, North America's largest work truck event, is produced annually by NTEA – The Association for the Work Truck Industry. The 2016 event will be held March 2 to 4 at the Indiana Convention Center in Indianapolis, IN. Educational programming, including the Green Truck Summit, begins March 1.
Leno was a staple of late night television for more than 20 years. After serving as the exclusive guest host for "The Tonight Show Starring Johnny Carson" since September 1987, he took over "Tonight Show" hosting duties in 1992. He quickly took his show to the top of the ratings. After retiring from "The Tonight Show" in 2014, Leno started a popular web series focused on his love of cars, "Jay Leno's Garage," at jaylenosgarage.com. An avid stand-up comedian, he also makes more than 100 live appearances annually.
"Jay Leno is one of the most accomplished, hardest-working entertainers in show business," says Matthew Wilson, 2016 NTEA Convention Chairman, and Chairman & CEO of Switch-N-Go, AmeriDeck & Bucks Divisions of Deist Industries Inc. (Hadley, PA). "In addition to being a famous late night host, he has pursued many other successful endeavors, including an online venture showcasing his affinity for automobiles. I think attendees will appreciate Leno's relatable manner and comedic style as he shares his life lessons and experiences."
Please note: A ticket is required to attend the President's Breakfast. Tickets cannot be purchased until registration for The Work Truck Show 2016 opens in October. 
The Work Truck Show brings together more than 11,000 truck fleet managers, dealers and equipment distributors annually. It features the newest vocational trucks, vans, components and equipment, as well as educational sessions tailored to help attendees better run their companies.