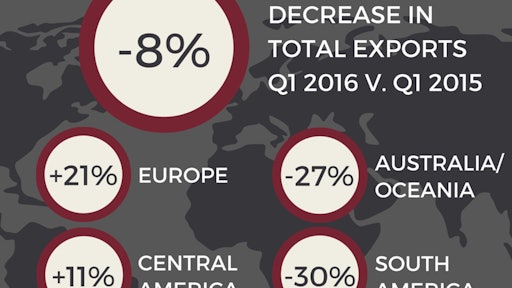 Exports of U.S.-made agricultural equipment for first quarter 2016 dropped 8% overall compared to first quarter 2015, for a total $1.7 billion shipped to global markets.
Europe and Central America each recorded double-digit gains, with double-digit declines from the other world regions, led by Africa and South America, according to the Association of Equipment Manufacturers (AEM), citing U.S. Department of Commerce data it uses in global market reports for members.
AEM is the North American-based international business group representing the off-road equipment manufacturing industry.
Exports by World Region
First quarter 2016 U.S. agricultural equipment exports by major world regions compared to first quarter 2015:
Europe gained 21% for a total $495 million
Canada dropped 20%, for a total $468 million
Central America gained 11%, for a total $304 million
Asia fell 21%, for a total $141 million
South America dropped 30%, for a total $132 million
Australia/Oceania fell 27% for a total $88 million
Africa decreased 32%, for a total $46 million
AEM Market Analysis Overview
AEM's Benjamin Duyck, Director of Market Intelligence, provides some insights:
While U.S. ag equipment exports to the world continue to decline, this quarter's year-over-year decline of 8% was lower than last quarter's 16.7% decline and 2015 third-quarter decline of 29%. Declines continued to be expected as global market drivers responsible for the ag downturn, such as low commodity prices and the larger global malaise, remained in place. Aside from specific industry-related issues, international trade overall is slowing down. On a macro-economic scale, the Baltic Dry Index, which tracks the price of moving major raw materials by sea, fell to an all-time low in March. A strong U.S. dollar also continues to hamper our nation's global competitiveness.
According to the results of the recent Agrievolution Business Barometer, the global recovery for our industry is not expected to be in sight for at least six months. While the sector seems to have stabilized, it is at a low level. While the survey indicated that East Asia and Africa are leading the future expectations, our recent data shows that for the United States, Central America remains an important market. While in the Barometer survey, there was also a reduction in optimism coming from Europe, U.S. exports did increase. Exports of harvesting equipment, and in particular combines, as well as exports of tractors and parts drove the growth in exports to Germany. Export growth in new tractors was the main driver for trade with France.
Exports by Top 10 Countries
The top countries buying the most U.S.-made agricultural machinery during first quarter 2016 (by dollar volume) were:
Canada - $468 million, down 20%
Mexico - $276 million, up 14%
Australia - $79 million, down 27%
Germany - $73 million, up 11%
France - $63 million, up 37%
Brazil - $50 million, down 19%
Ukraine - $49 million, up 161%
China - $49 million, down 36%
Russia - $39 million, up 48%
United Kingdom - $37 million, down 13%