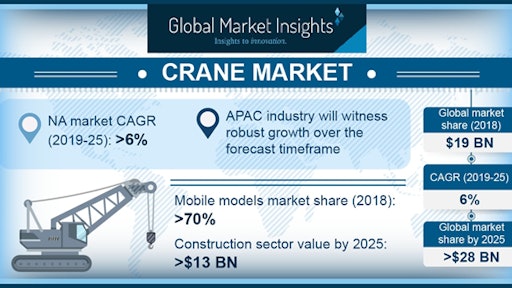 According to a new research report by Global Market Insights Inc., the crane market size is set to exceed USD 28 billion by 2025. The global shipments are expected to grow at a CAGR of 5.5% from 2019-2025.
The growing urbanization trend and the shifting of rural citizens to urban areas across the globe to get benefits from advanced infrastructure facilities are driving the crane market growth at a rapid pace. New public & private facilities, such as residents, roadways, railways, telecommunication and broadband infrastructure, etc., in Asian and European countries are creating a high machinery demand. Additionally, a major factor supporting the industry expansion is the availability of technically advanced and connected machines. The industry is experiencing the emergence of safety & environmentally compliant machines due to increased government and public focus on controlling carbon emissions from application activities. The introduction of emissions-based regulations for such machines in the European countries is adding up to the demand for electric engines, developing the market. Moreover, the companies are providing machines with safety, performance, and easy handling features to address the demand from application industries.
The fixed crane market size is anticipated to grow at a CAGR of over 4% till 2025 and is gaining demand across heavy load lifting applications. These machines have fixed structures and are capable of lifting the heaviest loads and materials, further supporting their applications in complex manufacturing & telecommunication worksites. These models are fixed to the ground and provide strong lifting and height bonds compared to other mobile machines. Greater height reachability and stability offered by these fixed machines add up to the demand in complex construction and infrastructure maintenance projects. Additionally, the market is witnessing the inclusion of remote control, compact, and energy-efficient features in newly developed fixed models, supporting the industry growth.
Enhancements of the telecommunication facilities with high-speed mobile and broadband connectivity in the Asian countries are supporting their adoption in the utility sector. In the crane market, both mobile and fixed models are gaining high demand from electricity and telecom sectors for lifting heavy materials. Additionally, new installation and maintenance of water and electricity infrastructure and the setting up of new internet facilities in several regions are driving the crane market growth. Various government projects related to urban development and establishing mobile connectivity in rural areas are major factors creating several industry expansion opportunities. The constant growth of several smart city projects in the U.S., Singapore, etc., including new buildings and utility and telecommunication facilities will drive the market.
The Asia Pacific crane market share is anticipated to develop at a rapid pace over the forecast timespan due to several ongoing and upcoming infrastructure projects in countries including India, Japan, Singapore, etc. China and India are witnessing high mobile crane demand due to the construction of commercial and residential buildings for addressing the growing population needs. Additionally, the growing utility sector and the lack of efficient infrastructure in rural areas in several Asian countries are driving the crane market size. The Asian industries are also developing due to the robust manufacturing sector and the presence of several major players including Komatsu, Hitachi Heavy Industries, Zoomlion, XCMG, etc.
The key companies present in the crane market share are Manitowoc, Sany Group, Palfinger AG, Komatsu Ltd., Konecranes, Tadano Ltd., Terex Corporation, XCMG Ltd., Liebherr Group, Kobelco Construction Machinery Co., Ltd., Effer S.p.A., etc. These players are engaged in developing energy-efficient and low carbon emitting machines to eliminate environmental hazards and comply with emission regulations. The companies are constantly adding new technologies in mobile & fixed cranes to ensure operator and workplace safety. Some of the recent technological advancements include sensing and data connected components that alert operators from potential accidents and machine failures. For instance, in March 2019, Tadano Ltd. announced the launch of its new rough terrain crane GR-150XL-3 majorly for customers in the North American market.