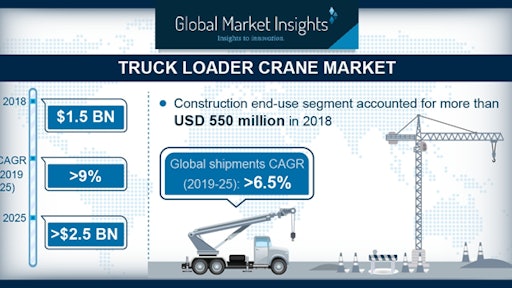 Global Market Insights Inc. has released a new research report which states the truck loader crane market will surpass USD 2.5 billion by 2025.
Find the full report on Global Market Insights' website.
The report says the rapid evolution of the global energy, construction and telecommunications sectors are key drivers for the growing sales and use of loader cranes. Increasing demand is also attributed to new features and functionalities being built into the machinery such as remote operation.
A rise in construction and infrastructure projects around the world is also bringing about more demand for these vehicles, says the report. Brazil—which has seen a slowdown in the construction industry and infrastructure development due in part to economic recession—is seeing a recovery and is anticipated to have several construction projects underway in the near future; this will help drive the market, as well. According to the report, several truck loader crane manufacturers have expanded their presence in the region because of the improved market conditions.
In addition to Brazil, the report says manufactures of these machines are opening operations in other regions where significant construction industry growth is anticipated to more easily capture market share.
Development is focused on creating more application-specific machines with increased lifting capacities and lower weight specifications to better meet customers' needs. Heavier duty cranes are gaining favor in the truck loader crane market because of their ability to handle larger projects and tasks in construction, mining and energy applications.