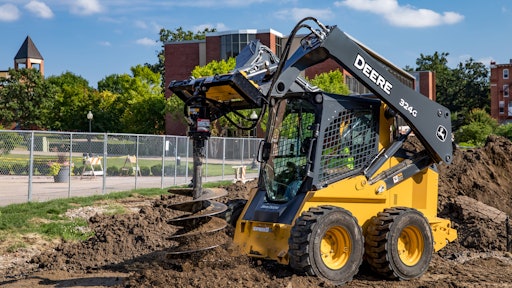 John Deere
According to a new study by Fact.MR, the global skid steer loader market is estimated to expand at a CAGR of 7.6% by value, and 6.7% by volume through 2029.
In order to get certifications regarding energy efficiency, construction companies are increasingly focusing on the sustainable development of projects. With construction industries needing to decrease pollution during their projects, manufacturers are shifting their focus towards the development of low-emission and more energy-efficient construction equipment, and skid steer loaders are not an exception. For example, Case Construction introduced an upgraded skid steer loader model with improved features for end users.
Construction equipment manufacturers are taking more efforts to develop energy-efficient skid steer loaders, ideal for multiple tasks such as commercial and residential construction, agricultural, mining and forestry applications, landscaping, and pushing and digging.
Urbanization across the globe is increasing at a positive rate, especially in emerging economies such as India, which, in turn, is contributing to the growth of the construction industry. Construction activities in both commercial and residential domains are rising due to the increasing population and growing demand for offices, shops, houses, and other residential buildings, which is expected to drive the demand for skid steer loaders worldwide.
High Costs and Availability of Attractive Substitutes Like Compact Track Loader to Hinder Adoption
Fact.MR opines that the designs of skid steer loaders have continuously evolved with changing consumer requirements. However, improving equipment designs requires heavy investments, which leads to greater expenditure, making the equipment more expensive. Hence, manufacturers face the challenge of making their products cost-effective while improving efficiency and productivity. At the same time, technologically-advanced skid steer loaders with a wider range of electronic features require professional operators who are trained and skilled. Inappropriate handling may lead to accidents, and therefore, operational and safety programs are mandatory for operators. Lack of skilled operators to handle such equipment is hampering their adoption, particularly in developing countries.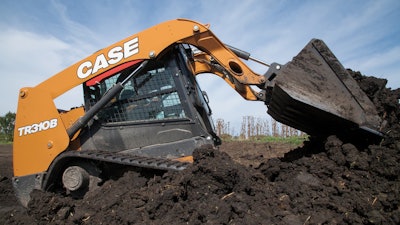 The gradual transition from using skid steer loaders to compact track loaders is expected to show substantial growth. Being a novel utility piece on job locations and material handling, compact track loaders are gaining a lot of attention as a relatively efficient equipment when compared with skid steer loaders.
Read more: CASE "Project Minotaur" Debuts as Model DL550B Compact Dozer Loader
Due to this, few contractors are already replacing skid steer loaders with compact track loaders due to their high performance and longevity. On account of the reduced size of compact track loaders there is the advantage of being able to work in tight spaces. Moreover, skid steers offer only 5,000 hours before being retired, whereas, compact track loader operate for 6,000-8,000 hours for various applications. Based on these factors, the demand for compact track loaders is expected to increase over skid steer loaders.
North America to Capture a Large Chunk of the Market Share by the End of the Forecast Period
The skid steer loader market is analyzed across regions such as North and Latin America, Europe, East and South Asia, Oceania, and the Middle East and Africa. On a global level, the report assesses different trends and restraints that are driving and restraining the growth of the skid steer loader market in each market segment, and offers different takeaways that prove useful for other potential market entrants in the skid steer loader market. North America's dominance in the skid steer loader market is expected to continue, with a market share of ~50% by the end of 2029, owing to the growing demand for energy-efficient construction equipment and growing importance of skid steer loaders in the masonry industry in the region. The market in North America is expected to grow at a value CAGR of 6.7% over the forecast period.