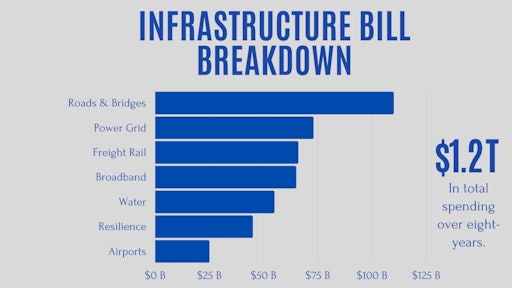 Associated Press
The wait is over. After months of delay, Senators unveiled a $1.2 trillion, eight-year infrastructure bill during a rare Sunday session after they worked through the weekend.
According to The Hill, the 2,702-page bill, spearheaded by Sen. Rob Portman (R-OH), Sen. Kyrsten Sinema (D-AZ.) and a larger group of roughly two dozen negotiators, is substantially narrower than the multitrillion-dollar plan envisioned by President Biden earlier this year but the legislation would authorize more than half a trillion dollars in new spending to bolster the country's roads, bridges and other physical infrastructure.
Circulation of the legislative text to Senators comes after the bipartisan group of negotiators and the White House announced last week they reached a deal on the details of the bipartisan infrastructure bill, capping weeks of negotiations over the framework announced by President Biden in June.
Supporters of the bill are hopeful that they can pass the measure by the end of the week.
What's In the Bill?
While the Infrastructure Investment and Jobs Act or IIJA is seen as a compromise to some, the bill would spend big money on highways, transit, rail and more. Politico says it will still likely frustrate progressives, who are pushing for policy priorities like "fix it first" for highways and the broader climate goals of the House's surface transportation bill.
The bill also features a $118 billion bailout of the Highway Trust Fund from the Treasury's general fund, essentially an inevitability given lawmakers' inability to agree on user-fee reforms or increases, but one that has largely gone under the radar and was slipped into the bill text at the last minute.
The IIJA adds $550 billion in new spending over five years on top of current FAST Act funding levels by incorporating the $303.5 billion highway bill (Surface Transportation Reauthorization Act of 2021) passed unanimously by the Senate Committee on Environment and Public Works in May.
While the full legislative text of the ILJA is not yet available, a fact sheet released by the White House provides an overview of the new funding it contains:
$110 billion for roads, bridges, and major transportation projects
$66 billion for passenger rail, including $16 billion for Amtrak's National Network, $6 billion for Amtrak's Northeast Corridor, and $36 billion for Federal-State Partnership Grants including a $24 billion set-aside for the Northeast Corridor.
$11 billion for safety for the National Highway Traffic Safety Administration, Federal Motor Carrier Safety Administration, Pipeline and Hazardous Material Safety Administration, and a "Safe Streets for All" program.
$39 billion for transit, including for Capital Investment Grants and the "low-no" emission vehicle procurement program.
$25 billion for airports.
$17.3 billion for ports and waterways.
$46 billion for infrastructure resiliency investments.
$7.5 billion for low-carbon and zero-emission school buses and ferries along with another $7.5 billion for electric vehicles and low-carbon school buses and ferries.
$65 billion for broadband, $55 billion for water infrastructure, along with $73 billion for power and electric grid infrastructure investment.
How Will We Pay for This?
One of the largest hold ups in Washington was agreeing what would be in the package and how to pay for it. According to the Associated Press, here's a breakdown of pay-fors in a Republican summary of the plan:
Tapping about $205 billion in unspent COVID-19 relief aid. Congress has provided about $4.7 trillion in emergency assistance in response to the pandemic.
Drawing on about $53 billion in unemployment insurance aid that the federal government was providing to supplement state unemployment insurance. Dozens of states are declining to take the federal supplement
Drawing on about $49 billion by further delaying a Medicare rule giving beneficiaries rebates that now go to insurers and middlemen called pharmacy benefit managers. The trade association for drug manufacturers argued that the rule would help reduce patients' out-of-pocket costs, but the Congressional Budget Office had projected that it would increase taxpayer costs by $177 billion over 10 years.
Raising an estimated $87 billion in spectrum auctions for 5G services.
Restarting a tax on chemical manufacturers that had expired in 1995, raising about $13 billion. The money had been used to help fund the cleanup of Superfund sites. Also, selling oil from the Strategic Petroleum Reserve would add about $6 billion.
Strengthening tax enforcement when it comes to crypto currencies, raising about $28 billion.
Relying on projected economic growth from the investments to bring in about $56 billion.
Stay tuned for news on a vote later this week.