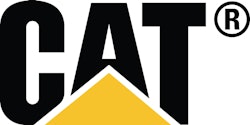 Caterpillar Inc. announces it will begin work immediately to expand its work tools business in Wamego, KS. The company will begin construction of a 40,000-square-foot-building at its work tools campus in Wamego. When the new facility is open, Caterpillar will have a total of nearly a quarter of a million square feet of manufacturing space under roof at its work tools campus in Wamego.  
"Many of the products we make in Wamego end up being exported all over the world, and this expansion will position our operations in Wamego to grow and meet the expected increase in customer demand as we drive toward Caterpillar's strategy and goals for 2015 and beyond," says Bill Springer, Caterpillar vice president with responsibility for the work tools business.
Once fully operational, the new facility is expected to increase Caterpillar's employment in Wamego by about 120 positions, bringing the total workforce in Wamego to more than 500 people. Caterpillar manufactures buckets, blades and other work tools in Wamego that are used on a wide range of Cat machinery.
"Caterpillar's investment is great news for Wamego and Kansas. This effort is a true testament to the talented local workforce and the collaborative work done by state and local leaders," Governor Sam Brownback says. "Today's announcement shows that with the right business environment, Kansas can compete for good jobs and win."
The world's leading manufacturer of construction and mining equipment, diesel and natural gas engines, industrial gas turbines and diesel-electric locomotives, Caterpillar is in the midst of strategic capacity expansions globally including new facilities and the expansion and upgrade of current operations in North America, South America, Europe and across Asia. The company plans to invest $3 billion in capital expenditures in 2011, with about half of that investment at its operations in the United States.
"The world's population is continuing to grow, and a greater percentage of people are benefiting from a higher standard of living. Caterpillar is making strategic investments today in order to increase production capacity in the coming years to meet demand for our products, which are used by our customers to enable sustainable and positive economic development around the world," says Steve Wunning, Caterpillar group president with responsibility for Resource Industries.