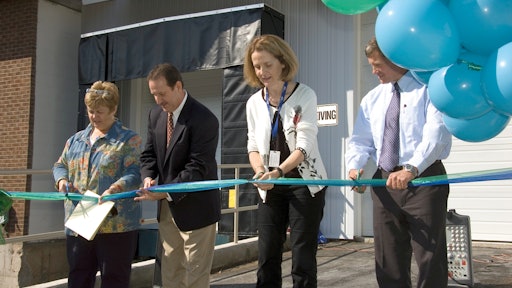 Gems® Sensors & Controls (Gems), a global manufacturer of liquid level, pressure, and flow sensors, miniature solenoid valves, and fluidic systems announces the completion of its 20,000 square foot expansion at its Plainville, CT headquarters. Gems broke ground for the expansion in early April of this year and celebrated the completion with a ribbon cutting ceremony on Wednesday October 5, 2011.
Gems was founded in 1955 by inventors Edward H. Moore and Gordon Seigle. Their first commercial success was a bilge switch for the small boating industry. Rapid acceptance of Gems' products for marine and industrial applications led to continual expansion of facilities and staff – in Plainville as well as overseas in Europe and Asia.
Throughout the entire planning and construction phase Gems management worked closely with town officials Mark Devoe, Director of Planning & Economic Development and Robert E. Lee, Town Manager in order to adhere to Plainville's Low Impact Development (LID) standards that reduce the negative impacts of traditional development on water resources. As a result, Gems' construction included the creation of an infiltration basin with a soil and grass swale that naturally filters runoff and returns it to the ground. This approach closely maintains pre-development hydrology and reduces the effects of building runoff on Plainville's water systems.
"We are very pleased with the new addition of space to our manufacturing facility" says Patrick Murphy, Director of Operations for Gems Sensors and Controls. "The additional space will allow us to continue to grow our product offering and serve the unique needs of our customers around the world. I am particularly excited about the addition of a dedicated area to accommodate the special requirements of our customers in the medical industry throughout the world".