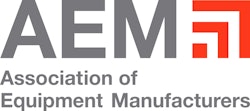 The Association of Equipment Manufacturers (AEM) has set its 2012 schedule of face-to-face educational seminars targeting off-road equipment manufacturing industry professionals. Members have indicated that in-person learning is their preferred method, followed by web-based training.
AEM seminars provide attendees with real-world information they can use to improve their professional effectiveness and company profitability. Sessions focus on current industry trends and issues affecting product safety, product liability, marketing and customer support.
The association also produces an annual Ag Executive Forum and its Annual Conference of Member Companies. AEM conducts a "high performance sales college" program for manufacturer district managers as well as specialized programs in response to member needs.
AEM's e-learning options provide educational programming direct to industry professionals from the convenience of their offices or homes, and AEM also offers education via pre-recorded webcasts.
AEM is certified to distribute CEU - Continuing Education Credits for association educational programming. CEUs help ensure that AEM education continues at its high quality level, assisting members to remain current on industry and business issues. Check the website to see which programs offer CEUs.
Below is a rundown of current offerings. Visit the Education section of the website www.aem.org for full details and to register.
AEM face-to-face professional-development seminars will examine industry trends in areas including:
Introduction to Hydraulics: Lubrication Fundamentals, Hydraulic Fluids and Applications - March 27, 2012 in Milwaukee (Brookfield), WI
Product Safety and Compliance - April 23 to 25, 2012 in St. Charles, IL
Product Liability - April 26, 2012 in St. Charles, IL
Marketing (products/company) - May 21 to 23, 2012 in Chattanooga, TN
Customer Support - September 16 to 19, 2012 in Indianapolis, IN
Leading Meaningful Change/Project Management Essentials - October 16 to 18, 2012 in Milwaukee, WI
Plus:
"High Performance Sales College" - June 19 to 20, 2012 in Milwaukee (Brookfield), WI and September 19, 2012 in Indianapolis, IN - an intensive course which targets manufacturer district managers. (

AEM

provides customized in-company sales college programs upon request.)

AEM

Annual Conference of Member Companies - November 7 to 10, 2012 in Rancho Palos Verdes, CA - sessions geared to presidents, chairmen and other upper-management professionals
Ag Executive Forum - in 2012 held January 31 to February 1 in Chicago, IL with Top Producer Seminar; in 2013 it will be held in conjunction with

AEM's

AG CONNECT Expo & Summit January 29 to 31 in Kansas City, MO