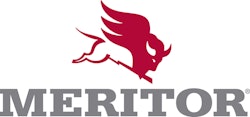 Meritor, Inc. has appointed Barry Eckel to the position of director, OEM Sales & Canada, as a member of the Meritor DriveForce team. Eckel is responsible for leading the Meritor DriveForce sales and service organization for truck and trailer inCanada.
Meritor DriveForce is the company's newly branded field sales and service organization. The organization is composed of more than 110 experts trained to support customer needs before, during and after the sale.
"Barry is the ideal choice for this position," says John Nelligan, general manager, OEM Sales and National Accounts. "His industry experience and leadership will be valuable assets as the Meritor DriveForce team continues to grow."
Prior to this appointment, Eckel was director, OEM Sales. He will retain his current OEM account responsibilities. Eckel has a bachelor's degree with a major in commerce from the University of Toronto.
Meritor also appointed Stephen Murphy, district manager, eastern Quebec and Atlantic Canada, Meritor DriveForce.
"Stephen will play a critical role in our expansion and we're pleased to have his experience on the team," Eckel says.
Murphy has held a number of service management assignments in the trucking industry in Canada, most recently with TRANSX and Volvo/Mack Trucks Canada. He holds two interprovincial certificates of qualification in mechanics from Centennial College and is a graduate of the Service Management program at Pennsylvania State University.