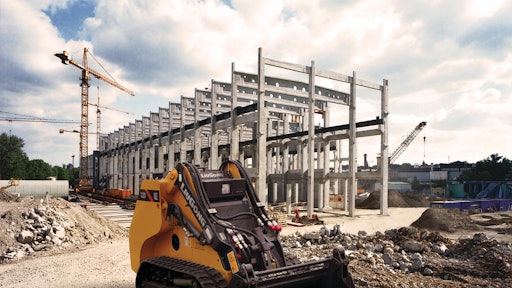 LiuGong Machinery Company continues to put some of the world's biggest thinking into compact machinery. That commitment will be on full display at the INTERMAT show in Paris this April.
Two of its compacts were at the show -- the 328 mini-compact track loader and the 365A radial lift skid steer loader. The 328 comes with a 235 kg load rating and features a 19.7 kW Perkins engine. The 365A carries a 795 kg load rating and features a 47.8 kW Yanmar engine. Both offer excellent power and torque, low fuel consumption and a low Tier 3 emissions rating.
Operator safety and comfort are always big engineering priorities with LiuGong, and nothing is overlooked with these two skid steers. The 365A features an enclosed cab with certified ROPS/FOPS protection. A simple servo-assist control system delivers precise control and reduces operator fatigue for longer, more productive work days. Air conditioning and shatterproof glass are standard. A high-visibility, intelligently designed and positioned instrument panel provides simple, accurate "at a glance" information for the operator.
Service is simple, accessible and intuitive to keep the machines working and productive. The radiator can be rotated, for quick and easy access to the engine for maintenance and repair. The hinged cab can easily be raised for service and maintenance checks – with the loader in the up or down position.
Standard quick-change coupler makes for fast and easy attachment changes.
Depending on the application, customers can choose standard-flow hydraulics or a high-flow option.
The 365A is tough, dependable and highly versatile – for a range of high-production work applications in mining, road construction, building site excavation, material handling and underground construction and repair.
The 328 is specifically designed for agility, small enough to fit into the tightest working areas, but with enough power to get the job done efficiently. The stand-on platform for the operator allows maximum visibility to the job and attachment and also provides a comfortable, stable position for the operator. The platform is large and stable making it easy to get on and off the machine. Mini track loaders are designed for low impact to grass and other fragile surfaces, so this is an ideal machine for use in finish landscaping applications where damage to turf is an issue. The intuitive control panel places all controls in easy reach, and they are comfortable to hold on to – all day long.