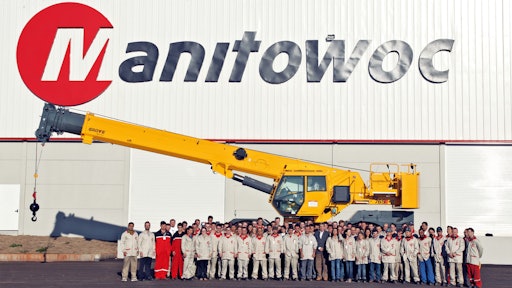 Less than 30 days after the grand opening of Manitowoc's new factory in Passo Fundo, Brazil, the first crane assembled in the country has rolled off the line 60 days ahead of schedule. The Grove RT765E-2 rough-terrain crane was on display at M&T Expo 2012 from May 29 to June 2 in Sao Paulo.
Mauro Nunes, director of Manitowoc Brazil and general manager of the new factory, says the first crane to come from Passo Fundo is physical demonstration of the company's commitment to Latin America.
"The new factory in Passo Fundo has been several years in the making. I'm truly excited to see this first crane come off the factory floor," he says. "Latin America represents a huge growth market for Manitowoc. We already have a waiting list for cranes being made here in Brazil."
Following the M&T Expo, the first crane from Passo Fundo will head to Fortaleza, Brazil-based rental company Makro Engenharia. The RT765E-2 will be the first crane delivered to the company from a larger order of 32 cranes – 16 rough-terrain cranes and 16 all-terrain cranes. The company plans to rent the cranes for mining, petrochemical and general infrastructure projects across Latin America.
The 59 ton capacity Grove RT765E-2 rough-terrain crane is extremely mobile, making it ideal for a variety of general infrastructure applications. It features four-wheel, multi-mode steering and a Full Vision cab that helps operators maneuver through rugged jobsites. Its Megaform boom design offers greater rigidity that helps lift heavier loads.
David Rodrigues, commercial director of Makro, says buying the first crane made at Passo Fundo marks a milestone in the relationship between the company and Manitowoc.
"We have been buying machines from Manitowoc for several years now. The cranes are reliable and the company has top-notch customer service through Manitowoc Crane Care," he says. "The fact that we can now buy cranes from Manitowoc that are made in our own country makes doing business with the company even more attractive."
The new factory in Passo Fundo, which was built in less than one year, represents a more than $75 million investment in the Latin American market. The plant sits on a 450,000 square meter plot and follows a model of sustainability. It makes efficient use of energy in its administrative and production areas, re-uses rainwater for its plumbing and has its own wastewater treatment stations.