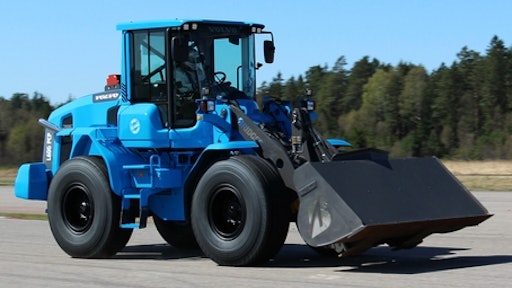 The new Volvo L60G PCP wheel loader concept, launched by Swecon, is turning heads. Supported by Volvo Construction Equipment (Volvo CE), Volvo Polestar Racing and a number of subcontractors, the machine set the new world speed record for wheel loaders at Sweden's Anderstorp Raceway when it was clocked at 103 km/h (64 mph) with experienced operator Karin Olsson behind the wheel.
The machine is a faster prototype of the L60G model – part of Volvo CE's new G-series wheel loader range. The concept was born five years ago but revised when Swecon's partner in motorsport, Volvo Polestar Racing, presented a Volvo C30 PCP with four-wheel drive and 302 kW (405 hp). The speedy machine supports the launch of three new models in Volvo CE's G-series wheel loader range: the L60G, L70G and L90G. The machines deliver higher breakout force, fast cycle times and lower emissions.
Young talent
During last winter and spring this year, a team of young enthusiastic technicians from Swecon worked in Volvo's Västerås workshop to get the machine up to speed. "I thought a project like this would be good fun for them," says workshop manager Ronny Linderborg.
"It was such great fun to be chosen to work with something so special," says 19-year-old technician Robin Frohm. "It's amazing that it's so fast and has set a new world record."
The concept machine weighs 10 tons – slightly lower than the standard model. But for more balance, the machine's counterweight is replaced by a fiberglass dummy and the engine has been optimized with its power doubled from 120 kW to 250 kW.
Only the best
Only high quality components from Volvo Genuine Parts have been used to ensure the machine can withstand extreme stress. A racing seat with safety harnesses has also been installed in the cab along with a racing steering wheel for better grip. The machine is also equipped with Volvo CE's fire suppression system - an added safety extra that would quickly extinguish any fire in the engine compartment.
"The machine is powered by the latest Volvo D6 engine, which corresponds to the strict emission requirements for Tier 4 interim/Stage IIIB," explains Fredrik Rigö, marketing communications manager at Swecon and project leader for the L60G PCP. "On top of that we are also running the machine on 100% bio-diesel, which makes our concept CO2 neutral."
Record breaking power
Karin Olsson, the 28-year-old operator behind the wheel of the record-breaking wheel loader, works for the Hall Brothers Company in Hässleholm, Sweden. For part of her job as a wheel loader operator, she drives a Volvo L220E.
"My boss asked me if I wanted to set a new world record. Yes, why not, I thought," laughs Karin. "It sounded a bit scary but great fun, and I like to try new things."
The purpose of the project was not only to highlight the technical expertise and engineering excellence that exists both within Swecon and Volvo CE, but also to demonstrate the quality of Volvo's products.
"Volvo's core values of quality, safety and environmental care have always been in focus during the development of this project," says Fredrik. "We wanted to show that Volvo CE can develop and build high-performance machines for extreme conditions."