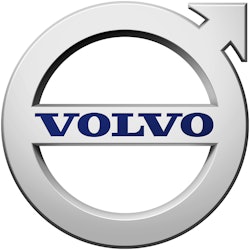 Volvo Trucks in North America began delivery of 35 compressed natural gas (CNG)-powered Volvo VNL tractors to SUPERVALU, Inc., one of the largest grocery wholesalers and retailers in the U.S. The CNG-powered Volvo daycabs will operate out of the company's Mechanicsville, VA, distribution center.
"We're pleased to partner with SUPERVALU to deliver the latest in natural gas-powered vehicle technology," says G?ran Nyberg, President of Volvo Trucks North American Sales & Marketing. "Grocery distribution provides an excellent opportunity for environmentally conscious companies like SUPERVALU to utilize the clean-burning domestically abundant fuel."
CNG-powered Volvo VNL tractors were on display at SUPERVALU's Mechanicsville distribution center during a December 6 open house and ribbon cutting ceremony to unveil the tractors and a recently installed fast-fill CNG station. The distribution center operates 105 tractors and the company has set a goal of converting approximately 65% of its fleet to natural gas by 2015. SUPERVALU operates 20 distribution centers across the U.S. and has more than 400 trucks in its national company-owned fleet.
"This is an exciting project for our company and we've been proud to partner with a well-respected leader like Volvo Trucks to make it a reality," says Mike Lech, Vice President of Logistics for SUPERVALU's Eastern Region. "Expanding the use of compressed natural gas trucks in our fleet is good for both the environment and our bottom line, and will help us continue SUPERVALU's commitment to operating in a sustainable manner."
Volvo Trucks currently offers natural gas-powered versions of its VNL and VNM daycabs, which are built on-line at Volvo's New River Valley assembly plant in Dublin, VA, where all Volvo Trucks sold in North America are built. The Volvo VNL model features a 12-liter Cummins-Westport ISX12 G engine and the VNM daycab is powered by a factory-installed 8.9 liter Cummins ISL G engine.
Volvo Trucks North America's operations and products are guided by the company's three core values: Quality, Safety and Environmental Care. The Volvo VNM, VNL, VNX, VHD and VAH trucks are assembled in the United States at the New River Valley Plant in Dublin, VA, while Volvo engines for North America are assembled in Hagerstown, MD. The New River Valley Plant is certified to ISO50001 energy standards. Both plants are certified to ISO14001 environmental and ISO9001 quality standards.