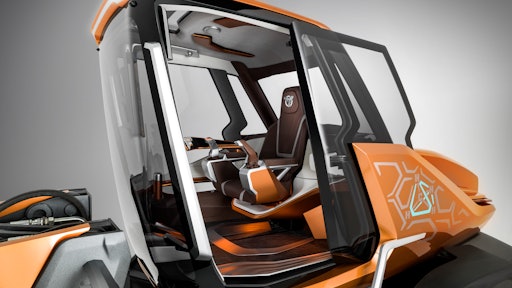 CNH Industrial
The operator cab is an important aspect of a machine design as operators typically spend their entire workday in the cab. Machines are also becoming more complicated as more automation and control technologies are added. The pool of skilled labor is increasingly becoming a bigger challenge in the construction, agriculture and other heavy-duty equipment markets, as well.
Because of these and many other reasons, simplifying operation and increasing comfort continue to be key areas in which manufacturers focus their design efforts.
There are many ways component manufacturers and OEMs are going about achieving these goals. In a recent news release, Curtiss-Wright noted the trend toward operator controls being integrated into armrest assemblies. Doing so puts all necessary controls in an easy-to-reach position, aiding both comfort and productivity.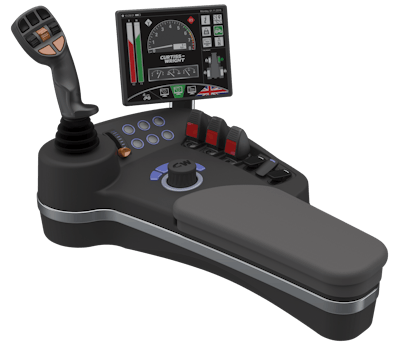 Curtiss-Wright says it will work closely with OEMs to develop a human machine interface (HMI) assembly which incorporates multiple functions and allows operators to use just one hand. The assembly can include joysticks, push-button switches, rotary thumbwheels and levers, and even display screens. With all machine controls in one area, operators are not having to strain to reach controls in various positions and are better able to keep their attention focused on their work.
For its ProjectTETRA wheel loader concept introduced at bauma 2019, one of CASE Construction Equipment's (CASE CE) main goals was to create an optimized operator cab. "Our goal was to create a cabin which in operating the wheel loader improves life on board and improves daily working life," says David Wilkie, CNH Industrial Design Director.
Read more: A Conscientious Concept
Creating a more comfortable operating experience
Ensuring maximum visibility was one of the ways CASE went about improving operator comfort in the concept wheel loader. To achieve this, the company replaced the steering wheel with joystick controls. This prevents an operator's line of sight from possibly being obstructed while also allowing the machine controls to be placed within an easier to reach and more comfortable position.
Visibility was also improved through the inclusion of cameras around the outside of the wheel loader so as to provide a full 360-degree, bird's-eye view of the machine and its surroundings.
More glass aids visibility as well, while also making the cab feel more open for operators. This allows more natural light into the machine interior which also helps to improve visibility. "The openness also gives productivity and safety [improvements]," says Eric Jacobsthal, CNH Industrial Design Manager.
He says the safer you can make operators feel they are working, the more comfortable they will be while operating the machine.
Overall, a minimalistic approach was taken to the design of the cab, says Jacobsthal. "Getting rid of the steering wheel, getting rid of all the plastics you normally see in these cabs really opens up the experience," he explains. "You're no longer trapped inside a machine, surrounded by components…you only have what you really need."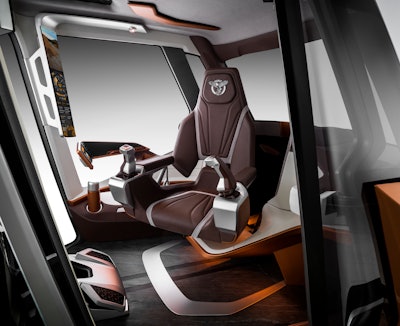 This minimal approach is growing in much of the heavy equipment industry. Andrej Lawaetz Bendtsen, Product Manager, Displays and CAN Keypads at Danfoss Power Solutions, says manufacturers are looking to integrate smarter components to design leaner cabs. "Although we're looking to increase functionality within the cab, we don't want to add too many inputs and overwhelm the environment. Instead, we're being intentional in working with our OEM partners to integrate components with greater capabilities to reduce the number of operator interfaces."
Instead of multiple dials, switches and buttons being integrated into the cab, a smart joystick and interactive display are included which allow operators to perform the same number—if not more—operations.
Danfoss' new JS1-SbW joystick used as part of the Flex-Steer subsystem solution enables OEMs to remove the steering wheel and column in an operator cabin. The joystick will instead be integrated into the armrest of the operator seat. "This increases [visibility] for the operator toward the front of the vehicle, significantly reducing operator fatigue while providing outstanding design flexibility within the cabin," says Bendtsen.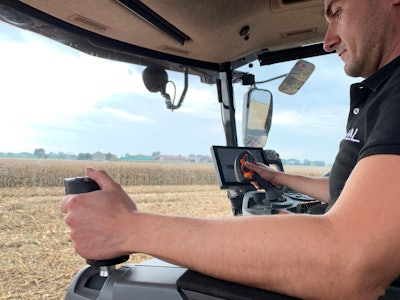 Read more: Danfoss and AGCO Design Completely Joystick-Operated Combine
One of the technologies which is slowly migrating to the heavy equipment industry is the projection of information onto the windshield, also known as heads-up displays. In CASE's ProjectTETRA concept, machine information is provided on displays in the cab, as well as projected onto the windshield. "[We're] really just trying to make life on board [the machine] easier and more straightforward," says Wilkie. "And also more comfortable."
The idea is to bring up information that operators do not always need, but when they do, to display it in a way that does not obstruct their view. When operating a piece of construction equipment, Wilkie says it is important for operators to be able to see what they are working on. Adding a head-up display allows for the removal of a console that would otherwise be in front of an operator, enabling a complete view of the work area. Information is brought up only when necessary, helping to eliminate distractions for operators.
Wilkie says there are a few companies currently working on the technology. "It's something that I think will definitely come, it's only a question of time before it becomes cost effective… and mainstream."
He says construction as well as agriculture are looking to improve visibility and CNH Industrial's concepts show technologies such as heads-up displays can be used to achieve this goal.
A customizable head-up display
During Agritechnica 2019, MTA SpA introduced its head-up-display (HUD) system. Davide Bonelli, Sales Director at MTA, says the company developed its own HUD "to find a new technology which could be particularly suitable for agricultural and earth moving vehicles, knowing the off-highway world is looking for greater safety and driving comfort," like the automotive space.
MTA's HUD system projects vehicle information at an operator's eye level. It is based on a small electronic control unit (ECU) and is capable of managing two laser scanner projectors. The laser technology integrated with a 2D MEMS (Micro Electro-Mechanical Systems) mirror assures a high intensity light, says Luca Francesco Porcaro, Project Leader at MTA.
The ECU processes information coming from the vehicle's network—whether that be CAN, LIN or broad reach Ethernet—and generates signals to send to laser projectors through two high-speed digital video interfaces (fpdLinkIII), explains Porcaro.
He says that in the projection module, a main board receives the signals coming from the ECU and generates a sequence of signals to be sent to the laser module and a MEMS Mirror. Synchronization of the laser module and the MEMS makes it possible to generate sharp, focused images on the vehicle's windscreen.
The HUD features two projection modes to give customers the option to use whichever mode best fits their application needs. They can also be used simultaneously to project different information, says Porcaro.
One projector is ultraviolet with monochrome light which projects images onto an active luminescent screen. The other is a projector with a multicolor RGB source that projects onto an MLA (Micro Lens Array) screen.
Porcaro says that by optimizing installation of the system inside the vehicle, MTA's HUD is able to project information on a machine's windshield occupying an area of up to 10 in. (254 mm) with the multicolor solution and up to 25 in. (635 mm) with the monochrome solution. "In this second case, the projected image is visible from every position inside the vehicle, thanks to isotropic emission."
He says these capabilities make MTA's solution stand out compared to others on the market as it eliminates the problem of a limited "eye box" which can be experienced with some systems in which the operator can see the information only when in a certain position in the passenger compartment.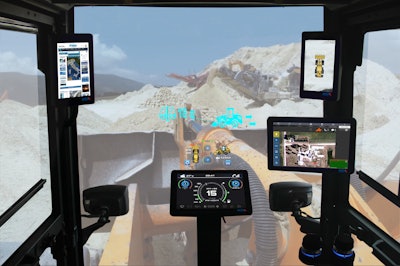 Both systems offer the ability to manage the available optical power and to selectively increase the intensity in case of high levels of external light.
MTA's projection module is very compact, measuring 100 x 70 x 25 mm (3.9 x 2.8 x 1 in.). Its small dimensions enable it to be used in even the smallest of cab environments and to be mounted where an OEM sees fit, such as behind the steering wheel or under the roof.
Bonelli says that the HUD system can be customized to include any information the operator might want.
He adds that the heavy-duty equipment sectors are evaluating dedicated solutions for HUD systems and that there is strong interest from OEMs to use this type of system to improve safety, comfort and other aspects within the operator cab. "In fact, the information projected directly on the windscreen leaves more room for a wider outside view," says Bonelli.
And because the information is projected at eye level, there is no need for operators to turn their head or take their eyes off of the work in front of them.
Danfoss' Bendtsen says implementing advanced technologies like an HUD system first requires improving overall visibility in the operator cab, such as through the removal of the steering wheel.
Concepts provide vision for what's possible
Wilkie says CNH Industrial's concept machines create inspiration and a vision toward what the company would like to do with its operator cabs in the future. "We use [the concepts] as a guiding light to aim for."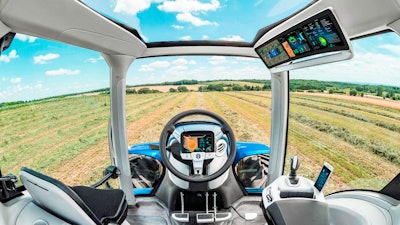 Read more: A Vision for Sustainable Farming
While concept machines like ProjectTETRA provide daily inspiration of how to incorporate new technology, Wilkie notes it doesn't happen overnight. It takes time to get implementation of the technologies right and into mainstream production. "We also have to be careful we do something which is applicable to today's world and will last.
"You'll see some of what [is in ProjectTETRA] in the future, but you might not see all of it," he says.
Bendtsen says operator cabs will continue to become leaner and more multi-functional in the coming years. "The goal we're working toward is to have all machine functionalities accessible at the operator's fingertips."
More connected solutions and autonomous functions will make their way into the cab, as well. "As more functions and tasks can become automated, the operator experience is improved, and the cab simplified," concludes Bendtsen.
Companies in this article