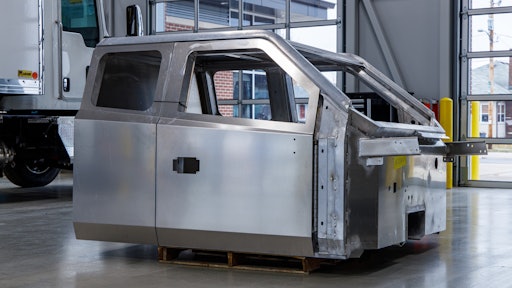 Marion Body Works
Work trucks serve an important purpose on any construction site. Whether it's transporting equipment and materials or acting as a mobile office, they must be equipped to handle the unique needs of each operation and user.
Today, manufacturers are racing to fulfill a relatively new demand among work truck buyers: electric work trucks. The electric work truck market has become a crucial battleground for manufacturers, with a wide variety of designs and prototypes being presented as the next big thing.
As a manufacturer just getting into the electric market, it can be difficult to know where to begin. However, there is one aspect of any electric work truck that will help you determine the overall design and functionality of the vehicle: the cab. While the cab is often overlooked, it's a critical starting point when developing a new vehicle. This is especially evident in the electric work truck market, which has brought on many new engineering challenges.
To help overcome these challenges and meet buyers' needs, there are some factors to consider for electric-capable cabs.
READ MORE: Electric and Autonomous Vehicles in Mining
Find the right OEM
Since cabs are often outsourced, it's important to find an OEM with the engineering capabilities to take on electric-capable cabs. Ask about the OEM's history with manufacturing both regular and electric-capable cabs so you understand the types of jobs it's successfully completed. Once you know what your customer is looking for in work truck design and performance, the right OEM can help you build the proper cab.
Before you get started, make sure you have a clear understanding of your OEM's entire manufacturing process and its ability to overcome customization challenges. Look for an OEM that provides regular access to its engineering team, as this will increase your knowledge of its processes and give you the ability to collaborate on the project. Electric-capable cabs are still relatively new to the work truck market, so your OEM will have to put more time toward design and engineering.
Work with an OEM that has a lean process in place and is capable of delivering a cab as complete as possible with limited outsourcing. This will help prevent additional costs, longer lead times, and quality issues that could negatively affect the performance of the finished truck.
Other qualifiers to look for in an OEM include a low warranty claims percentage, repeat customers, certified welders, and certifications like ISO 9001:2015. OEMs are not required to share all of this information with you, so finding one that is open about its operation and processes will give you confidence in the partnership and the end product you're receiving.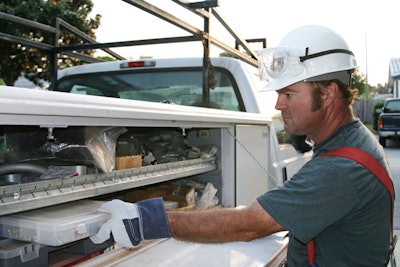 Electric cab design
Once you've selected an OEM, it can get to work manufacturing a cab of your design or developing an entirely new design based on input you give the engineers. The cab will be the most important piece of your electric work truck, as it must be designed and manufactured to allow optimal vehicle performance and safety.
The cab must house the electric engine components while maintaining a high level of safety and functionality. Torque, acceleration, hauling capacity, vehicle maneuverability, and body type will all be determined by the cab and its compatibility with what's under the hood.
Because there is no block engine between the operator and a potential collision, the cab must be built to withstand the impact. Aluminum cabs that are reinforced with custom, heavy-duty extrusions at connection points on the truck's roof, doors, curves, and corners will help keep the operator safe.
Another design consideration is the overall look of the truck. In general, the construction market still wants trucks that look like trucks. These buyers are used to the old-school feel and look of a regular truck, so there's a fine line between offering a new design that stands out and offering something that is too radical. If you manipulate the cab and front end of a truck too much, it can lose its appeal to these buyers.
Vehicle performance with an electric cab
Your cab design must also avoid jeopardizing the performance of the truck. Much like the overall look, the construction market expects the same, if not better, usability and performance out of electric work trucks. Because of the amount of time spent in work trucks, they have to provide comfort and efficiency for the operator.
An electric cab offers drivers more interior space and a quieter ride because of the electric motor. The electric cab also makes for an overall lighter truck, which provides a number of benefits. Drivers will experience better acceleration and braking for increased safety, and a lighter truck also allows for greater hauling capacity when weight restrictions are a factor. Work truck operators can even save on maintenance and replacement costs, as a lighter truck puts less pressure on tires, weight springs, and the vehicle frame.
READ MORE: Thermal Conveyance Solutions for Electric Powered Commercial Vehicles
What's next?
The electric work truck market is growing, but it has yet to fully arrive. Major industry leaders are putting a lot of time and resources into the development of electric trucks, but they are not mass producing them. This has opened the door for smaller builders and manufacturers to develop electric prototypes and sell the vehicles while maintaining their overall capacity.
It's important to keep up with changes in the industry, but as you work toward electric trucks, be sure to do your research and work with partners that understand the process of implementing electric-capable cabs. Be aware that starting from ground zero will mean high up-front costs because of the additional design and engineering time required to make your vision a reality. However, once the design is figured out, a good OEM will be able to produce the cab in a similar timeframe as any other cab.
It's hard to say what this market will look like in 10 years, but as you dive into the world of electric work trucks, always remember that operator safety and comfort start with the cab that surrounds them. Do your due diligence when designing and manufacturing electric-capable cabs for your work trucks to make sure your buyers get vehicles that are safe and efficient.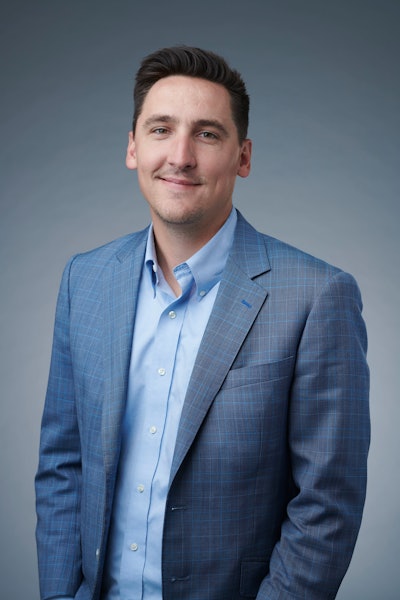 About the Author
Cal Kanowitz is the Marketing and Dealer Development Manager at Marion Body Works where he guides brand strategy and promotion. Kanowitz has worked at Marion for over 4 years.
Companies in this article