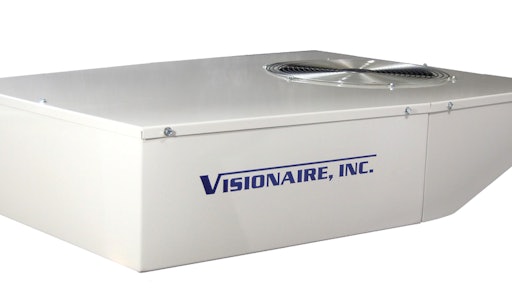 Visionaire Inc. announces the release of the Model 7060 low profile roof- or wall-mounted air conditioning system for heavy-duty off-highway equipment.
Offers low overall height of approximately 8 in. (205 mm)
Features powder coated steel chassis
Cooling capacity of 25,000 BTU/hour

Heating capacity: 37,500 BTU/hour

Allows for horizontal or vertical installation, with very little space required for mounting
Use of multi-flow condenser reduces overall height, while still withstanding the abuse of harsh working conditions
Forced air cab pressurization and hydraulic compressor drive options available

Air Flow: 420 CFM

3 Speed Blower

Refrigerant: R-134a

Ceiling Plenum with Louvers

All Steel Construction

Reusable Washable Filter

30A at nominal 12V DC

15A at nominal 24V DC

Weighs 60 lbs.
Request More Information
Fill out the form below to request more information about
Model 7060 Low Profile Roof- or Wall-Mounted Air Conditioner