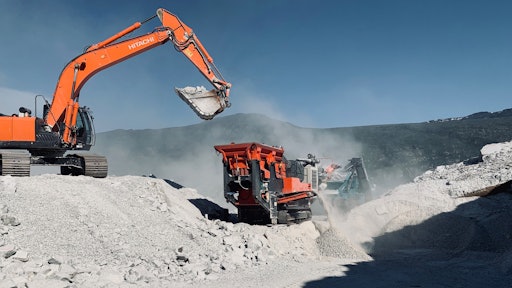 Sy-Klone International
Operator comfort is an important aspect to overall productivity and even operation of a machine. There are many ways OEMs can go about optimizing comfort, including the use of HVAC (heating, ventilation and air conditioning) systems.
"Operator comfort inside of heavy machinery cabs improves retention, job satisfaction, and can support recruiting efforts," says Austin Browne, Vice President Sales and Marketing at Sy-Klone International. "Maintaining a clean cab with a high-performing, always-functioning HVAC system is important to creating a comfortable and safe working environment."
Worker health and safety is a key design criteria for OEMs and their customers, as well, and an important aspect to keep in mind when developing and integrating HVAC systems. "Clean air solutions, such as high-efficiency filters and pressurizers, integrated into HVAC systems, can greatly improve the health and safety of a worker," says Browne.
Today's HVAC systems are designed to meet all of these needs. And as heavy equipment manufacturers expand their electrification efforts and use of smart systems, HVAC designs are evolving to meet these industry trends.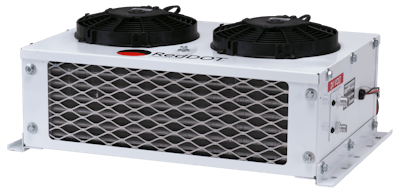 Electrification brings new technology, heating and cooling requirements
As more OEMs and their customers move toward the use of alternative drive technology for off-highway equipment, the need for HVAC systems which can be used on these machines will increase.
Matt Jun, Vice President of Engineering at Red Dot, says electrification has a huge effect on HVAC systems. Traditionally, these systems have consisted of four components—a compressor, evaporator, expansion valve and condenser—as well as some hoses for integration into a piece of equipment. However, electrification is extending the system not only in terms of components but also regarding the role it plays in a machine.
"[HVAC systems are] transitioning from a nice-to-have feature into a system that is critical to the overall vehicle," he says. In addition to providing heating and cooling to keep operators comfortable, these systems are now being tasked with heating and cooling vehicle batteries and motors, chargers and other electronics.
Chillers and EXVs (electronic expansion valve), as well as other components not traditionally found on HVAC systems, are now being utilized which Jun says is adding complexity. Power demands placed on HVAC systems are also going up, creating further design complexity for manufacturers.
Additionally, efficiency is becoming ever more critical. "We no longer have waste heat from the engine to heat the vehicle; we have to either find that heat somewhere—using a heat pump system—or we have to make it with an electric heater which is not very efficient," he says.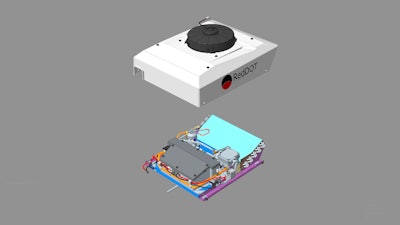 Heat pumps are becoming the gold standard for efficiency in electric vehicles he notes. They operate somewhat like a reverse air conditioner as it looks for heat in the environment to bring into the operator cab instead of putting waste heat from the engine into the cab. Jun says this is a more efficient method and uses less battery power. "The clever thing we're doing on heat pump systems now is not just finding heat from outside but we've got waste heat from the motors, batteries [and] electronics we're capturing and bringing into the cab."
Because many OEMs do not have as much experience with electrification of HVAC systems, Jun says Red Dot will work with manufacturers early on in the design process to ensure a proper heating and cooling system architecture is developed.
According to Browne, clean air is important not only for the safety of machine operators, but also for the operation of electric and autonomous vehicles. "Dust and debris can wear or damage sensitive electronics and controls, which are central to the operation of autonomous vehicles," he explains. "Integrating a fresh air filtration system and maintaining positive pressure in an autonomous vehicle cab maintains a clean environment to keep electronics and components working as designed."
He also noted the increased use of electric cabinets on hybrid and fully electric machines as a means of protecting chips, sensors and other micro-components from exposure to elements. Because dust and debris could enter these cabinets, Browne says Sy-Klone is working with OEMs to outfit the electrical cabinets with its RESPA technology to pressurize the cabinet and prevent the entry of potentially harmful particles.
The RESPA clean air technology uses a patented process to remove dirt and debris from the air prior to the air passing through a high-efficiency filter which enables the smallest dust particles to be removed. Clean air is then fed into the area in which the RESPA system is integrated. Its design also enables the creation of a protective envelope of high-quality air for pressurization of cabs or other areas within a machine, like the electrical cabinets noted above.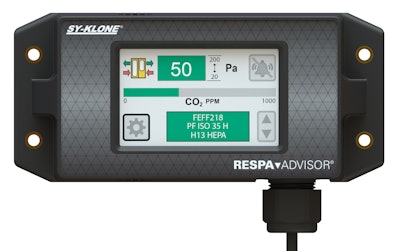 Creating smarter systems
So-called smart technology is making its way into all aspects of heavy equipment designs, and HVAC systems are no different.
These smart technologies can come in many forms. Sy-Klone, for instance, has introduced the RESPA Advisor+ and RESPA Advisor cab monitors which alert operators to potential issues within the cab such as unsafe levels of carbon dioxide (CO2) or loss of cabin pressure. The RESPA Advisor+ is compliant with the recently introduced ISO 23875 cab air quality standard being implemented in mining and other heavy-duty equipment applications to help ensure operator health and safety (see sidebar below).
"Incorporating smart technology into HVAC and clean air products more proactively notifies machine operators and site managers of air quality concerns and provides increased visibility to data and operating conditions, ultimately advancing a company's ability to protect machine operators," says Browne.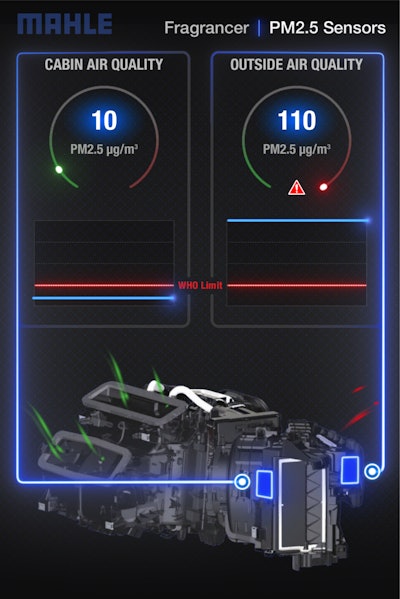 He notes Sy-Klone is working with the U.S. Center for Disease Control's (CDC) National Institute for Occupational Health and Safety (NIOSH) to research the further application of smart technology to independently manage air quality in a machine operator enclosure as a means of improving health and safety. "The research will identify best practices for a smart system to actively monitor a range of air quality conditions inside the cab, including the ability to adjust in real-time to optimize the cab's air quality while operating in the most rugged and demanding work environments," he says.
In September 2020, Mahle introduced its smart air conditioning system. A key feature is the integration of fine-particulate sensors directly into the system, says the company, which provides the sensors with immediate information on air quality in the operator cab and externally. This allows the system to adjust accordingly in a quick and precise manner. Integrating the sensors also creates a more compact system for easier installation.
"We offer an intelligent system to detect changing environmental conditions and react instantly to sustain excellent air quality in the cabin," says Anja Reiter, Pre-Development HVAC Modules Air Quality at Mahle.
The company has tested the system in a passenger car on roadways, but says the smart air conditioning system can also be utilized in heavy-duty on- and off-highway vehicles. For the testing, two fine-particulate sensors were integrated into the air conditioning system. A newly developed fine-particulate filter providing high-separation performance was also integrated with the system to help provide a cleaner cab environment.
Mahle has thus far achieved positive results from its testing of the smart air conditioning system. Testing has also shown the potential for other benefits in the future through the incorporation of its new filter technology and air quality sensors. There is the possibility of the air conditioner's filtration system to respond to operating situations by providing more filtration when necessary, enabling a filtration on demand type of capability.
Sensor integration can aid maintenance, as well, by monitoring when filters should be replaced to ensure this happens only when needed. Connectivity allows more mobility services to be utilized such as ordering of new filters, says Mahle.
"With its modular approach and a clever interface concept, we make sure that our product is ready for future sensor generations – especially with regard to long product service times of current HVAC generations," says Reiter.
"I think one area where smart technology can help is with our system ECU (electronic control unit)," says Jun. The system controller can individually monitor and control the temperature for the operator cab, batteries and electronics, and initiate heating and cooling when necessary. "The goal is that our ECU will make that automatic and reduce the workload while improving the comfort level for the operator."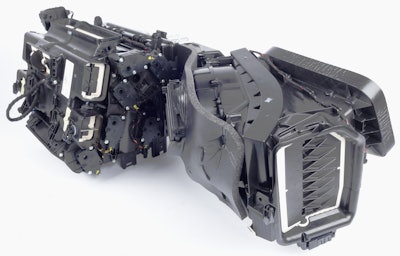 The future of HVAC systems
Going forward, efficiency will be the key driver for HVAC system designs. Traditionally, Jun says this hasn't been as high a priority. But with the shift toward electrification, efficiency is becoming a higher priority. "We have to be very careful about how we manage the power usage of the HVAC system," he says. "That's going to be the key moving forward."
Autonomy will bring about new changes and design needs, as well. Jun says the requirements for HVAC systems for autonomous vehicles will be different but also similar to those of electric vehicles. Like electric vehicles, there will still be a need for cab heating and cooling, as well as cooling for electric motors and batteries. Even once cabs are eliminated there will remain a need for cooling electric components which HVAC technology can provide.
Overall, customer needs will continue to be the key driver for HVAC system designs. New capabilities and features will become available but the main goal of keeping machine operators safe and comfortable will remain.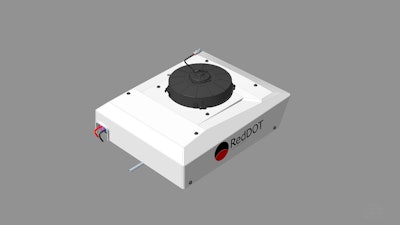 Companies in this article