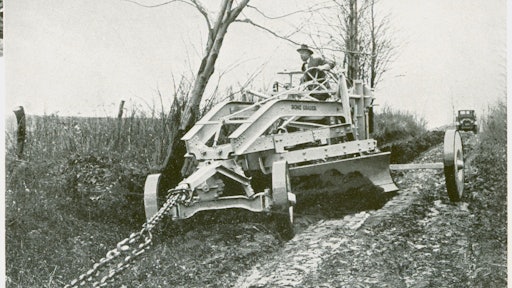 Rome Manufacturing Company Bulletin 2, n. d., HCEA Archives
There were basic types of pull graders. The larger, heavier and more robustly built machines were intended for ditching, road construction, heavy grading, sloping and the like, and the smaller and lighter graders were designed for road surfacing. Graders of either type could also see other services, such as brush clearing or snow removal.
The latter graders were often called patrols. According to a catalog published by Austin-Western in 1925, this term arose from the patrol system of road maintenance: A patrolman was assigned a beat, consisting of a given section of road, and he used a light grader that he often provided himself to keep it in good repair through a regular schedule of passes, usually without engaging in ditching or heavy grading. The term gave rise to the "motor patrol" name given to many early motor graders.
There were also purpose-built variants. The terracer was a small, heavy-duty grader that hitched directly to the tractor rather than having its own front axle, and was used to cut irrigation ditches and sidehill terraces. There were also road planers, road shapers and the like that utilized planes, scarifiers, drums and other implements in place of a simple blade to work the surface of a rutted road.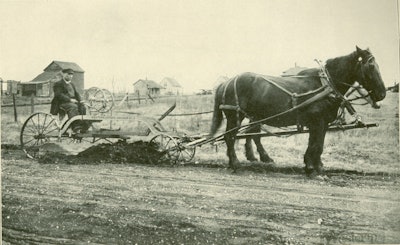 In one of the last significant uses of pull graders, the U.S. Army's Airborne Engineer Aviation Battalions used Adams Leaning Wheel No. 11-S pull graders, basically a stock Leaning Wheel No. 11 patrol with the teamster's seat removed, in its World War II glider operations.
The Historical Construction Equipment Association (HCEA) is a 501(c)3 non-profit organization dedicated to preserving the history of the construction, dredging and surface mining equipment industries. With approximately 4,000 members in 25 countries, activities include publication of a quarterly educational magazine, Equipment Echoes; operation of National Construction Equipment Museum and archives in Bowling Green, OH; and hosting an annual working exhibition of restored construction equipment. The 2019 show will be September 13-15 at the Museum in Bowling Green. Individual memberships within the USA and Canada are $35 for one year, $65.95 for two years and $99.95 for three years, and $55.00 U.S. elsewhere. HCEA seeks to develop relationships in the equipment manufacturing industry, and offers a college scholarship for engineering and construction management students. Information is available at www.hcea.net, by calling 419-352-5616 or e-mailing info@hcea.net.