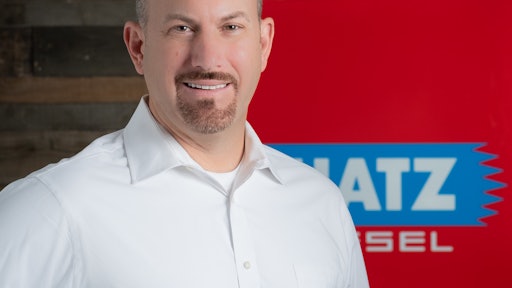 responses submitted by Michael L. Hartoonian, President and CEO, Hatz Diesel of North America, Inc.
Global Markets
What are the key global markets your company sees as growth opportunities and why? Are there specific types of products/equipment on which it is focusing for these markets?
With the introduction of our revolutionary electronic air-cooled E1 Engines Hatz really can reintroduce our air cooled engines into many markets; everything from compaction equipment, where Hatz is a perennial market leader, to the light tower market, where coupling the E1 engine with a PMG and driving LEDs gives a revolutionary, compact and efficient downsizing solution for that market.
Government & Trade
How, if at all, has the current state of the global trade tensions—particularly those between the U.S. and other countries—had an impact on your business?
I feel these negotiations, particularly with China, will in the long term have a positive result for the U.S. economy. I would say while there has been some impact to our international business, for the most part, especially here in North America, there has not been a negative impact on our business.
Does your company foresee the passage of the United States-Mexico-Canada Agreement (USMCA) being a benefit to overcoming the trade tensions, or just being a benefit in general? How if at all would it impact your business?
We see this certainly as an all-around benefit. And unfortunately, one that is much delayed due to congressional politics, not policy issues. Although I cannot provide concrete examples of direct benefits to our business, the general benefits to the economy, including for the agriculture business in the Midwest should be quite good.
Diesel, Electric and Other Power Alternatives
Diesel is clearly not going anywhere for several decades, but are there ways your company sees its use could further evolve or become cleaner to meet growing demand for fuels which have less of an impact on the environment?
I could not agree more that diesel is not going anywhere! But of course we are always looking at ways to evolve to become more efficient, and to provide a better all-around experience for the end user; including a cleaner and more fuel efficient product.
Hatz's new E1 technology along with our upcoming connected services I think will meet many of these customer expectations.
Does your company foresee electrification playing a bigger role in the coming years, and what is needed for it to become a more widespread technology in the heavy-duty vehicle industry?
Diesel is not going anywhere, and I really only see a limited role for electrification in commercial off-highway markets given the present technology. I do see more of a role for different hybrid technologies in different markets and for using this technology as an aid in the engine downsizing concept. For example, the Hatz E1 Engine with the fully integrated PMG system.
Data, IoT & Connectivity
What role is data playing in your company, and how do you anticipate it will grow in the coming years?
Data and its analysis is a huge part of the current and long-term plans for our connected services program.
What benefits is the Internet of Things (IoT) bringing to your company, and/or the industry as a whole, and how do you see it continuing to be beneficial in the coming years?
I don't think we can as of now even predict the full scope of benefits we will see from IoT, and from our connected services. But even things such as preventative and predictive maintenance features are great benefits for end users.
Companies in this article