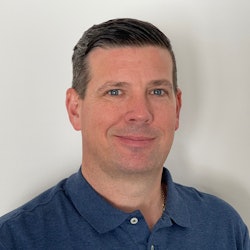 Each year, our State of the Industry issue looks at the top trends and technologies within the heavy equipment industries. We also dig into current and future market conditions, as well as regulations which may currently or in the coming years have an impact on how the industry will go about designing its equipment.
To get the best insights, we speak with executives from a variety of companies working in the industry—everyone from associations, to OEMs to component suppliers. Below are responses provided by Ryan Webster, Vice President of Sales and Marketing, anyseals USA.
Read all of this year's executive Q&As.
Global Markets, Government & Trade
What are the key global markets your company sees as growth opportunities and why?
We service the global fluid power market as a whole and see it as a growth opportunity because of the demand. Our products are used across all industries with a need for fluid power seals from construction and agriculture to petrochemical and food and beverage.
Are there any policies you are keeping your eye on that could impact (or have already impacted) your company and the industry?
Tariffs of Asian and European goods are of particular interest to our business. We are not for or against them, we just need to be aware of their existence and how we should address the passage of cost to our customers.
How would passage of an infrastructure or other similar bill in the U.S.—or the equivalent in other countries—benefit the industry?
The infrastructure bill is very good for many of our customers (both direct and indirect) as our products are used in much of the equipment that is used to repair, create, and maintain said infrastructure. If done correctly, the bill could help maintain and even grow the strong market we see today into the future.
How, if at all, has the current state of the global trade tensions—particularly those between the U.S. and other countries—had an impact on your business?
We are a wholesale business at the heart of it, so it is an advantage for us to inventory lots of goods for consumption by many customers. We therefore buy in large quantities and can mitigate the costs associated with things like tariffs and whatnot. So, the tensions from that aspect do not hurt our business. We are however very concerned with our global vendors' current issues with capacity. Most if not all of our global suppliers are having significant difficulty with production output and the procurement of raw materials to produce the goods. Not sure if you would call that "tension" but it's a problem, nonetheless.
Supply Chain Disruptions
How have supply chain disruptions impacted your business over the past year?
Our lead times have quadrupled in 2021 compared to 2020. In addition, shipping costs have been negatively affected.
If impacted, what has your company done to try to overcome this industry challenge?
As the shortages were becoming more evident, we adjusted our buying methods to increase our inventory. As a result, we have successfully procured key products needed to keep customers out of trouble. We have a lot of stock in transit as I write this, but after these shipments are delivered, lead times and overall availability of some product lines are a concern.
At what point do you foresee the current supply chain disruptions becoming less of an issue?
The easing of the pandemic will have a lasting and positive impact on the supply chain. However, our suppliers are unfortunately dealing with yet another turn in the pandemic which strains capacity even more. Once those businesses and countries are no longer threatened by another public health crisis, I believe the supply chain will begin to rebound.
What industry challenges have these supply chain disruptions brought to light, and what can the industry as a whole do to overcome them?
Shipping and port resources have been under-capacity and overwhelmed. As stated above, a reduction of issues related to the pandemic will help as will the addition of more advanced automation solutions. It is assumed that all avenues of automation are being evaluated at this time, and given the circumstances, the timeframe for their introduction has accelerated.
Diesel, Electric & Other Power Alternatives
How, if at all, do you see the role of diesel engines evolving in the coming years?
This is purely an opinion statement – diesel motors for commercial applications will continue to evolve and become cleaner and more efficient. Given the state of the industries that utilize these motors, I would also expect to see significant growth. However, the use of diesel motors in light passenger vehicles and trucks will likely begin to disappear. The 2022 F-150 is a good example, being the first to pull the plug on a diesel offering.
What alternative fuels do you foresee entering the heavy equipment industry in the next 5 -10 years?
Electric power will begin to displace the use of diesel. Logging trucks may be the first to convert given their duty cycle and need for incredibly high amounts of torque.
How will electrification—or other alternative energy/power systems—continue to advance in the heavy equipment industry?
Tesla and Rivian (via the Amazon relationship) are writing this story already with their entry into the commercial vehicle space. Also, I believe we will see electric and other alternative offerings (hydrogen powered for example) in the material handling sector with some companies investing large amounts of cash into the R&D of this technology.
Challenges & Opportunities
What are the biggest challenges facing the industry currently, or do you see the industry facing in the coming years?
Geopolitical issues, tariffs, and trade exclusions. Domestic turmoil and continued discontent and disagreement. Domestically, having the country split on almost every issue will have a negative impact on all pro-growth plans. The continued fight against COVID-19 is another current challenge and if this virus continues to linger and derail momentum, there will be some form of damage to the economy and industries.
What are some of the biggest opportunities you see in the industry?
The growth of the market in general is a rising tide that should be good for everyone. In addition, there will be pressure for consolidation of businesses which will bring about industry efficiency and new upstarts and creative thinking.
Are there any technologies or trends which you are currently excited about in the heavy-duty vehicle industry, or most looking forward to seeing in the coming years?
While I do not consider myself to be a radical thinker in terms of protecting the environment, I do like the idea that some of this new technology, whether it is improved diesel design or full blown electrification, will provide cleaner air for the generations to come. It will also force improvements in the country's grid, and again will provide a new platform for creative thinkers and problem solvers to develop new and original ideas.
What do you think will be the biggest change to occur in the heavy-duty vehicle and equipment industries in the next decade?
Electrification and/or alternative fuels as well as the advancement of equipment connectivity (telematics).