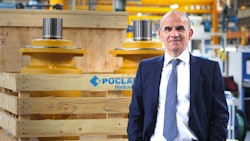 Each year, our State of the Industry issue looks at the top trends and technologies within the heavy equipment industries. We also dig into current and future market conditions, as well as regulations which may currently or in the coming years have an impact on how the industry will go about designing its equipment.
To get the best insights, we speak with executives from a variety of companies working in the industry—everyone from associations, to OEMs to component suppliers. Below are responses provided by Frédéric Michelland, CEO, Poclain Hydraulics.
Read all of this year's executive Q&As.
Global Markets, Government & Trade
What are the key global markets your company sees as growth opportunities and why?
All of our key markets, mainly construction and agriculture (70% of our sales), are growing significantly this year with the rebound following the pandemic and shutdown. That growth far exceeds the 16% revenue contraction we experienced in 2020. Our backlog was already at an all-time high during the first quarter of 2021 well before the Covid crisis started to abate. The main global drivers we are seeing in construction are government spending and investment in infrastructure such as the huge stimulus plan in the U.S. For agriculture, it seems we are entering a prosperous period with higher crop prices. How long will this booming/overheat cycle last? Does the current level of order intake correspond to the peak of momentum? Nobody can really tell. But, we should carefully follow slight downward trends in individual sectors which are likely to become more pronounced in the coming months.
Are there any policies you are keeping your eye on that could impact (or have already impacted) your company and the industry?
Public investment policy has a strong impact on our industry: infrastructure plans and monetary policy regarding interest rates affect investment capacities for end users from contractors to farmers. Other key policies to watch are environmental regulations – more specifically emissions – forcing OEMs to develop more sustainable and lower fuel consumption machines. This ultimately affects their choice of transmission and drives growth of electrification in many markets including off-road. Poclain is ready to be part of this change with our high efficiency products and the launch of our electrohydraulic solution.
How would passage of an infrastructure or other similar bill in the U.S.—or the equivalent in other countries—benefit the industry?
A bill like this offers visibility to OEMs and contractors regarding investment. However, it is important to avoid the kind of uncontrolled growth that drives a stop-and-go effect in the market similar to what happened with the Chinese construction market after the 2010 rebound by giving clear guidelines to the use of public money. The importance of having a global manufacturing footprint is underlined by the demand these bills or equivalents drive in order to support local OEMs with optimized supply chains and local support. For the U.S., for instance, we have expanded our plant in Yorkville, WI, to better support U.S. OEMs with the assembly of motors and pumps.
How, if at all, has the current state of the global trade tensions—particularly those between the U.S. and other countries—had an impact on your business?
Production for some of our customers has been transferred to different regions because of trade tensions. This has lead us to review our supply chain, both to support our customers' production locations but also take into account our suppliers' locations, more specifically clients who have moved their production to China or Asia in order to ease issues with customs and importation costs on machines originally produced in the U.S. To accommodate these customers, we have grown our motor assembly capacity in our Shanghai, China facility. Unexpected tariff increases are also a concern as they impact our sourcing strategy and create argument of discussion with our customers who are sometimes reluctant to shoulder the resulting cost increases.
Supply Chain Disruptions
How have supply chain disruptions impacted your business over the past year?
We have seen significant impacts on our lead times and our inventory levels. Transportation is taking longer. Supplier shortages lead to past-dues despite having part of the necessary components available in inventory. Especially in the U.S., capacity constraints due to container availability or port congestion is affecting on-time delivery.
If impacted, what has your company done to try to overcome this industry challenge?
We have been implementing multiple component sources, especially in the case of overseas supplies by activating local sources when possible, validating new suppliers, anticipating shortages and airfreights to limit the impact.
At what point do you foresee the current supply chain disruptions becoming less of an issue?
Probably not before mid-2022. Luckily, suppliers' situations did improve very recently in some countries like India whereas in the U.S., it is the opposite.
What industry challenges have these supply chain disruptions brought to light, and what can the industry as a whole do to overcome them?
Supply chain disruptions have pushed us to rethink supplier locations. We are balancing suppliers between overseas versus local for local and evaluating this equilibrium by country to limit impact.
Diesel, Electric & Other Power Alternatives
How, if at all, do you see the role of diesel engines evolving in the coming years?
Diesel engines are definitely no longer in "fashion." Regardless, they are very widely used by heavy machinery. The progressive movement away from diesel fuels to other energies does not necessarily mean the complete abandon of the diesel engine. There is, however, a powerful market trend towards zero-emission vehicles and machines (cars, buses, trucks, off-highway machines, etc.).
To become zero emission, the vehicle and machine architectures will have to evolve. Looking at the off-highway market, it is highly fragmented regarding the variety of applications and duty cycles. The solutions used for the architectures will be very different depending on the applications and duty cycles.
Consequently, part of the off-highway market will keep using internal combustion engines (ICE) but not [exclusively]; internal combustion engines will have to cohabitate with other technologies (hybrid, electric).
What alternative fuels do you foresee entering the heavy equipment industry in the next 5-10 years?
We are seeing the initiatives to develop alternative fuels for use with ICE grow more than ever. Many experiments and trials are underway with fossil-free fuels, and more are still to come. The mix of this technology alongside hydrogen is at the heart of many initiatives, and some that have reached a mature stage and [are] promising for smooth industrial deployment as the thermal engine is an established and well mastered technology. Internal combustion engines will move more and more toward biofuels. But these fuels will be complimented by other sources: Hybrid (downsized diesel engine + electric system) and full electric (battery and fuel cell).
These alternatives will make it possible to achieve the right energy mix and the only possible option for our future and that of the planet. Betting everything on one technology does not make sense, especially for heavy equipment vehicles or tools.
How will electrification—or other alternative energy/power systems—continue to advance in the heavy equipment industry?
Electric vehicle (EV) adoption will highly depend on end-use applications driven by key technical and economical aspects: improvements in battery energy density to reach requested vehicle range, charging infrastructure availability and performance, regulatory pressure, and machine total cost of ownership.
In summary, the EV machine will have to meet regulatory requirements, properly perform its intended job and enable a profitable business model for the owners.
What new emissions regulations do you see on the horizon, and how might they impact future product development?
At a global level, the regulatory requirements are already highly affecting Europe and North America. The next step (Stage VI in Europe, Tier 5 in North America) is currently in preparation and could come into force around 2025. Concerning China and India, the requirements should converge with the European and North American requirements in the longer term.
At a local level, some countries and municipalities may look to ban internal combustion engines, for example for low power machines or urban applications (eg. Norway, California).
These regulatory evolutions will keep impacting product developments such as engine downsizing for thermal machines, machine hybridization (engine together with electric) or even a switch to full electric for some machines. These evolutions will also influence engine costs.
Data, IoT & Connectivity
What will be the best use cases for the Internet of Things (IoT) and data in the coming years?
The use cases for IoT in the coming years will be concentrated around preventive maintenance to lower downtime, TCO (total cost of ownership) optimization and machine rightsizing, and helping the ecological transition by extending component lifetime or recycling them for other uses.
What potential do you see in the use of artificial intelligence and augmented/virtual reality—both for the design and manufacture of products as well as within equipment?
For design: Artificial intelligence will help in the design of software to adapt the behavior of machines when they are on-field based on real machine data. Augmented reality will bring expertise and assistance to customers remotely during the prototype phase and help to decrease the need for physical mock-ups with virtual reality assembly and simulation.
For manufacturing: Artificial intelligence will bring new opportunities to create value from production data. Some examples:
Predictive maintenance – machine data acquired through IoT are analyzed to predict wear and downtime
Predictive quality – patterns of data are analyzed to predict production deviations
Quality control – use of Machine Learning and Deep Learning technologies to improve the detection capability of vision sensors
In the coming years, artificial intelligence might also be of help to manage demand and anticipate different sector economic cycles. Who knows?
Augmented reality is used in all our facilities to train and assist our production and maintenance technicians in a very efficient way but also to deploy remote assist equipment as well as training modules using this technology and the commissioning of our customer machines.
What advancements do you see on the horizon for connectivity and machine learning in the next decade?
Digital twin technology will be used to predict failures and optimize machine functionalities. With edge computing, the machine will be able to make decisions locally thanks to a high calculation capacity with a miniaturization of electronic components. Connectivity and machine learning will push the development of autonomous machines even further.
What challenges remain for the continued adoption of data, IoT and connectivity related technologies or systems?
Some challenges include the readiness of the user to pay for connectivity and the ability to show the benefits of connecting machines. Another challenge lies in data protection acts such as GDPR and the willingness to have the job or activities of a machine or user monitored. The closed data ecosystem of data is another challenge – ensuring data is not shared with competitors, partners or customers depending on the wishes of the customer.
Challenges & Opportunities
What are the biggest challenges facing the industry currently, or do you see the industry facing in the coming years?
The biggest challenges are well known: supply chain tensions, inflation risks (specifically commodity prices like steel) and labor shortage. These three challenges will most likely grow in the coming months, even if we expect the situation to ease in 2022. The main concern that remains is really the labor shortage, as it seems to be a structural change. Many people are reconsidering their professional careers and leaving the industry. Attracting talent is becoming the most important success factor.
Over time, running 24/7 is not a long-term solution. Robotization could be an answer in some cases.
COVID remains a challenge. It is not over, and is not only disturbing logistics, but also overall travel and exchange the world over. Poclain has successfully continued to work during shutdowns thanks to a strong digitalization effort, but this does not change the fact that people still need direct interaction. Travel restrictions challenge growth.
What are some of the biggest opportunities you see in the industry?
Electrification is a big opportunity in the industry, but in general, OEMs need to design machines that do a better job of respecting the environment. Hydraulic technology has a place in this thanks to its high efficiency, reliability and power density. As a leader in radial piston motors, we have strong arguments to play in this field. With the addition of our new electrohydraulics solutions, our goal is to offer the best of both technologies in a comprehensive and high-performance package for machine manufacturers.
IoT and more generally data exchange and management on machines and components enhance the value proposition that any manufacturer proposes by offering the possibility to monitor performance and reliability as well as better following user demand. Poclain is developing solutions in this field with its service program.
Are there any technologies or trends which you are currently excited about in the heavy-duty vehicle industry, or most looking forward to seeing in the coming years?
Outside of electrification, replacing combustion engines with fuel cell technology and (electric) battery drives are very exciting technologies that will have a significant impact in the off-road market if the technology becomes more affordable and safe. Autonomous machines and robotization are also trends that will grow in the future, surely driven by the need to compensate for labor shortages in farming, construction and mining.
What do you think will be the biggest change to occur in the heavy-duty vehicle and equipment industries in the next decade?
The two biggest drivers of change are pressure to reduce emissions and the labor shortage. This will push the industry to find innovative ways to reduce emissions and energy consumption, be it electrification, fuel cells or other technology to replace the combustion engine. The labor shortage will force OEMs to reconsider the interface between machine and driver pushing for improved comfort, automation and a stronger focus on the user experience. This will result in more autonomous machines and robots doing activities like spraying, digging and paving.