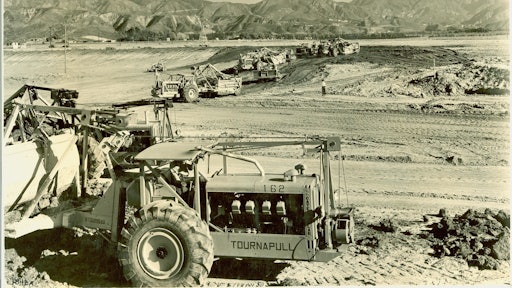 R. G. Le Tourneau Inc. image
We've been looking at Robert G. LeTourneau's innovations in construction equipment development, and in this installment we'll see another of his most important inventions, the first modern motor scraper.
Prior articles have discussed the groundwork for these machines: Improved loading efficiency and carrying capacity; cable control of the scraper from a towing tractor; the 1923 Self-Propelled Scraper; and the use of rubber tires. While all of this greatly increased a scraper's productivity, a bottleneck remained: The speed of the towing tractor.
A crawler tractor offered great power and traction, but was inherently limited in how fast it could go, and the limitation was passed on to whatever it was towing. The solution was born literally by accident, as LeTourneau recuperated in 1937 from severe injuries suffered in a car crash. He sketched out the preliminary ideas for something completely different, a big tractor on a single at the rear with large tires. It would be yoked to a single-axle scraper in such a way as to allow for extreme maneuverability, and a cable control unit on the front of the tractor controlled the scraper by means of lines reeved up and over the tractor. The tractor was powered by a 160 hp (119.3 kW), 8-cylinder Cat D17000 engine, and with its LeTourneau-designed transmission it was good for up to 20 mph (32.2 kph) on the level.
Unveiled in April 1938, the tractor was called the Model A Tournapull, perhaps the first of very many usages of a "Tourna-" prefix for his inventions. To say it and the Z25 25-yd. (22.9 m) Carryall scraper that was built for it were ungainly is an understatement. But it achieved LeTourneau's goal of much greater speed and productivity.
An improved second prototype followed that summer. In late 1938, Guy F. Atkinson Company ordered 10 of them for use on Hansen Dam in the Los Angeles Dam, making it the very first earthmoving project to be done primarily by motor scrapers. Further improvements and new models followed, and the Tournapull and scraper combination set the standard for tens of thousands of motor scrapers for the future.
The HCEA is a 501(c)3 non-profit organization dedicated to preserving the history of the construction, dredging and surface mining equipment industries. With over 3,800 members in 25 countries, HCEA activities include publication of a quarterly educational magazine, Equipment Echoes, from which this article is adapted; operation of National Construction Equipment Museum and archives in Bowling Green, OH; and hosting an annual working exhibition of restored construction equipment. The next International Convention and Old Equipment Exhibition will be September 23-25, 2022, at the National Construction Equipment Museum in Bowling Green, OH. The HCEA is raising funds for construction of a new purpose-built building to house its equipment collection, and the convention will feature groundbreaking for it.
Individual annual memberships in the HCEA are $35.00 within the USA and Canada, and $55.00 U.S. elsewhere. HCEA seeks to develop relationships in the equipment manufacturing industry, and offers a college scholarship for engineering and construction management students. Information is available at www.hcea.net, by calling 419-352-5616 or e-mailing info@hcea.net.