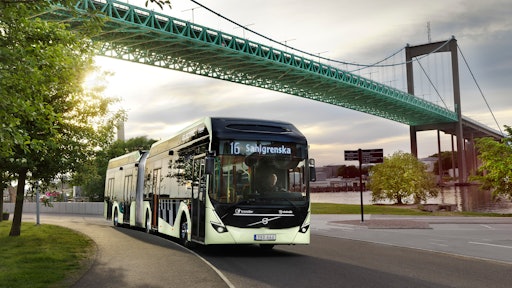 Volvo Buses
Buses are boring? Not in the view of the 35,000 people attending Busworld in Belgium recently. Trying to make sense of what is an increasingly puzzling and erratic industry where the very meaning of what is a bus is being thrown into doubt.
For example, trams now wind through streets in China but on closer examination, these articulated vehicles in the shape of trams have no rails, no catenary, and they will become driverless. We already have "Bus Rapid Transit" with dedicated lanes and platforms replacing trolley buses and trams, but China now blurs the difference. So do the new trolleybuses and trams that traverse city centers with no electric pickup by using their on-board batteries. The IDTechEx report, "Electric Buses 2020-2030" makes sense of all this.
Read more: BYD Buses Used for First U.S. Zero-Emissions BRT Service
It notes that, taking things further in 2019, startup Neuron EV presented an autonomous electric bus-train. In this concept of a modular electric bus, the length of the vehicle can be modified to serve in a variety of ways. It can take on different forms including a minibus, transit bus, or an articulated bus that can be used for a variety of purposes for communities and infrastructures. Further, the bus is made to be compatible with high-speed railways basically enabling it to convert into a metro train when needed.
In the UK, the railways have been looking at commissioning bus companies to make single carriages that run on the rails using batteries where the cost of catenary is prohibitive. It is felt that the rail industry would overdesign such vehicles. Is this part of the bus industry?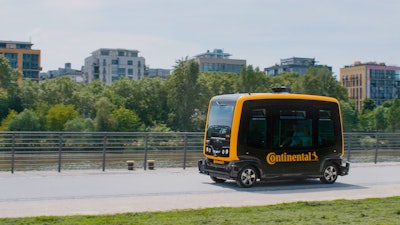 No one knows if the new boxy little autonomous vehicles being trialled from Canada to New Zealand will be primarily "robotaxis" or "robot shuttles" meaning a new type of people mover or midibus. In principle, they could serve as hired cars, taxis, school buses and urban buses all in one day with many deploying to the edge of the city at night when demand is low.
Read more: Technology that Moves You
However, the devil is in the details with concern about bullying and legal issues with unsupervised children in such vehicles. There will be robot taxis at the Tokyo Olympics in 2020 but IDTechEx and other experts warn that matching a human's driving safety record anywhere, any time, in any weather, will not be before 2035.
Range is an important factor
Range sells electric cars. Those with over a 300 km (186.4 mi.) range sell 100 times the number. This is because they eliminate range and financial anxiety. Resale value of short-range cars collapses to 20% in 3 years while long-range ones enjoy up to 60%.
The picture is not so clear with buses, where resale figures are almost non-existent due to them being kept for 8-20 years. Purchase decisions are typically based on total cost of ownership.
If range sells buses, then Proterra is winner with over a 1,600 km (994.2 mi.) range for its pure electric bus. Eurabus fits over double the battery at 790 kWh to reach "up to 650 km (403.9 mi.)" but neither of these companies is leading sales. That said, BYD, number two in China and on some counts number one in the USA and Europe, has claimed best real-world range of a mere 250 km (155.3 mi.) for some years.
China's shifting electric vehicle market
China is the world's largest automotive market and there the government strongly controls both supply and demand, and sometimes suddenly changes what it supports. This could be seen regarding the withdrawal then reinstatement of support for hybrid buses that do not plug in.
Like some other regions, it has recently been phasing out subsidies for electric vehicles and this has made electric bus sales drop. This year (2019) has seen great activity in developing fuel cell vehicles because it was widely reported that they would continue to get subsidies.
However, in late September 2019, the Ministry of Finance announced that hydrogen fuel cell vehicles will no longer receive government subsidies when China withdraws its financial stimuli by the end of 2020. SAIC Motor Chairman Chen Hong, a National People's Congress deputy, had proposed that the central government continue its financial support. This was the first time that the authorities had made it clear that fuel cell vehicles will not be an exception when China stops subsidies.
Many had expected fuel cell vehicles to be exempt from the rule because the central government had not cut subsidies for them in anticipation. Those for electric vehicles and plug-in hybrids had been slashed over the previous years.
"Some car makers have become over-reliant on subsidies and thus find it difficult to compete in the global markets. And despite the financial support, China's fuel cell industry has not made breakthroughs and has not seen rapid development," said the ministry.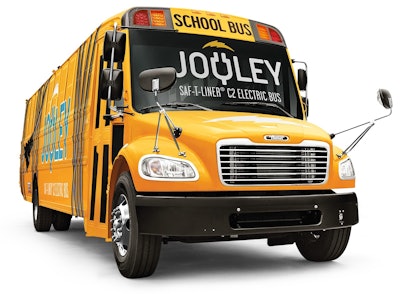 Raghu Das, CEO of IDTechEx, estimates that there may be up to 1 million unauthorized buses in China taking children to school. He adds, "Indeed, recording is poor, but there may be 8 million buses in the world, including the small people movers, and, if they were replaced in only 20 years (China aims at 8 years for urban buses) we get a huge demand for 400,000 electric buses yearly." But he warns, "Such dreams are easy. The reality of accurate forecasting is a nightmare. Who expected Azerbaijan and Kazakhstan to be taking a total of over 1,400 electric buses around now, exceeding the figure for many giant nations? Vietnam seems committed to making and using 3,000 electric buses yet the adoption by the largest city in Europe, London, is pitiful, as is the adoption of electric school buses in the huge 400,000 school bus fleet in the USA."
Read more: Electric Bus Demand Surging Outside China
Evolving electric bus designs
Commendably, the bus manufacturers and their suppliers are reinventing even their conventional-looking buses. BYD uses in-wheel motors but many others use e-axles now to get range and passenger space.
Wide bandgap semiconductors and other routes to greater efficiency, including fewer cooling components are among the electric bus advancement.
In the new IDTechEx report, "48V Mild Hybrid and 48V Full Hybrid Vehicles 2020-2030" it is forecasted that 48V full hybrid buses will beat conventional high voltage hybrids on cost before pure electric squashes them both.
Eaton has pioneered 48V full hybrid bus powertrains, and Daimler has 48V mild hybrid buses currently available in the market.
However, almost all the action is now pure electric with many traditional bus suppliers losing share and technology leadership to newcomers. For example, the solar roof on the Kayoola bus made in Uganda usefully extends range. In its report, "Solar Cars, Buses, Trucks, Trains 2020-2030," IDTechEx finds that solar bodywork is now a key enabling technology for many vehicles. On the other hand, Bollore of France is cooperating with Nanyang University in Singapore on a large supercapacitor shuttle bus to rival those of CRRC, HIGER and Ankui Ankai in China.
Given the largely ongoing battery supply shortages, using one fifth of the battery by introducing various forms of fast charging is attractive and there are now many ways of doing this. For example, a leading developer located in Israel is developing non-stop contactless charging through the road.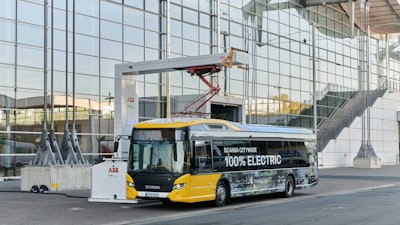 ABB Switzerland sells the fastest top up for buses. In New Zealand, contactless charging was pioneered and non-stop charging is still under development.
Read more: ABB Collaborating with Nova Bus Opportunity Charging in North America
One certainty is that the rapid changes and new best practice for electric buses often occurs in unusual places with some of the largest manufacturers and countries sleeping through the future.
This article is contributed by Dr. Peter Harrop, IDTechEx Research.