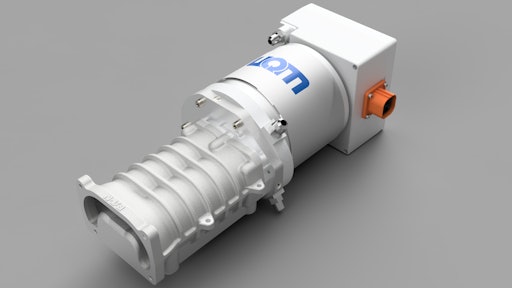 UQM Technologies Inc., a developer of alternative energy technologies, has announced the introduction of its Integrated Fuel Cell Compressor System (PowerPhase FCS). This product is designed to meet growing demand in the fuel cell market for a high performance, cost-effective compressor solution. Few competitors feature an integrated high efficiency motor and controller – making UQM's model the lowest cost, space-optimized design that can be adapted to different compressor options. 
UQM CEO Joseph Mitchell states, "We have seen great progress with our fuel cell compressors over the past few years, and our customers have requested that we optimize our system for performance and cost. Based on this feedback, and general market demand, we have made a significant strategic investment to design and launch what we feel is the premier fuel cell compressor system in the market today. We'll be introducing this product in China – the largest market for fuel cell technology globally, particularly in heavy-duty applications. Initial feedback from potential customers has been very positive, and we look forward to launching the system in early 2019."
The fully integrated fuel cell motor/inverter/compressor has been customized for a wide range of fuel cell applications.
The system provides a number of benefits to fuel cell suppliers including improved packaging, the elimination of a number of components – such as cables and connectors between the motor and inverter – and overall optimized performance.
UQM's PowerPhase FCS product portfolio aims to cover the majority of market need for fuel cell electric vehicles, supporting fuel cell stacks from 30-150 kW and 270-800V DC voltage range, a pressure ratio ranging from 1-2.2, and airflow from 100-500 kg/h.
UQM will be displaying this integrated fuel cell compressor system at the International Hydrogen Energy and Fuel Cell Technology Expo from November 6-8, 2018 in Foshan, China in booth #A2-02.
Customers may begin placing orders now in advance of the product rollout in 2019.
Current UQM fuel cell compressor systems are already deployed in a number of vehicle applications including full size transit buses, port vehicles, shuttle vans and passenger cars across a broad range of power levels.