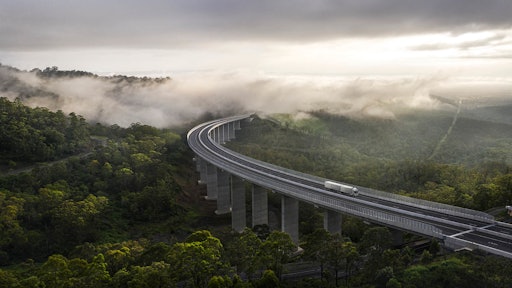 Volvo Group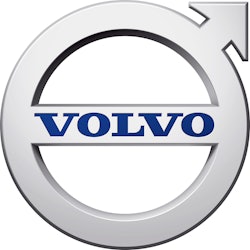 Electrification has been area of focus for the Volvo Group and its various brands—including Volvo Trucks, Volvo Construction Equipment and Volvo Penta—for several years now. And it is showing no signs of stopping as it starts to bring electric-powered products to market, such as its electric compact excavator and wheel loader, and recent announcement of the commercial availability of the Volvo VNR Electric.
During its Capital Markets Day on November 5, President and CEO Martin Lundstedt and members of the Executive Board laid out the strategy to drive the transformation of the transport and infrastructure industries. The Volvo Group strives for solutions that are 100% safe, 100% fossil-free and 100% more productive. The commercialization of electric vehicles is a key component of the strategy. The ambition is that by 2030, electric vehicles will account for at least 35% of vehicle sales and at least 50% of group revenues will come from services.
The transformation provides a great opportunity for the Volvo Group to grow by gaining market shares and increasing the service contract penetration and duration. With electrified vehicles there is a potential to increase the total vehicle and service revenues per unit by more than 50% over the lifecycle. By growing the service business the Volvo Group's resilience over the business cycle can be strengthened further.
"Medium-duty electric trucks for refuse and city distribution are already in serial production and we are pushing ahead with high speed in the commercialization of heavy-duty trucks for regional transport and construction applications. With a complete line-up we can offer our solutions to a broad range of customer segments when market conditions and the total cost of ownership move in favor of electrified solutions. We are doing this to create value for our customers, for society and for our owners," said Lundstedt.
Fuel cells are also a major part of this strategy. The Volvo Group and Daimler Truck AG recently agreed to form a joint venture to develop, produce and commercialize fuel-cell systems for use in heavy-duty trucks as the primary focus, as well as other applications. The ambition of both partners is to make the new company a leading global manufacturer of fuel cells.
"Battery-electric vehicles are a good solution for city distribution, city buses, regional haulage and similar applications. For use cases with heavier loads or longer distances, hydrogen fuel cells will be an important technology. The two technologies complement each other and both will be needed in order for us to build the sustainable transport system of tomorrow," said Lundstedt.
Furthermore, Lundstedt spoke about taking the next step in adjusting and future-proofing the Volvo Group in line with the Paris Climate Agreement. The ambition is that the group will be a net-zero emissions company by 2050 at the very latest. In order to be transparent on the progress, the Volvo Group is now committing to the Science Based Targets initiative and will establish targets and roadmaps during 2021. To improve the disclosure of climate-related risks and opportunities, the Volvo Group supports the Task Force on Climate-Related Financial Disclosures (TCFD) and will continue to adopt its recommendations.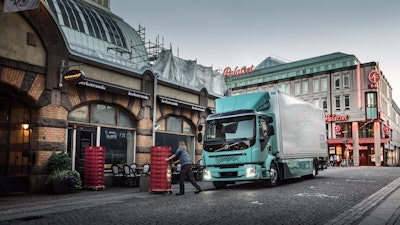 Science Based Targets initiative
The Science Based Targets initiative provides companies with a defined path to reduce emissions which are in line with the Paris Agreement. According to the initiative's website, targets are considered to be science-based if they are in line with the latest parameters set out by the science community to achieve the goals of reducing greenhouse gases (GHG) and further warming of the planet.
"Our commitment to future generations is well-known and the Volvo Group is doing its part in achieving the goals of the Paris Agreement. Being the leader in sustainable transport and infrastructure solutions is good for the company and its stakeholders, but even better for the world. With our transformation comes a responsibility to openly and transparently report our progress, now we take the next step and commit to set Science Based Targets," said Lundstedt.
Setting ambitious targets on the reduction of CO2 emissions is nothing new to the Volvo Group, which has been collaborating with the WWF Climate Savers program since 2010. This has been a period which has been crucial to progress knowledge and awareness on climate change mitigation. In the current program the Volvo Group has set out to save energy and reduce emissions from its own production and transports as well as from the products it sells – throughout their operational life.
At year-end 2019, the Volvo Group had reduced CO2 emission per shipped volumes in its own freight transport system by 18% from a baseline in 2013.
In the manufacturing operations, energy-saving projects totaling 170 GWh have been implemented since 2015. Together with an increased share of renewable energy, these have resulted in CO2 emissions from the group's manufacturing operations being reduced by more than 35% in 2013-2019.
Thanks to improved fuel efficiency, customers using Volvo Group solutions have reduced CO2 emissions by 34 million tons cumulatively since 2015.
READ MORE: Volvo Exceeds WWF Energy Savings Target 2 Years Early
To improve the disclosure of climate-related risks and opportunities, the Volvo Group supports the Task Force on Climate-Related Financial Disclosures (TCFD) and will continue to adopt its recommendations.
Electric vehicles coming to market
Volvo's truck brand has announced that in 2021, European hauliers will be able to order all-electric versions of Volvo's heavy-duty trucks. The company intends to offer a complete heavy-duty range with electric drivelines as part of its drive towards electrification on the road to fossil-free transport.
Volvo Trucks is now running tests of the electric heavy-duty Volvo FH, Volvo FM and Volvo FMX trucks, which will be used for regional transport and urban construction operations in Europe. These trucks will have a gross combination weight of up to 44 tonnes. Depending on the battery configuration the range could be up to 300 km. Sales will begin next year and volume production will start in 2022. Starting in 2021, a complete range of battery-electric trucks will be available in Europe for distribution, refuse, regional transport and urban construction operations.
"By rapidly increasing the number of heavy-duty electric trucks, we want to help our customers and transport buyers to achieve their ambitious sustainability goals. We're determined to continue driving our industry towards a sustainable future," said Roger Alm, President Volvo Trucks.
Volvo Trucks started manufacturing the Volvo FL Electric and Volvo FE Electric in 2019. These are electric trucks intended for city distribution and refuse operations, primarily in Europe. In North America, sales of the Volvo VNR Electric, a truck for regional transport, will start on December 3, 2020.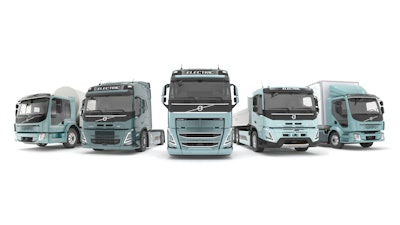 A gradual transition to fossil-free alternatives
Electric vehicles for demanding and heavy long-haul operations will follow in this decade. These will be battery-electric and fuel cell electric trucks with a longer range. Volvo Trucks aims to start selling electric trucks powered by hydrogen fuel cells in the second half of this decade. Volvo Trucks' objective is for its entire product range to be fossil-free by 2040.
"To reduce the impact of transport on the climate, we need to make a swift transition from fossil fuels to alternatives such as electricity. But the conditions for making this shift, and consequently the pace of the transition, vary dramatically across different hauliers and markets, depending on many variables such as financial incentives, access to charging infrastructure and type of transport operations," explained Alm.
For this reason, most transport companies will change over to electric operation in stages. In practice, many of them will have a mixed fleet of trucks powered by different fuels during a transition period.
"Our chassis are designed to be independent of the driveline used. Our customers can choose to buy several Volvo trucks of the same model, with the only difference being that some are electric and others are powered by gas or diesel. As regards product characteristics, such as the driver's environment, reliability and safety, all our vehicles meet the same high standards. Drivers should feel familiar with their vehicles and be able to operate them safely and efficiently regardless of the fuel used," said Alm.
From Volvo Trucks' perspective, the transition to more sustainable transport is largely about making the shift as smooth as possible for haulage operators, so that they can begin to adjust. The solutions offered must be fossil-free and allow hauliers to achieve the necessary levels of profitability and productivity.
"Our primary task is to ease the transition to electrified vehicles. We're doing this by offering holistic solutions that include route planning, correctly specified vehicles, charging equipment, financing and services. The long-term security that we and our global network of dealers and service workshops provide our customers with will be more important than ever," said Alm.
Volvo LIGHTS project receives award
The Volvo Group and its Volvo LIGHTS project was recently honored with CALSTART's 2020 Blue Sky Award at the organization's Annual Meeting, a virtual gathering of the clean transportation industry's top leaders and decision makers.
The annual Blue Sky Award is presented to organizations and individuals who have made outstanding marketplace contributions to clean air, climate change mitigation and the development of clean transportation technologies. The Volvo Group and its Volvo LIGHTS project was recognized for its efforts in uniting public and private stakeholders to successfully introduce zero-emission battery-electric trucks and equipment into commercial operation.
"We are incredibly pleased to honor the Volvo Group, and the vision shown in its Volvo LIGHTS project and team, with this year's Blue Sky Award. The project has played a critical role in making medium- and heavy-duty transportation electrification real by uncovering and resolving numerous potential obstacles to widespread adoption," said CALSTART President and CEO John Boesel. "To a great extent because of the Volvo LIGHTS project, Volvo Trucks is beginning production in North America of a family of electric trucks and deserves to be recognized across the industry."
The Volvo LIGHTS (Low Impact Green Heavy Transport Solutions) project is a collaboration between 15 public and private partners to develop a blueprint to successfully introduce battery-electric trucks and equipment into the market at scale. The project is led by the Volvo Group and South Coast Air Quality Management District (South Coast AQMD), along with partners NFI Industries, Dependable Supply Chain Services, TEC Equipment, Greenlots, Port of Long Beach, Port of Los Angeles, Southern California Edison, CALSTART, the University of California, Riverside CE-CERT, Reach Out, Rio Hondo College and San Bernardino Valley College. CALSTART's role in the project is to manage the procurement of zero-emission terminal tractors, forklifts and other non-road equipment.
"The Volvo LIGHTS project owes its success to the determination and dedication of our many project partners," said Peter Voorhoeve, President of Volvo Trucks North America. "Volvo LIGHTS' diverse stakeholders each represent one aspect of the holistic ecosystem needed to support the deployment of battery-electric heavy-duty trucks. Volvo Trucks now enters the next phase of commercial production taking into account the very valuable lessons learned from the Volvo LIGHTS project and applying them to help fully realize our vision of creating sustainable transport solutions."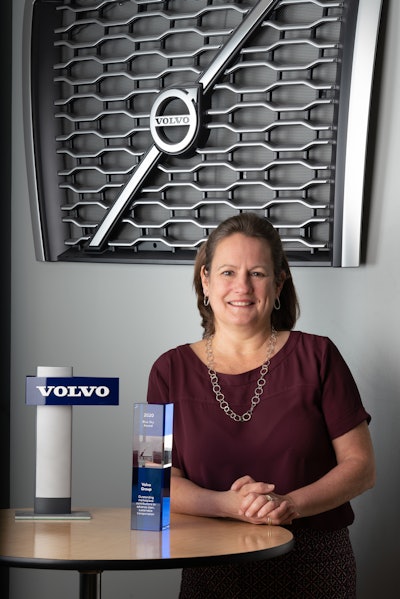 The Volvo LIGHTS project recently achieved several important milestones critical to the success of the initiative. Two of the project's fleet partners, third-party supply chain solutions provider NFI and leading freight operator Dependable Highway Express (DHE), recently received and began piloting four Volvo VNR Electric trucks. The two fleet partners are tasked with testing the battery-electric trucks in their daily operations, gathering real-world operational data on the trucks' power, performance and range. The Volvo LIGHTS project team was also recently successful in helping to facilitate the modification of California utility rules to give private entities the ability to sell electricity as a motor fuel at publicly accessible charging stations for medium- and heavy-duty electric vehicles.
"The Volvo LIGHTS project shows what can be achieved when we collaborate across the public and private sector," said Judy Mitchell, governing board member at South Coast AQMD and the California Air Resources Board. "The Volvo LIGHTS project partners should be applauded for their authentic and actionable plan to reduce emissions and improve air quality, starting right here in Southern California."
Dawn Fenton, Vice President, Government Relations and Public Affairs for Volvo Group North America, virtually accepted the award on behalf of the Volvo LIGHTS project team at the CALSTART 2020 Annual Meeting.
The Volvo LIGHTS project was made possible by an award to South Coast AQMD of $44.8 million from the California Air Resources Board (CARB) as part of California Climate Investments (CCI). CCI is a statewide initiative that puts billions of Cap-and-Trade dollars to work reducing greenhouse gas emissions, strengthening the economy, and improving public health and the environment – particularly in disadvantaged communities. As a result, South Coast AQMD contributed $4 million from the Clean Fuels Fund and awarded a $45.6 million contract to the Volvo Group to design and implement the project. Volvo and its partners have promised no less than $45.7 million in matching contribution to increase the total project value to over $91 million for South Coast AQMD to administer.
Companies in this article